Thailand: compulsory health insurance
In order to cope with the increase in medical spending of foreigners in Thailand, the Thai government is introducing new health insurance rules for Thailand. As of April 1, 2019, insurance is mandatory for over-50s residing in Thailand. For tourists traveling to Thailand, travel insurance in Thailand is highly recommended but not mandatory.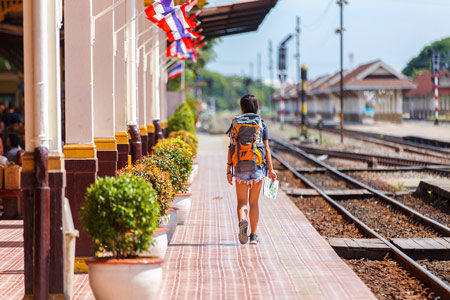 Who is affected to purchase compulsory health insurance in Thailand?
Thailand is synonymous with countries of adventure, travel experiences and golden retirement but is sadly one of the countries with the highest number of road accidents as well as numerous health accidents for foreign tourists and foreign pensioners living in Thailand. Faced with the explosion of unpaid bills in Thai hospitals, the Thai government now requires the purchase of international health insurance for the obtainion or renewal of the O-A visa for over 50s.
Tourists are not required to take out travel insurance but are offered by the Thai tourist office the "TravelShield" which offers a minimum of travel insurance guarantees. Given the caps that are lower than those offered by your bank card travelinsurance or even lower than Mondassur's travel insurance, this is a low health coverage should it happen to you something abroad. We strongly advise you to take out TravelPass travel insurance which will cover you for your trip to Thailand but also to other Asian countries if you were to visit them on the same trip. You can also take out Horizon365 year-round travel insurance, which covers you for all your trips of less than 90 consecutive days.
What are the criteria for compulsory insurance for Thailand?
Insurance must have a minimum coverage of 40,000 baht in common medicine and 400,000 baht in hospitalization with disability and pension coverage.
Travelinsurance is not mandatory for Thailand so there are no specific criteria in this case other than being able to benefit from insurance with a minimum of coverage (ideally at least 150,000 euros ceiling for health costs). However, given the increasing number of tourists and the medical cost of medical care for tourists who have not taken out health insurance for their trip to Thailand, it is possible that Thailand will soon impose medical travel insurance as is the case in Russia, China or Cuba.
How do I buy insurance for Thailand?
Mondassur advises you at best on the best insurance for Thailand. You can request an international insurance quote online. We recommend that you contact us by email or phone regarding insurance for long-term foreign residents in Thailand in order to best orient you among our various health insurance in Thailand.
Mondassur offers various travel insurance for Thailand and for residents in Thailand, our GoldExpat contract with health coverage in Thailand and packages in particular GoldExpat Access or Goldexpat Hospitalization offers good guarantees at the most economical rate.