Living in Cambodia and Expat Insurance
Cambodia is a country of excellence with a population of about 16 million. Many expatriate communities (Belgians, French, Germans, Dutch, etc.) reside there. We have gathered some tips to prepare your expatriation in Cambodia and to understand your future daily life on the spot. Apart from the vigilance of the security, Cambodia is a welcoming country rich in opportunities. However, medical infrastructure is not always sufficiently developed, and the costs of private medicine in international institutions can be very expensive. This is why it is strongly advised to take out international health insurance for expatriates before you leave, in order to prevent risks.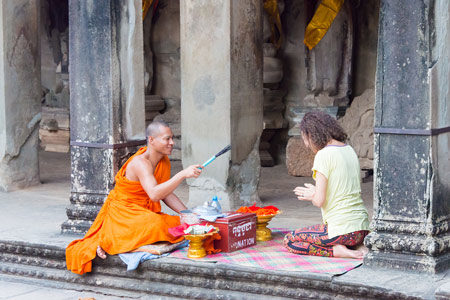 Schooling in Cambodia
The national language in Cambodia is Khmer,so public school courses are taught in that language.
The school system consists of:
The primary lasts 6 years and ends with the passage of a patent that allows the passage to college.
The college and high school each last 3 years.
After obtaining an A-grade, students can benefit from free enrolment in all higher education institutions. The B or C designations provide access to a higher education grant.
There are very good Anglo-Saxon international universities in all major cities.
Two French schools in Cambodia are accredited by AEFE:
The René Descartes High School in Phnom Penh, which welcomes students from kindergarten to senior year.
TheFrench school of Siem Reap welcomes kindergarten and primary school students.
For example, the French high school in Phnom Penh practices prices ranging from $4,770 to $6,350 per school year. To this must also be added the registration fee (higher in the first year).
These prices apply to students of French and/or Cambodian nationality. The fees are higher for students of other nationalities.
Other French schools are listed on the website of the French Embassy in Cambodia
Staying in Cambodia
The places most inhabited by expatriates are Phnom Penh (Daun Penh), Battambang, Siem Reap and Sihanoukville. These are the regions that also concentrate most of the foreign companies moving to Cambodia.
To find accommodation, it is advisable to turn to other expatriates when you arrive in Cambodia. Then, eventually, call a real estate agency. The amount of commission to the agency is usually about half a month's rent.
To get a rental contract, you will usually need a visa valid for one year. Owners generally prefer long-term leases. You will also need to present your passport and a witness for the signature. It is likely that you and your witness would have to apply your thumb borrow to the contract after signing.
Consider attaching to the contract a status of entry.
The longer the lease, the more you can negotiate the price of your rent. The deposit is usually 1 or 2 months' rent. The first rent is also to be paid in advance.
Consider asking what charges and services are included in the rent (internet, telephony, television…). It is also good to know when the collection of household garbage for your home takes place. Water and electricity are generally not included in the rent price. It is generally cheaper to pay your bills directly to the power company rather than to your landlord. If in doubt, check with other expatriates to find out the rates normally charged for these charges.
Foreigners are not allowed to buy land or real estate in Cambdoge.
What a cost of living in Cambodia
The cost of accommodation ranges from $250 to $400 for a one-bedroom condominium (equivalent to a T2) and $400 to $700 for a large multi-bedroom apartment. Of course, the bigger the city, the higher the rent. This explains why Phnom Penh's real estate rate is the highest in the country.
Choosing health insurance in Cambodia
As an expatriate, you will no longer be covered by the health and pension system of the French plan and therefore lose your rights to Medicare. As a precaution, it is essential to take out good expat health insurance for your expatriation in Cambodia. Indeed, as the Cambodian public sector remains insufficient, expatriates use the private sector (enjoying a better quality of care thanks to the advanced techniques of practitioners, at the same level as the quality of the most developed countries) which explains the high cost of medical expenses.
The expatriate health insuranceoffered by Mondassur meets the many criteria of minimum medical coverage. Expats are guaranteed to be well covered all over the world and in Cambodia. Don't hesitate to compare the different international medical insurances. Mondassur offers you to study with you your current medical coverage and the various possible insurances for you according to your budget and your needs.
You can compare here our offers ofexpat insurance to the 1st euro for your expatriation to Cambodia.