Qatar opens its borders to 80 nationalities
Recently isolated by its neighbours and in the midst of a diplomatic crisis, Qatar wants to boost tourism as well as air transport. For this reason, citizens of 80 countries benefit, with immediate effect, from a visa exemption to visit Qatar.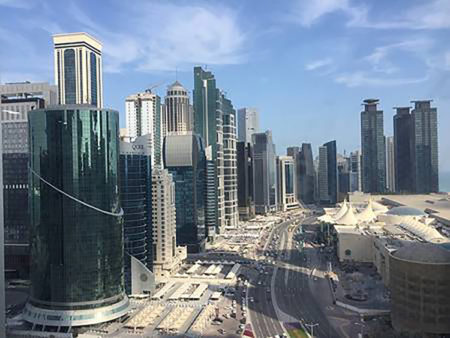 Visiting Qatar without a visa
On arrival on Qatari soil, a passport with a valid date of at least 6 months,as well as a return ticket to obtain the right to enter Qatar.
For Hassan Al Ibrahim, Director of Tourism Development, "facilitating entry into Qatar is a key factor in the growth of the tourism industry in Qatar. With this announcement, we are already writing the new chapter of Qatar's tourism strategy for 2030. Together with our public and private sector partners, we wanted to put in place an optimal framework to attract visitors from around the world by providing them with the best possible travel experience. There is no doubt that facilitating and speeding up the process of entry into the territory is a determining factor in giving tourists the best possible image of our country. »
This new visa simplification procedure is the determining factor for the country's tourism development. Qatar is committed to diversifying the country's economy and details of a new strategy to further engage tourism industry players will be announced at World Tourism Day celebrations on September 27, 2017 Qatar.
How long can I stay in Qatar?
Depending on the nationality of the traveller, this exemption may be valid for 180 days from the date of entry on the territory and will allow the foreign visitor to spend 90 days in Qatar renewable once or will be valid for a period of 30 days from the date of entry into the territory, with the possibility of benefiting from an additional 30 days. The exemption is valid for multiple entries.
Which 80 countries are exempt from visas to travel to Qatar?
The exemption applies mainly to Western nationals and the selection was made on the basis of security as well as economic considerations or the purchasing power of their nationals.
For up to 3 months : Germany, Austria, Bahamas, Belgium, Bulgaria, Croatia, Cyprus, Denmark, Spain, Estonia, Finland, France, Greece, Hungary, Iceland, Italy, Latvia, Liechtenstein, Lithuania, Luxembourg, Malta, Norway, Netherlands, Poland, Portugal, Republic Czech Republic, Romania, Seychelles, Slovakia, Slovenia, Sweden, Switzerland and Turkey.
For up to 30 days : South Africa, Andorra, Argentina, Australia, Azerbaijan, Belarus, Bolivia, Brazil, Brunei, Canada, Chile, China, Vatican City, Colombia, South Korea, Costa Rica, Cuba, United States, Ecuador, Georgia, Guyana, Hong Kong, India, Indonesia, Ireland, Japan, Kazakhstan, Lebanon, Macedonia, Malaysia, Maldives, Mexico, Moldova, Monaco, New Zealand, Panama, Paraguay, Peru, United Kingdom, Russia, San Marino, Singapore, Suriname, Thailand, Ukraine, Uruguay and Venezuela.
Health insurance remains mandatory
Visa simplification procedures do not call into question the importance of purchasing international health insurance. Depending on your country of origin, you will be able to travel to Qatar for a period ranging from 30 days to 180 days.
Mondassur offers travel insurance less than 90 days or travel insurance less than a year. With these insurances, you benefit from:
Hospitalization taken at 100 without deductible
Civil liability included
Repatriationassistance
Ask for your free quote online or sign up immediately.