Whatever your situation and the reason for your stay in the UK for more or less time: a new position, a new job opportunity, an internship, a university exchange or simply a holiday, it is important to think about to make sure. What do you need to know about the health care system in the UK?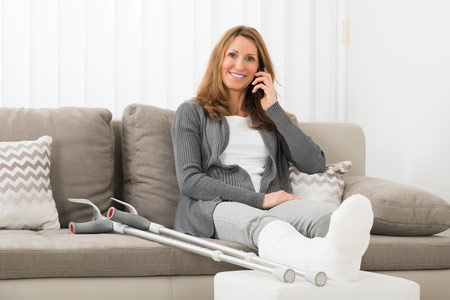 The health system in the UK
With almost 5% of its working population working in the health sector and ranked in the top 10 health systems in the world, the UK health system is efficient but complex. On the one hand, there is a non-mandatory National Health Service (NHS) which any legal resident in the country can join. This universal coverage is generally free of charge and is mostly financed by taxes. On the other hand, health services are devolved from England, which means that Scotland, Wales and Northern Ireland are free to organise their health services as they wish. The UK has some very good public health facilities such as Guy's hospital in London and the Lothian hospital in Scotland.
How the UK healthcare system works?
As an expatriate, you will be eligible for the NHS if you are employed in the UK. All you need to do is register with the NHS. The NHS is the public health insurance scheme that allows most people to cover some of their medical costs. It is tax-funded and available to all legal residents of the United Kingdom who use the public services of the National Health Service and covers part of the cost of
Consultation with a general practitioner or specialist ;
Hospitalisation and rehabilitation care;
Dental treatment;
Eye care;
glasses and contact lenses
Prescription drugs;
Ambulance costs;
Preventive care;
Long-term care.
Despite very good management of life-saving emergencies, most British people face problems in accessing other care. Claims are processed very slowly. In addition, there are many terms and conditions and clauses to consider in order to be covered by the NHS. This is why some people in the UK have private health insurance to supplement the NHS.
How do I see a GP or specialist in the UK?
In the UK, you will be registered with an NHS-approved GP close to where you live. GPs in the UK have three functions:
They are the first line of contact you should see if you have a medical need;
They must provide continuous access to care;
They are the only people who can refer you to specialists on prescription.
You can find GPs in GP surgeries where the medical professions of doctors, nurses, midwives, dentists, ophthalmologists, etc. are grouped together. The cost of a consultation with a private GP is £80 to £110 for a 15-minute consultation and up to £440 for a 1-hour consultation.
In most cases, you will only be able to see a specialist doctor if your GP has referred you. The cost of a standard consultation with a specialist doctor will be between £100 and £250.
Some examples of average costs for consultations in the UK:
Functional medicine consultation: £500-£750;
Acupuncture (30 minutes): £200;
Physiotherapist (60 minutes): £100;
Psychotherapist (60 minutes): £190;
How do I see a dentist in the UK?
You will be able to book an appointment with an NHS registered dentist, which will give you cheaper treatment than a private dentist. However, you will face extremely long waiting times of up to several years for a consultation. If you see an NHS doctor to have stitches removed, if your mouth is bleeding or if your dentures need repairing, you will not be charged for the treatment. For other dental operations, here are some examples of the prices you will be charged:
Emergency dental treatment: £24
Standard examination, diagnostic with X-ray: £24
Fillings, root canals or tooth extraction: £27
Crowns, dentures, bridges and other laboratory procedures: £282
Dental treatment by an NHS dentist is completely free only if:
Children under 18 years of age
Pregnant or have had a baby in the previous year
You are being treated in an NHS registered hospital and your treatment is being carried out by the hospital dentist (however, dentures or bridges will be charged to you)
You are in receipt of low income benefits.
Not all cosmetic dental treatment is included in the NHS.
Why is going to private dental practices better than public ones?
Private dental practices have real advantages over NHS registered dental practices. This includes almost no waiting times for appointments, more extensive medical facilities and a much higher quality of dental care. But also the possibility of obtaining last minute appointments, a wider choice of dental treatments and dentists recognised for their expertise and the quality of their treatments.
In the public sector, patients have been known to wait more than 2 years for a consultation with an NHS dentist as access to care is open to a large majority of the population compared to public prices.
The emergency system in the UK
In the UK, the emergency number is 999. You can also call 112 which is the emergency number for Europe. The NHS contact is 111, where you will be picked up by an ambulance and admitted to an NHS emergency department. You will be connected to a service that will ask you what type of emergency you are experiencing and which service (police, fire, ambulance) you want to contact.
Hospitals in the UK
There are three main types of hospital in the UK:
General hospitals: among the general hospitals, you can go to the general hospitals accredited to the NHS, in other words the public hospitals. In these hospitals you will receive free treatment. However, some NHS hospitals also offer private care with access to better facilities within the hospital in order to finance themselves. You can also go to independent hospitals run by private companies or charities that offer better quality care but charge patients a fee. These hospitals have emergency, maternity, surgical and elderly services.

Specialty hospitals: these are smaller facilities that provide specialist care for one area of health, such as paediatrics, psychiatry or orthopaedics.

Tertiary care hospitals: these hospitals offer more specialised and more expensive care than general hospitals. They are usually located in large cities close to medical schools and university hospitals. These hospitals usually treat patients with rarer diseases.
Free services in NHS hospitals include medical treatment for emergencies, infectious diseases, family planning or physical and mental health problems.
To be admitted to hospital, you will need a prescription from your GP stating that you need to be admitted.
Pharmacies in the UK
If you are admitted to an NHS registered hospital, the medicines you need will be free even if you are not insured. However, you will have to pay an excess when you collect the medicines. This excess does not apply to all medicines, some categories are exempt, such as contraceptives, anti-cancer drugs and anti-sexually transmitted diseases.
Examples of average costs for medical operations in private hospitals in the UK
Appendicitis operation: £3500
Maternity with vaginal delivery: £5000
Maternity with caesarean delivery: £6000
What vaccinations should I have before moving to the UK?
The vaccinations you will need to have before moving to the UK are the standard ones to have a complete and up-to-date vaccination record. Reminder of the required vaccines:
Diphtheria, tetanus, whooping cough, poliomyelitis, influenza b
Hepatitis B (compulsory)
Pneumococcus (compulsory)
Meningococcus
Measles, mumps, rubella
Papillomavirus
Influenza
Shingles
Some vaccines should be given in multiple doses and administered to children from an early age. The cost of the hepatitis B vaccine is £45 and the cost of the diphtheria, tetanus and polio vaccine is £35 on average in a private hospital.
Maternity in the UK
Wondering what it's like to have a baby in the UK? What is the Birth Plan? Read our article on maternity in the UK.
The average cost of a vaginal delivery in the UK is £5000 and a caesarean delivery is £6000. The price of a blood test is around £50 and the price of a pregnancy ultrasound is around £350. It is essential to be insured in order to give birth privately, as the follow-up is much more qualified and will cause you much less stress.
Is it necessary to take out private international health insurance in the UK?
As an expatriate in the UK since Brexit, you will be able to benefit from the NHS system, which will allow you to access free care in the public sector. However, there are many disadvantages to this system, which requires you to take out additional insurance and has a cost (around £1000 per year). The health care available on the NHS is very limited in quality and choice of practitioner and the main drawback of this system is the waiting time for a consultation. Patients have had to wait two years for a consultation with an NHS dentist.
Private care is more expensive but much more accessible, with last minute appointments and a wide choice of the most experienced practitioners in the UK. In addition, the quality of care is much better because private clinics and hospitals have better medical technology and treat more illnesses or infections than public hospitals. Emergency departments in private hospitals can be accessed much more quickly than those in public hospitals where the doctors working there are overwhelmed by the number of patients. We recommend that you take out private health insurance that covers you for private sector health costs in order to access health care as quickly and cheaply as possible.
In addition, the NHS only covers you within the UK, which means that if you wish to return to your home country or travel, you will not be covered at all and will need to take out additional private insurance.
What health insurance should I buy for the UK and for whom?
Whatever your profile, our health insurance policies will be suitable for your expatriation or stay in the UK.
If you are an expatriate employee or a contractor in the UK, we strongly recommend that you take out a private international expatriate insurance policy that will cover you better than a local insurance policy given your status. Indeed, with a private international health insurance, you will benefit from a private health cover in the UK as well as an international health cover and a medical repatriation cover if necessary to your home country or abroad.
Depending on the plan you choose, our private insurance plans will cover 100% of your hospital costs and up to 90% of routine medical costs. It is imperative that you are covered for outpatient treatment as NHS registered doctors only work on weekdays. If you want to see a doctor at the weekend or on a weekday evening, you will have to go to a private doctor. The cost of a GP consultation is extremely high, you can be charged up to £100 for a 15 minute consultation, so private health insurance is essential if you want to treat yourself without breaking the bank.