Living in Vietnam and Expat Insurance
In 2017, nearly 8,000 French expatriates were registered in Vietnam. With economic growth of more than 6% in the last four years and a young population, the country is attracting more and more French entrepreneurs.
But before you go to Vietnam, find out about life at your destination.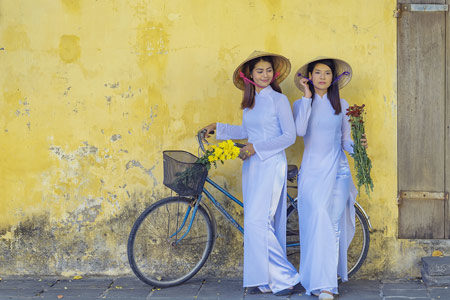 Working in Vietnam
You can travel to Vietnam for a short stay or business expatriation if you have a professional partnership. You can also come as a tourist and convert your visa into a business visa once the job is found. Your employer will take care of the administrative part once you have provided your personal information.
Don't hesitate to get close to CCI France Vietnam, based in Ho Chi Minh (formerly Saigon). Also check out online ads on forums, blog posts or Facebook groups. Or, if not, online or on-site, seek help from recruitment agencies.
Schooling in Vietnam
The Vietnamese school system is quite similar to the French system. Children spend 5 years in primary school, 4 years in first-grade secondary (college) and 3 years in high school. Schooling ends with a bachelor's degree.
Vietnamese universities are highly selective and pass an entrance exam before admission.
The school year runs from September to June.
There are two French schools in Vietnam, listed on the website of France Diplomatie.
Alexandre Yersin High School in Hanoi
Marguerite Duras High School in Ho Chi Minh City
To give an idea, the French high school in Hanoi practices prices between 3500 and 5400 euros a year. Then you have to add to that the registration and exam fees.
Staying in Vietnam
The cities most frequented by expatriates are Ho Chi Minh City and Hanoi.
Ho Chi Minh City (Saïgon) is the most "western" city in Vietnam. It is home to the largest expatriate community and the largest number of foreign companies. It is a modern and dynamic city, with a large number of amenities appreciated by expats. The climate is always warm, but has a rainy season in the summer.
Its weak points are its traffic density, the resulting pollution, and noise.
Hanoi is the administrative and political capital of the country. The population is more traditional, and expats appreciate its historical architecture. Being located in the north of the country, the climate in Hanoi is organized in four seasons.
It is a vibrant city but smaller than Ho Chi Minh City, so traffic is even more difficult.
Other cities may also catch your attention, with Ha Long, Hue, Da Nang and Nha Trang being the most cited.
Once you've made your choice of destination, look to real estate agencies or social networks to find your accommodation.
The cost of living is lower than in France. The same is true for rents. The apartments are relatively inexpensive: from about 250 for a studio to 800 for a more spacious apartment. But city centres are seeing their rents rise.
The leases are signed for one to five years and the dwellings are usually furnished. You will certainly be asked for an advance on rent of one to three months.
The expenses are paid by the tenant (water and electricity). The electrical bill can quickly rise if you use air conditioning to escape heat and ambient humidity.
When choosing your accommodation, make sure you have an air conditioner. Buying an air dehumidifier can also improve your daily life at home.
What is the cost of living in Vietnam?
The average salary in the big cities in Vietnam in 2019 is around 320 euros/month, in the countryside it is well below 100 euros/month.
The relatively low cost of living is a big asset for expats. For expatriate retirees, retirement is enough to live comfortably.
The cost of food is very cheap, going to market saves 2 to 3 times the price of a restaurant.
In supermarkets, the prices of imported products are rising rapidly, up to 2 to 3 times the French prices.
Driving in Vietnam
The Vietnamese authorities do not accept an international driver's license. If you have a visa of more than 3 months, you can apply for a valid Vietnamese driver's license from the traffic department of the hanoi or Ho Chi Minh licensing office.
The most popular transport is the scooter because it is much cheaper than cars (which they pay a special consumption tax). They invade cities as well as the countryside, on every street corner, every st you come across. For 90 million inhabitants, no less than 40 million scooters! These scooters create monstrous traffic jams, horns all day long and an alarming level of pollution. Drivers will not hesitate to get on the sidewalks without the slightest respect for the traffic code.
We don't hide it from you, but road accidents kill thousands of people every year in Vietnam. Be extremely attentive and even more so when trying to cross the street.
Hygiene and eating habits in Vietnam
Beware of hygiene in the shops on street corners. Conditions are quite good in restaurants, markets and shops. Tap water is not safe to drink. Prefer brand capsulébottled bottled water: Lavie, Aquafina and Joy.
The Vietnamese have a habit of having a bowl of Pho (a beef soup with rice noodles with aromatic herbs) at breakfast, it is the emblematic dish that is the pride of the Vietnamese. The French colonization has left its mark, you will easily find the breadsticks in the street stalls.
Thanks to the importation of coffee from the French since the era of colonization, Vietnam has risen to the rand of the world's second largest coffee producer and has become the largest producer of Robusta coffee.
Choosing health insurance for Vietnam
As an expatriate, you will no longer be covered by the health and pension system of the French plan and therefore lose your rights to Medicare. As a precaution, it is essential to take out good expat health insurance for your expatriation in Vietnam. In fact, both the public and private sectors, if you are a foreigner and ask to see an English-speaking doctor, the prices of consultations and hospitalizations can quickly rise, which explains the high cost of medical expenses.
The expatriate health insurance offered by Mondassur meets the many criteria of minimum medical coverage. Expats are guaranteed to be well covered all over the world and in Vietnam. Don't hesitate to compare the different international medical insurances. Mondassur offers you to study with you your current medical coverage and the various possible insurances for you according to your budget and your needs.
You can compare our expat insurance offers here to the 1st euro for your expatriation in Vietnam.