Living in New Zealand and Expatriate Insurance
With a temperate climate, breathtaking scenery and many professional opportunities, New Zealand has no shortage of arguments to attract expatriates. If you too want to move to New Zealand, this page is for you! Here is some information for a successful installation.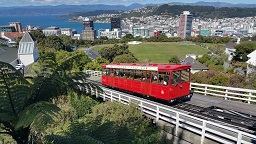 Working in New Zealand
Finding a job remotely can be an impossible task depending on the industry, especially if you don't have a good CV. To have your chances, it is better to be there to prospect, because the Kiwis prefer human contact.
This is obviously not given financially because you will have to make the trip and stay!
It could be simplified by saying that New Zealand's priority is bilingual thirty-somethings with five years of education and five years of professional experience.
Schooling in New Zealand
New Zealand's education system is officially divided into three levels:
Early childhood, from birth to 5 years old.
The primary and secondary school, consisting of 13 years of study. This education is free in public schools for the children of New Zealand citizens and permanent residents. It is also mandatory for children aged 6 to 16. Schools are allocated by residential area, so your child will have a reserved place in a local school. Secondary education ends with the passage of the NCEA (National Certificate of Educational Achievement) equivalent to the French baccalaureate.
Higher education in university.
Schooling can be followed in English or Maori. English-language schools follow the New Zealand curriculum, while those taught in Maori are based on Maori philosophy. Two schools offer bilingual French-English education in Auckland for students aged 5 to 10. These schools are Richmond Road School and Birkdale North School.
Staying in New Zealand
The most notable difference between French and New Zealand rents is that they are paid weekly. When you search, so be sure to multiply the prices displayed by 4 to get the monthly rent amount.
You may be asked to pay up to 2 weeks' rent in advance. You will also have to pay a deposit equivalent to 4 weeks' rent to the Ministry of Business, Innovation and Employment. This will be returned to you at the end of your contract, provided that the accommodation is returned to good condition.
Rent prices are higher in Auckland than in the rest of the country. It will therefore take an average of NZ$550 (330 euros) per week to stay in the capital. Monthly, this amounts to NZ$1,580 (approximately 950 euros). Outside Auckland, the average rent is NZ$395 (about 237 euros) per week. That's NZ$2,200 (about $1,320) per month.
You will usually have to pay the additional costs: gas, water, electricity, telephony, internet… If you wish to leave your home, you will need 21 days' notice. In case the owner wishes to terminate your contract, be aware that his notice must be 3 months.
To find your home in New Zealand, take a look at TradeMe. If you can't find a shoe at your feet, turn to real estate agencies or newspaper ads.
What is the cost of living in New Zealand?
Overall, the cost of living in New Zealand is not as high as in Australia, although Auckland and Wellington remain in the top 100 most expensive cities in the world. However, wages are also lower than in Australia.
Driving in New Zealand
If you have a driver's licence from your home country, you can drive any type of vehicle in New Zealand for up to 12 months with this licence. If your licence is not in English, you will need to submit an official translation. After one year, you must convert your licence into a New Zealand licence. To do this, you will need to go to a conversion office with all the appropriate documentation.
Hygiene and eating habits in New Zealand
No hygiene problems in restaurants, markets and shops. Tap water is safe to drink.
Choosing health insurance in New Zealand
Taking out international health insurance is a major formality, especially for New Zealand. For expatriates, there are two categories of health insurance: insurance called 1st euroand insurance in addition to the Caisse des Français abroad (CFE). Depending on your profile and criteria, we will be able to present different formulas tailored to your needs. So don't hesitate to contact us and ask us for advice, we'll be happy to respond! Moreover, if you wish, you can get an immediate free quote online.