Historically very rich, politically controversial, Russia is an amazing destination that never leaves indifferent. You will be captivated by their friendliness and the famous Russian soul, charged with extreme joy and tenacious melancholy. As the world's largest country, Russia is a land of adventure at the foot of Europe. More and more people speak English, which leads to a total change of scenery.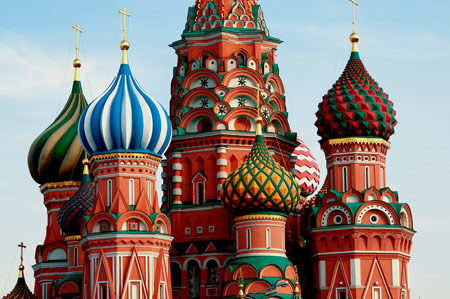 Where to visit?
The two must-see cities are Moscow and St Petersburg.
Moscow is a cultural capital, with its medieval roots, and its mythical sites such as Red Square and the Kremlin, but also the Mayakovsky Museum or the Zoological Park. You will also find huge avenues with Stalinist buildings, writers and artists whose houses are visited. Today luxury hotels are moving in at full speed, restaurants of all origins compete with originality or kitsch, bars and clubs are real fashion shows where Russian girls display their glamour. But watch your budget during outings because it is also one of the most expensive cities in the world.
St Petersburg is the other city you won't be able to miss. Its canals and palaces, as in the days of the tsars, as well as legendary places like the Fortress Peter and Paul or the Nevski perspective will delight you.
St. Petersburg was created by Peter the Great, who wanted to move away from the Russian soul and customs to open a window on Europe. His phobia of Moscow and the hardiness of Russia, translates into a frantic desire to get closer to Western culture. The clash with Moscow is guaranteed.
If you want to discover other "universes", we recommend, in the far east, Vladivostok, which is recently a city open to foreigners and is the center of a nature reserve where there are tigers and bears as well as Leopards.
To the south, Sochi is a seaside resort on the Black Sea. Russian and foreign tourists are attracted by its subtropical climate and warm waters as well as the surrounding spa towns.
Not far from Moscow, Novgorod has kept wonders despite the rampage of the Nazis, such as the icons of the Palace in Facettes, the historical museum, as well as many churches.
And finally, beyond a means of transport, the Trans-Siberian crosses for almost a thousand kilometers, for 6 days, gigantic forests, runs along Lake Baikal, …. Fabulous landscapes.
Going to Russia is not improvised!
A rather closed and strict country as you know, customs do not laugh with the arrival of foreigners, even as a tourist. Visas are mandatory, even for EU nationals. And the requirements for obtaining this visa are not the simplest. This must be requested from the Russian Embassy in Paris or from the Russian consulates (in Strasbourg or Marseille). You must first book your accommodation before your arrival, to have an official invitation. You must also book travel and health insurance with the repatriation guarantee and coverage of more than 30,000 euros. In addition, this insurance must be recognised by the Russian authorities, such as those proposed by Mondassur 😉