Passport, Covid certificate and travel insurance to prepare for a trip abroad
Going on a trip is difficult to improvise. The health crisis with the coronavirus pandemic has strengthened the necessary formalities. With which ID title to travel? What visa? Do I need a vaccine passport or health passport?
In any case, the purchase of travel insurance such as Travel Pass is essential. Travel insurance is sometimes required to obtain a visa. Unforeseen events that can ruin a trip or worse don't just happen to others…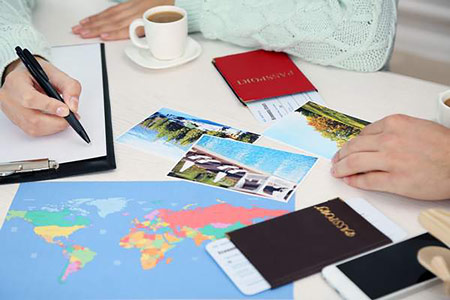 Need a passport to travel?
1. Do you need a passport?
As for your identity document to take with you, it depends on your destination. Within the European Union you can travel with a national identity card or with a valid passport if you are European. As soon as you leave the EU you need your passport or even a visa,also called an entry visa. Be aware that it can take several weeks to obtain one of these IDs. Therefore, it is important to anticipate and request them early enough before you leave.
For a European, it is possible to freely cross the borders of one or more other EU countries without having to show his identity papers. However, it is still recommended to carry a national identity card or a valid passport in order to prove your identity in the event of a check. If you are flying, you must present an identity document. For a non-European, a passport is required.
The passport is an identity document, issued by the government of a state to its citizen, allowing its owner, by certifying his identity, to travel abroad. Therefore, for destinations outside the EU,passport possession is required to certify your identity and nationality abroad.
2. What is the health passport or the Covid certificate?
With the Coronavirus crisis, a health passport within the European Union is being drafted to guarantee the freedom of movement of people and limit the spread of the Covid-19 virus. The purpose of this Covid certificate will be to eliminate any quarantines and to restart mobility within the European Union. This health passport would be presented at the borders and would present:
either a negative PCR test,
a coronavirus vaccine or
a positive test for more than 14 days; a previous contamination making it possible to validate the person's immunity to the virus.
Is a visa required to travel?
1. What is a visa?
In addition to the passport,some countries require a visa allowing its owner to enter their territory. In this case, you should check with the consulate or embassy of your destination country to find out the required documents and the conditions for obtaining a possible visa.
The visa is a document certifying that you are allowed to travel to a foreign country, for a certain duration and for a specific purpose (work, tourism, studies, etc.). It comes in the form of a stamp or sticker,which is affixed to your passport.
2. Visa-free stay
No visa is required within the European Union for stays of less than 90 days. The principle of visas is that of reciprocity. If your country requires a visa for certain nationalities, it is very likely that if you travel to that country, you will need to hold a country.
3. Authorization to enter the territory: ETIAS, ESTA or AVE
For tourists, even if a visa is not required, some countries require prior identification to collect information data on anyone entering its territory. The United States has thus imposed a travel authorization calledthe ESTA. Canada requires the AVE, an electronic travel authorization. The European Union will also launch an authorisation to enter the country with a visa-free programme from 2022: the European Travel Information and Authorization System. The ETIAS system will automate passenger screening and save time for the issuance of authorizations. The authorisation will remain valid for 3 years for several trips of less than 90 consecutive days within the Union.
4. Visa issued on arrival
For most countries, the application for a visa upon entry is not mandatory. For others, the visa will be made once you arrive at the destination and at the border of the country,the immigration officer will provide you with a visa on your passport. It should be noted that in some countries, obtaining this visa will be paid, between 15 and 50 euros depending on the country.
5. Mandatory visa to travel
When travelling to a foreign country, it is sometimes mandatory to have a visa before you arrive in the country in question. To do this, you must go to the embassy or consulate of the corresponding country with documents such as, passport, photo ID, itinerary of stay and air ticket. In case these establishments are not present in your city, it is possible to take the steps by mail but sometimes it is necessary to travel. For more information on obtaining visas, country by country, visit the embassy of the destination country. Private companies have also specialized in the preparation of visas.
In many cases, it is necessary to have international health insurance in order to apply for a visa.
6. Renewal of tourist visa
The conditions for renewing a visa vary depending on the country in which you are located because of the different laws. To do so, you must go to an immigration office with the required proofs. After reviewing your file and interviewing, your renewal will be made. Note that in some cases, renewal may pay off.
Good to know:
When travelling, consider making a photocopy of your passport and/or ID card when you go abroad. This will allow you, during outings or checks, to prove his identity without having the original pieces on you. In addition, in case of theft or loss, you will have the means to justify your identity. Also consider taking your insurance certificate with you!