Asia: the must-see places
Asia is a mosaic of peoples, cultures and religions. It is not easy to know where to go. In anticipation of a road trip we offer you must-see destinations.
Discover the 12 most beautiful places in Asia.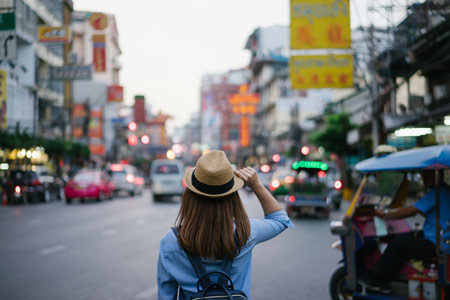 1. Angkor temples in Cambodia
Listed as a UNESCO World Heritage Site, these ruins attract more than one million visitors a year, making it cambodia's main tourism attraction. The trees have taken over the premises. South Asia is not short of temples, but there are few as memorable as those of Angkor Wat. This 12th century temple houses the largest religious building in the world that is still very active today with Buddhists and people of all faiths.
2. Bagan Stuppas in Myanmar, Burma
Bagan is the largest home of Buddhist temples: hundreds of pagodas and stupas are concentrated there. This site impresses with its richness and breadth, it is often compared to Angkor.
More generally, in Burma, the 2,500-year-old Buddhist shrine of the Shwedagon Pagoda, Aung San Suu Kyi's residence and the national museum are already unmissable. The nearby Ngwe Saung beach is also one of the best, and most unspoiled in South Asia.
3. Ubud rice fields in Bali, Indonesia
Between the rainforest and the steep ravines, in the center of Bali Island, the province of Ubud is considered the center of cultural and artistic tourism of the island. Dams, diverted rivers, terraces on the hillside… This area is home to many panoramas of sublime rice paddies, in the middle of a dense jungle spreading greenery.
4. Candi Borobudur Temple on The Island of Java, Indonesia
The Borobudur Temple is one of the largest Buddhist monuments in the world. Listed as a World Heritage Site by UNESCO. It was built in the 8th and 9th centuries, it is located in the center of the island of Java in Indonesia.
5. The Bromo Volcano of Java in Indonesia
Bromo is a volcano located on the east of the island of Java. He is considered a deity for the Hindu people. Every year, in a ceremony called Kesada, people make offerings to the crater. It is one of the most spectacular to see, it sits in the middle of a grey sand plain 10 km in diameter with walls 300 meters high and smoke that gives the impression of seeing a landscape of apocalypse or prehistory
6. Tad Saé Falls in Laos
Much less touristy than the Kuang Si Falls, they offer an exceptional spectacle and swimming by its multitude of "baths" in stairs bordered by pristine nature. We advise against riding elephants and finding more ethical activities.
7. Halong Bay in Vietnam
A breathtaking place with limestone islands and rocks that advance into the sea. More than 3,000 islands of different shapes and sizes in Vietnam. It is possible to descend into the cracks and caves of its hidden lagoons to discover unthinkable places of this beautiful place.
8. Boat Quay in Singapore
Boat Quay is one of the oldest and most historic places. As in most of the country, it's cheap and well worth a look. The night offers dizzying views of Singapore's financial power with its skyscrapers that illuminate the city.
9. Bangkok, Thailand
Thailand has beautiful beaches, smiling people, tasty food. And the capital is a place you can't find anywhere, it's magical. While the center of Bangkok (Khao San road), is a must for any hiker, it is also worth paying attention to other historic places like the 19th century temple of Wat Arun.
10. Kuala Lumpur, Malaysia
The capital of Malaysia is one of the most cosmopolitan sites in South Asia and a booming hub of art, incredible architecture and shopping malls and shops to blow up your budget. Less green landscapes but this is an unmissable aspect of Malaysia.
11. The colorful Gansu Mountains and Mount Huang Shan in China
Mount HuangShan is the most beautiful mountain in China. Unlike others, the ascent is rather accessible to all public (only 1800 m). You would see gigantic granite peaks between which the clouds float.
12. The ancient city of Hampi in India
Great corner of paradise in India, the last Hindu capital of Vijayanagar, whose palaces and temples were ransacked and then abandoned, lies in the middle of a landscape of grandiose rocky hills. You'd see the monkeys rushing to the few tourists to pick up your bananas!