Meet Julie, Globetrotter and Blogger!
Today we meet Julie from the blog Out of Time. She tells us all about her life as a globetrotting blogger!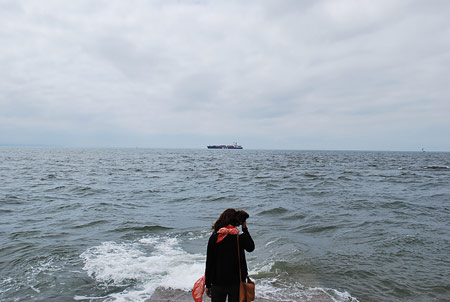 Hello Julie can you introduce yourself?
Passionate about discoveries and photographs, I run a blog "horsdutemps.fr" where I share my photographs, my maps and my reflections. After living in Paris for several years, I currently live in Marseille but I am originally from Toulouse. I'm 26 years old, and in "real life" I'm an engineer.
Your best trip?
My trip to Thailand in November/December 2015 is my most beautiful trip. Probably because this is the last "great" trip I've made. Probably because this is the first "great" trip that I prepare (almost) all by myself. But much more distantly, my trip to Greece with school left me with lasting memories. Since then, I've dreamed of seeing the Greek temples again.
Difficulties encountered during your travels?
Generally speaking, I am healthy. However, when I travel, I accumulate medical visits to local doctors. Sickness and hospitalization in Germany, angina in Brazil, severe burns (not even due to the sun) in Thailand… Benign misadventures that have not ruined my journeys but which encourage me to always check that I have a health coverage enough as soon as I step out of France!
A next destination, future travel projects?
Since I have just moved to Provence, I intend to discover this beautiful region. And re-discover Rome under the January sun.
On a trip you never leave without…
… Without a scarf. As I tend to quickly take cold, a scarf is essential when mop… especially in exotic countries fond of air conditioning!
How did you come up with the idea of making a travel blog?
I have been writing on my blog for many years. From a very catch-all blog, I turned to a space on the internet a little less intimate when I started working. My blog allows me to "live" my photos and keep track of my feelings on my various walks whether around the corner or on the other side of the world.
Any tips or good plans to give to other travelers?
My advice to give to other travelers: enjoy the place visited without worrying too much about passing for a tourist! Don't be afraid to make certain attractions that have a bad reputation. Indeed, these can prove incredible! For example, the fly boat in Paris so decried by Parisians, offers the most beautiful view of the city!
The final word?
"Writing is tidying up the bulk of your life"

from the film The Russian Dolls by Cédric Klapisch.
Thank you Julie! You can find all his adventures on his blog Out of Time!