Your health insurance according to your country
Are you planning a trip, studying abroad or moving abroad? The number of international students, travellers and expatriates is constantly increasing (we put in brackets the years related to the Covid-19 which blur many benchmarks … We help you prepare your plan to stay abroad. Find all our tips for organising your departure abroad: red tape to go abroad such as visas, practical life, must-see places. Mondassur goes with you specifically to find the best international health insurance by comparing for you the guarantees and rates of many insurances depending on your destination country.
Find a lot of information by country by continent: Europe, America, Asia, Africa, Oceania.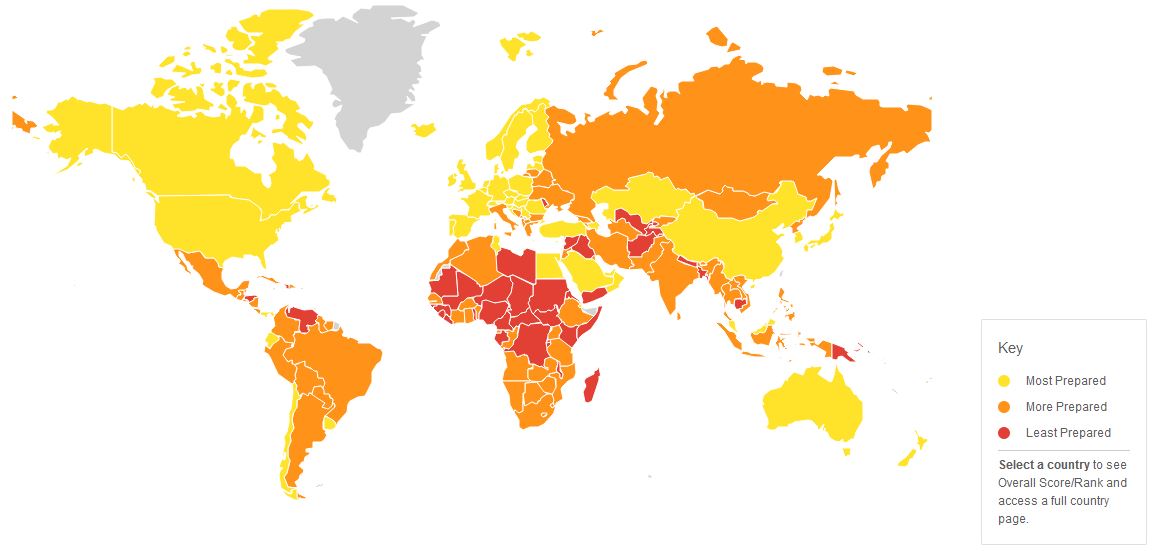 Which health system per country?
Depending on the country where you are going to live, study or travel, your health cover may be different. The Global Health Security Index or GHS evaluates the health systems of nearly 200 countries around the world. Different evaluation criteria are used: medical infrastructure, political and environmental risks, fragility of the public health system, etc.
The map above shows the level of medical infrastructure which allows you to know if you will be able to be treated in your destination country for all health problems. If not, you will have to be repatriated to another country for certain pathologies. Health insurance abroad is essential for countries without adequate medical facilities. Insurance is also essential in other countries simply to cover your medical expenses since you are no longer in your home country where you have health cover. You can be ruined by a health problem in countries such as the USA, Canada, Singapore, China. Medical costs can be very high. A health insurance for abroad will cover your health costs. We are not talking about a consultation or a medicine, but about REAL health problems, such as infectious diseases, dreaded diseases or traumatology due to road or life accidents involving hospitalisation with health costs well over 50.000€ and much more.
Moving abroad
Why go and live abroad? Job opportunities, attractions of a country or culture, love, personal challenge or political reasons.
Where to go? The possibilities are endless. It should be noted that the most economically dynamic countries attract expatriates more easily. This is the case for many Asian countries: China, Singapore, Vietnam, Thailand. It is true that difficulties in obtaining visas in some countries such as the United States or Japan can dampen the desire to emigrate. However, these countries remain popular destinations, rich in opportunities. Moreover, the African continent and Latin America are not left behind. Indeed, countries such as Senegal, Brazil or Chile are very frequent destinations that attract multinational companies.
You will be able to better understand the specifics of local health systems, and on the other hand to identify the essential criteria to be taken into account in the choice of your international expat insurance.
Studying abroad
Why study abroad? Universities are increasingly having exchange partnerships for their students. Mastering a foreign language has become a skill in the labour market, across all sectors of activity. It is an asset that reflects a greater open-mindedness Thus, doing an internship abroad or doing a university exchange is a plus for a student's future career.
Where to go? The number one priority for a majority of students wishing to get an erasmus abroad is to improve their level of English. For example, destinations such as the United States, Canada, Ireland, the United Kingdom (to a lesser extent since Brexit…) or Australia in Oceania are very popular.
As such, it should be noted that for the United States, the medical insurance required by American universities is a very important point. It must meet a high number of criteria such as hospital management, routine medicine and repatriation. Mondassur offers student insurance in the USA that meets the expectations of 98% of the more than 4,000 American universities.
Asian countries (China, South Korea, etc.) also get a special place among students wishing to find an internship abroad or continue their studies.
Mondassur offers different international student insurance packages. They adapt according to your country of origin, your destination, the length of your stay and the objective of your stay: to study or do an internship or a summer job.
Travelling abroad
Why travel abroad? Whether it's a month-long road trip or a summer vacation with your family, everything is good for discovering new cultures and landscapes. We advise you on the best times to leave, the cities to see absolutely and the essential steps before leaving as the purchase of travel insurance.
We help you compare the offer of travel insurance, so that you get a contract with guarantees tailored to your type of stay (individual traveler, organized trip) depending on the destination and accessible medical facilities for a traveller.
Choosing appropriate international medical insurance
The team of Mondassur, specialist in international health insurance for more than 15 years, advises you on the best insurance for abroad and compares the bestexpat insurance or travel insurance contracts according to your budget,the length of your stay, your situation and the desired guarantees.