Travel and Insurance in Australia
Australia is a dream-like country, whether for tourism or working holiday visa, there are more and more travelers in this country. To help you in your steps we have prepared a top 10 places to see! Also, consider having travel insurance to leave with peace of mind. Indeed, good health coverage will allow you to avoid financial and legal complications in the event of an accident. Mondassur accompanies you in your choice of travel insurance and advises you on the various offers available on the market, to find the right formula for your situation and your needs.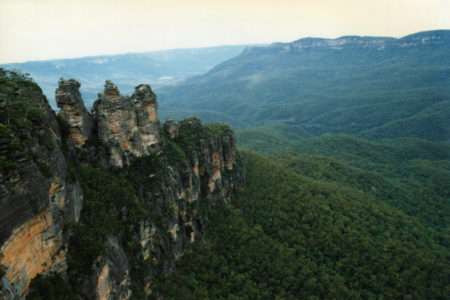 When to leave?
The best season to visit Australia is spring (September-November) and autumn (March-May).
Must-see places to visit in Australia
The Red Center
In the heart of Australia, it is a place with 3 must-see sites: Uluru, King's Canyon and the Olgas also called Kata Tjuta.
Uluru is the most famous site, it is a huge rock that is the symbol of the country. Its particularity is that it changes colors during the day depending on the light. At sunset you can enjoy its intense red color.
A trip to the Red Center can't be done without seeing the King's Canyon. Its walls are red and vertiginous 100 meters high. You have stunning views of the protected national park.
The Olgas is a set of 36 red rock domes that stretch over 30km2 and between which you can stroll, and observe the incredible environment of the Australian desert.
Sydney
If you can only visit one city, go to Sydney. There are a lot of beautiful things to see. Stroll through Circular Quay, head to the Botanical Gardens, Sea Life Aquarium, and walk down Bondi Beach, then spend half a day in The Rocks. If you don't have specific dates go for the New Year it's fantastic! And don't forget the world-famous monument: the Opera House!
The Blue Mountains
An hour from Sydney you will find the Blue Mountains National Park which stretches over 240,000 hectares. It's definitely worth taking this hour's drive. Known for its beautiful landscapes. It is possible to canyon there.
The Great Barrier Reef
Listed as a Unesco World Heritage Site, it is one of Australia's three best-known tourist attractions in the world. (Uluru and the Sydney Opera House). It is home to a wide variety of fish and corals. It is also the largest reef on the planet.
Next to this place, there is another superb place, the Whitsundays, where you will find beautiful islands. This archipelago, comprising 74 islands scattered along the coast, is known for its water and turquoise trails.
There is also an equivalent of the Great Barrier Reef but is less known, called Ningaloo Reef. Located on the West Coast, it is best known for whale sharks that are there every year, but you can also see manta rays, etc. Don't hesitate to visit the West Coast, it is much wilder and less touristy, with sublime national parks.
Queensland's rain forest
If you want to see crocodiles it's here! This forest is also home to a large number of animals, you have to open your eyes wide!
Mac Kenzy Lake on Fraser Island
It is the largest sandy island in the world, with a lake with white sand and perfect blue water.
The Top End
Visit Kakadu and Litchfield National Parks. Kakadu is the largest national park in the country, and is located about 200 km southeast of Darwin. You can see crocodiles in the natural environment, it's very impressive.
The Great Ocean Road
Do you like Road Trip? This is for you! It is one of the most beautiful roads in the world, 250 km along Victoria's south coast, with breathtaking views and many beaches.
Tasmania
A place often forgotten by travellers, Tasmania offers beautiful scenery, especially Cradle Mountain and Wineglass Bay. More than a third of the territory is classified as nature reserves, national parks and Unesco World Heritage Sites. For brave hikers, don't miss one of the most beautiful hikes in the world: the Overland Track.
Melbourne
Australia's second largest city after Sydney, Melbourne is a cultural city. Many cultural events and shows are frequently held each year. It is the capital of sport, and it is also a very cosmopolitan city with a special atmosphere to each neighborhood.
What travel insurance for Australia?
To travel to Italy in complete serenity, it is advisable to take out travel health insurance. Mondassur offers travel insurance tailored to your needs and at the best rates.