Living in Mexico and expat insurance
Mexico is a cosmopolitan country with a population of about 129 million. Many expatriate communities (Belgians, French, Germans, Dutch, African refugees from other countries on the continent etc.) reside there. We have gathered some tips to prepare your expatriation in Mexico and to understand your future daily life on the spot. Apart from the vigilance of the security, Mexico is a welcoming country rich in opportunities. However, medical infrastructure is not always sufficiently developed, and the costs of private medicine in international institutions can be very expensive. This is why it is strongly advised to take out international health insurance for expatriates before you leave, in order to prevent risks.
If you wish to move to Mexico, this information may be useful. Also think about your expatriation insurance Mexico!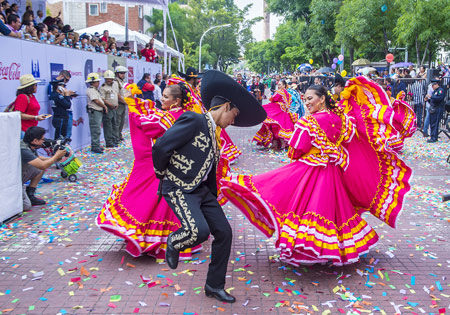 Accommodation in Mexico
Some of the larger cities in Mexico have high crime rates, which can be a cause for concern. If you are looking to move to Mexico, it is important to find out which areas you are likely to stay in. For example, it is recommended that you stay in a flat or house with a 24-hour security guard. You should also look for accommodation in a quiet, safe area with a designated parking space or garage. Moreover, if you go through an estate agent, which can be a good idea when moving to an unknown country, the agency fees will be the same as the rent. In addition, the duration of the lease will probably be one year renewable (the price of the rent is often revised upwards), however if you wish to leave your accommodation before the end of the lease signed beforehand, you will be obliged to pay the full amount of the remaining rent. There are large differences in rental costs depending on the area and the security of the accommodation. It is advisable to pay a little more for your rent to protect yourself against the risk of burglary, assault or other risks.
The cost of renting a one-bedroom flat in the suburbs of a large city is around US$400, for a flat with a good surface area count between US$1000 and US$1500.
Schooling in Mexico
You can send your children to school in Mexico without them necessarily having Mexican nationality. However, they will need to have permanent or temporary resident status (see Mexico visa information sheet). You will also need to register your children by applying to the "CURP", the Clave Anica de Registro de Poblacion, so that they can obtain a national identification number. With this identification number they can be accepted from primary to secondary school. When applying to the CURP, you will need to send proof of address and, if available, a report card of your child translated into Spanish. As in Europe, public school fees are higher than public school fees.
To enrol your child in high school, the process is more complicated and varies from region to region. You will need to provide proof that your child has completed high school and Mexican equivalents. Relatively high tuition fees apply at all high schools.
To enrol your child in university, you will need to collect original documents such as official transcripts, birth certificate. All your documents will need to be certified, it is recommended that you collect and have all your documents certified in your home country.
What is the cost of living in Mexico?
As always, the cost of living depends on where you are moving to, and how much you want to live. For example, the cost of a public transport pass is around €22, the cost of restaurants and shopping is cheaper than in Europe. The average price of a meal in a mid-range restaurant is 14 euros. Expatriate life in Mexico is not difficult financially, but it also depends on your income.
Working in Mexico
You can also try the French-Mexican Chamber of Commerce or the French Centre for Foreign Trade, they may be able to help you.
The large international firms are mainly spread between Monterrey, Mexico City and Guadalajara. These are good places to start your search. This search may take some perseverance, as you cannot start working in Mexico without the appropriate permit and visa. You will need to leave the country while the employer makes the arrangements from Mexico, so that you can return with permission to work there.
In Mexico City you will find a wide variety of large companies that have set up shop. The most active sectors are banking, marketing and insurance. Other industrial and manufacturing sectors, such as automotive and textiles, have developed in the region and can represent professional opportunities for an expatriate. If you are a skilled worker and have special skills, you can expect a high salary from the companies here: expect to earn between €2,000 and €3,000 for a manager. Customer service positions could be of great use to you as they are looking for people who speak several languages.
Setting up a business in Mexico
You can also choose to expatriate to set up your business in Mexico. Once you have completed your market research and are ready to move to Mexico, you will need to obtain a tax identification number for payment of taxes, which you can obtain from the Servicio de Administracion Tributaria (SAT). The application can be made directly online.
Of course, in order to obtain all the documents necessary for your identification, you must first obtain resident status (whether temporary or permanent). This is why setting up a business in Mexico is done after several years of experience in the country. Once you are a resident, you can apply for your CURP, the general identification number, which will allow you to obtain the RFC, the tax identification number.
Finally, you will need a land use permit, which authorises you to open a business in a business zone, outside a residential area, and which you can apply for at the Urban Development Secretariat. You will then obtain the famous "uso del suelo", after which you must apply for your business licence. All these steps are long and will require a lot of investment, but they must be respected to avoid any problem with the Mexican administration. There are many websites available for entrepreneurs in Mexico, which detail everything you need to know about doing business. The information is, of course, in Spanish.
Hygienes and eating habits in Mexico
Influenced by Spanish, African and Asian culinary preparations, Mexican cuisine is very varied. In addition, Mexicans are very important at breakfast. The latter consists of toast, fruit juice and eggs. The tortilla is the best-known recipe in the country. It is a kind of patty made from wheat or corn kernels. It is the basis of several Mexican dishes such as taco, enchilada or quesadilla. For drinks, the most common are water, coffee and beer. Also, sipping tequila is very popular with backpackers. The same goes for the pulque and the mezcal.