Living in Hong Kong and Expat Insurance
Hong Kong is a global city with around 7.5 million inhabitants. Many expatriate communities (English, French, Japanese, Americans, Canadians etc.) reside there. We have put together some tips to properly prepare for your expatriation to Hong Kong and to fully understand your future daily life there. The health system there is renowned for being of good quality. However, the costs of private medicine in international establishments can be very expensive. This is why you should take out international health insurance for expatriates before your departure, in order to prevent risks.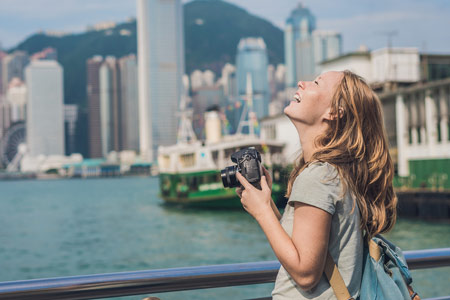 Do I need health insurance as an expat in Hong Kong?
As an expat in Hong Kong, you should purchase health insurance, as Hong Kong's healthcare system is mainly private, with high medical costs. Health insurance will help cover these costs. In addition, Hong Kong requires a health insurance certificate for your visa for a first application or visa renewal.
If you frequently travel outside of Hong Kong, international health insurance can provide you with continued medical coverage around the world, which can be essential in the event of a medical emergency abroad.
In addition, in the event of a need to repatriate to your country of origin or the need to receive medical care abroad, your insurance will cover the costs associated with your repatriation. Get a free quote immediately for your international health insurance!
Is it dangerous to go to Hong Kong?
The risk of typhoons (strong winds) is the most widespread risk in Hong Kong. Depending on the alert level (T1 to T10), it is advisable to stay at home. For the highest alert levels, it is also recommended to caulk openings exposed to the wind. The alert and emergency system in Hong Kong is very efficient. The damage is therefore limited and generally material.
The crime rate in Hong Kong is low. However, there is an increase in the number of flights near the airport and hotels. Credit card fraud is also quite common. So be particularly careful when entering your bank code and not leave your card unattended.
In general, Hong Kong is considered a relatively safe tourist destination in terms of personal safety. However, remember to take basic security measures, such as monitoring your belongings, avoiding areas of protests or potential unrest, and taking out insurance for Hong Kong, it will cover all your travel-related costs.
How to find accommodation in Hong Kong?
The city of Hong Kong is divided into 18 districts, with industrial and residential areas. Victoria Peak is the most expensive area. This is where you will find the most luxurious residences, luxury boutiques and gourmet restaurants. The Central District brings together the administrations and services most appreciated by expatriates. SoHo and Lan Kwai Fong have a large number of clubs, bars and restaurants, making them very lively neighborhoods at night. Mid Levels is known for its newer, modern housing. Kwun Tong, Sham Shui Po and Tai Po often offer more affordable housing options.
To find accommodation in Hong Kong, start by exploring various specialist websites, where you will find many options. At the same time, join dedicated housing search groups on social media to gain valuable information. Once you have identified a place you are interested in, do not hesitate to negotiate the rent, as it is common to discuss rental prices in Hong Kong. Prepare the necessary documents, including proof of income, proof of health insurance, previous rental references and a copy of your passport to establish trust with landlords.
How much does accommodation cost in Hong Kong?
In 2023, Hong Kong continues to be ranked among the cities with the highest rents in the world, according to a study by UBS bank. On average, apartment prices range from HKD 5,000 to 15,000 per month (around €563 to €1,700), depending on their size and location. For renting a house, you will always need to budget around 200,000 HKD per month (around €22,506). Advertised rates are generally displayed on a monthly basis and may not include handling fees and taxes.
Regarding charges, they are added to the basic rent. Running costs such as water, electricity and heating average around 2,000 HKD (around €225). The government rate corresponding to 5% of the rent remains to be paid each quarter. Maintenance or security costs may also vary depending on the standard of your accommodation. Please note that rental prices in Hong Kong may continue to change depending on market conditions.
As you can see, accommodation in Hong Kong is particularly expensive, and to reduce your budget while protecting yourself against health expenses, take out health insurance for Hong Kong!
How does the education system work in Hong Kong?
The official language of the country is Chinese (mainly Cantonese, then Mandarin). Classes are therefore taught in this language. English is also a common language taught at school.
In Hong Kong, schooling is compulsory for 9 years, from 6 to 15 years of age. Children are generally enrolled in kindergarten and learn to write very early, so as to subsequently enter the most renowned schools. At the end of primary school, they enter "junior secondary" and "senior secondary education" for 3 years each. They then take the BKDEE, equivalent to the Bac in France.
The education system in Hong Kong is known for its excellence and competitiveness. The pressure to succeed is very strong for Hong Kong students. The teachers give a lot of homework to do at home. Students therefore spend on average 2 to 3 hours per day working at home after classes.
The French international high school of Hong Kong N.O offers education following the French curriculum, from nursery school to high school. This teaching can be provided in French or in bilingual teaching depending on the chosen formula. Annual registration fees vary from 104,270 HDK to 163,665 HDK (11,735 to 18,420€) per year depending on the year of study and the language of instruction.
Many French and international nursery schools welcome young children. International colleges and high schools also exist.
When you take all of these charges into account, it becomes clear that the cost of living in Hong Kong is very high. In order not to further burden your budget, take out health insurance for Hong Kong. Since life's ups and downs are unpredictable, health insurance provides you with essential peace of mind in the event of unforeseen medical needs. You will be able to cover any high medical expenses that may arise, ensuring crucial financial protection for your well-being in Hong Kong.