Living in Hong Kong and Expat Insurance
Hong Kong is the world's premier city with a population of about 7.5 million. Many expatriate communities (English, French, Japanese, Americans, Canadians, etc.) reside there. We have gathered some tips to prepare your expatriation in Hong Kong and to understand your future daily life on the spot. The health care system is known for being of good quality. However, the costs of private medicine in international institutions can be very expensive. This is why it is strongly advised to take out international health insurancefor expatriates before you leave, in order to prevent risks.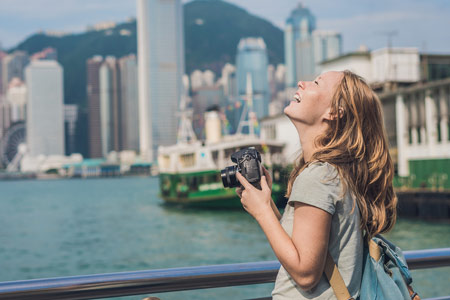 Security
The risk of typhoon (strong winds) is the most common risk in Hong Kong. Depending on the alert level (T1 to T10), it is advisable to stay at home. For the highest alert levels, it is also recommended to caulk openings exposed to the wind. The alert and rescue system in Hong Kong is very efficient. Damage is therefore limited and generally material.
The crime rate in Hong Kong is low. Nevertheless, there has been an increase in the number of flights near the airport and hotels. Credit card fraud is also quite common. So be especially careful when typing your bank code and not leaving your card unattended.
Housing
Choosing your home
The city of Hong Kong is divided into 18 districts, with industrial and residential districts. Victoria Peak is the most expensive area. Here you'll find the most luxurious residences, luxury boutiques and gourmet restaurants. The Central District is home to the administrations and services most popular with expatriates. SoHo and Lan Kwai Fong are home to a large number of clubs, bars and restaurants, making them lively at night. Mid Levels is known for its new and modern accommodations. Aberdeen, Admiralty, Stanley and Tsim Sha Tsui are also residential areas.
You will find all types of accommodation in Hong Kong. The " serviced apartment are more expensive than average apartments because they are furnished. The "condominiums also have high rents but offer additional services such as gyms or swimming pools.
Housing costs
Hong Kong is the city with the most expensive rents in the world, according to a study by UBS N.O. bank in 2018. On average, apartment prices range from HKD 5,000 to HKD 15,000 per month (563 to 1,700 euros) depending on their size and location. To rent a house, you will need about HKD 200,000 per month (22,506 euros). Advertised prices are usually posted on a monthly basis. They do not necessarily take into account management fees and taxes.
Charges are added to the rent. Water, electricity and heating typically cost HKD 2,000 (225 euros). The "government rate" corresponding to 5 of the rent is to be paid each quarter. Depending on the standard of your accommodation, maintenance or babysitting costs may be added.
Find and sign your contract
If you rent your home for less than 3 years, you will sign a contract. In the event that the one is more than 3 years, it becomes a lease. Incorporate an update on the signed documents. Also consider negotiating and registering your departure terms, the notices are usually 1 to 3 months. The tax stamp required to recognize the document will cost you between 0.25 and 0.5 of the annual rent.
Social networks are usually the best way to find your home. Take a look at expat groups in Hong Kong. If you don't find your happiness, turn to the web and real estate agencies.
Education
The official language of the country is Chinese (mostly Cantonese, then Mandarin). The courses are therefore taught in this language. English is also a common language and taught in school.
In Hong Kong, schooling is compulsory for 9 years, from 6 to 15 years of age. Children are usually enrolled in kindergarten and learn to write at an early age, so that they can enter the most reputable schools. At the end of primary school, they enter junior secondary and senior secondary education for 3 years each. They then passed the BKDEE, equivalent to the Bac in France.
The education system in Hong Kong is known for its excellence and competitiveness. The pressure for success is very strong for Hong Kong students. Teachers give a lot of homework to do at home. Students spend an average of 2 to 3 hours a day working from home after class.
The International French High School of Hong Kong N.O offers instruction following the French curriculum,from kindergarten to high school. This instruction can be given in French or bilingual instruction according to the chosen formula. Annual registration fees range from 104,270 HDK to 163,665 HDK (11,735 to 18,420 euros) per year depending on the year of study and language of instruction.
Many French and international kindergartens welcome young children. International colleges and high schools also exist.