Living in Canada and Expat Insurance
It is difficult to give a single definition to Canada: this immense multicultural country with a thousand faces has something to surprise you constantly!
It must be said that between the very low level of unemployment, the quality of life here, the dynamism of its large cities and the beauty of its landscapes, it is a country that has everything to seduce us.
Easy procedures, numerous job opportunities, attractive economic life… Ready to take off?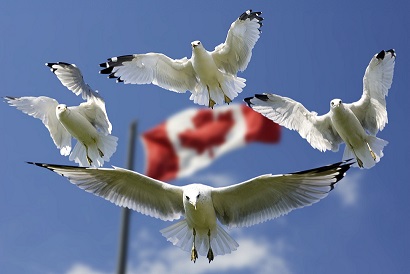 Staying in Canada
To make your search for housing easier, here are some linguistic specifics to consider:
The number of coins can be advertised as "21.2." This will mean that the apartment has 2 rooms and a bathroom, as it is counted as a half-room. If you find an indication of "1-1" or "2-1," the first number refers to the number of rooms. The '1' is a desk or small extra room.
The first floor or first floor corresponds to the ground floor. An apartment on the second floor in Canada is therefore a first floor for a Frenchman.
"Hydro" means electricity. It is important to know if current expenses are included in the rent price. In particular, heating can become a major expense quickly if the apartment is poorly insulated. The price of water, on the other hand, is low.
Leases usually start on July 1 and are signed for one year. You will not be charged a deposit, but you will usually have to pay the first and last month's rent in advance. Consider attaching the state of the premises to the contract and enshrining in the latter the expenses included in the rent.
Be careful, if you do your research remotely, never send money to the lessor. Indeed, it is recommended to pay the money directly on the spot at the signing of the contract, because remote scams are common.
The price of a three-bedroom in the city centre ranges from 858 to 1,789 euros per month depending on the city of residence. Rents are higher in Vancouver than in Toronto, Calgary, Ottawa, Montreal or Quebec City.
To find your accommodation, look to the ads on the internet (Craglist, Kijiji), or take a walk in the desired neighborhood. Indeed, it is not uncommon to see displays directly at the windows of rental units.
Schooling in Canada
Since Canada's official languages are English and French, education is bilingual from primary school onwards. Public schools in Canada are fully funded by the state, but there are also public schools. There is no national curriculum, it depends on the provinces.
The Canadian education system consists of 3 levels:
Elementary level: from kindergarten to grade 6 or 8 depending on the province (children between 5 and 11-13 years old).
Secondary school: from grade 7 to grade 13 (children between 12 and 18 years old). At the end of this cycle, children receive a diploma from their school.
Post-secondary education, which corresponds to university level.
Working in Canada
The advantage of Canada is that there is no shortage of jobs, but rather a shortage of labour. With an ageing population, certain sectors are emptying out and companies are no longer hesitating to look beyond their borders to meet the demand.
There are several ways of settling there on a long-term basis:
You can immigrate as a skilled worker under the "Express Entry" programme. This is a selection programme allowing workers to benefit from a permanent residence card, on the basis of a file selection. You can then enter the territory as a participant in the local economy.
You can immigrate as a family member of a Canadian citizen or permanent resident. The person on the ground will have to sponsor you to obtain the necessary papers for your immigration.
You can immigrate under the Provincial Nominee Program. This is a program for skilled workers who wish to contribute to the economic development of one of the Canadian provinces, to settle and reside there permanently. Each of the provinces has its own immigration streams for certain groups of people and workers.
Quebec has a special agreement with the government to be responsible for its immigration policy. It has its own rules for selecting immigrants who are considered suitable for local life. You can therefore expatriate there as a skilled worker selected by Quebec. You will need to apply to the Quebec government for a selection certificate so that they can assess your application.
You can immigrate as an eligible candidate to the Atlantic Canada Immigration Pilot Program. This involves being recruited by an employer in the New Brunswick, Nova Scotia or Labrador and Newfoundland region. This program helps local employers hire qualified foreign candidates for positions that they could not fill locally.
If you are an entrepreneur, have a business idea(s) that could be considered innovative, and will need labour, you are eligible for the Business Start-Up Visa. This visa targets immigrant entrepreneurs who have the skills and ability to start a business that can employ Canadians and contribute to the local economy. You will need to get support from one of the organisations designated for your project.
You can also participate in programs for agri-business workers or those who want to work with rural communities. These programmes have been set up to bring the benefits of immigration to all sectors and communities, so take advantage of them!
There is no shortage of opportunities for all types of people… Don't miss an opportunity and try your luck! To do this, we invite you to regularly check the government immigration website and the websites of the different Canadian provinces. You will see that you can even find a job from your country of origin, if you look hard enough. They will be your best allies in your search for employment and settlement opportunities!
You can also make an initial trip to Canada for several months and look for work directly in Canada. Everything is possible depending on what you want and are looking for!