Ranking of the most visited cities
Each year, Mastercard compiles the ranking of the most visited cities of the year. Surprisingly, London is dethroned in favour of Bangkok. According to this ranking, which is based on an estimate of the number of international visitors expected in 2016 and not on the attendance actually observed, it is indeed Bangkok that should settle on the first step of the podium.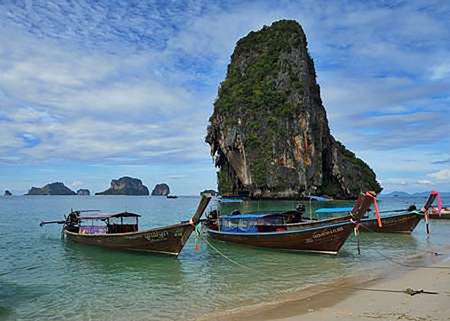 Some numbers:
The Thai capital is expected to welcome 21.47 million international visitors in 2016, just ahead of London (19.88 million visitors) and Paris (18.03 million visitors). Paris remains on the third step of the world podium and the second European. Despite the attacks, the estimated figure is up from 2015 and its 16 million.
The rest of the Top 10 includes Dubai, which retains its fourth position (with 15.27 million visitors), ahead of New York (12.75 million), Singapore (12.11), Kuala-Lumpur (12.02), Istanbul (11 .95), Tokyo (11.7) and Seoul (10.2).
Spending items distinction: London ahead of Paris in shopping
Now, Mastercard claims to be able to differentiate not only the trips made for pleasure and those for business, but also to distinguish the different expenditure items of visitors.
Overall, tourism remains the main reason for visits except Shanghai which is the only city in the top 20 where the majority of visitors go for business.
They also force the issue for Paris by clearly showing that London far exceeds Paris as a shopping destination: it accounts for 16.5% of spending in the French capital, well below the 46.7% recorded across the Channel.
Asia-Pacific Region: Developing International Tourism
The Asia-Pacific region is home to five of the world's top ten most visited cities, and seven of the destinations with recent the largest tourism growth.
It is also found that the top 20 cities in the ranking are visited more for tourism reasons than for professional reasons. This is particularly the case in Bangkok, where 85.6% visitors are there for leisure reasons.
Thailand is particularly known for its heavenly beaches in recent years with Phuket and Koh Samui in particular. But above all, don't miss the Golden Mountain Temple ("Wat Saket"), the Chatuchak, the Royal Palace, the impressive "Ma Boon Krong Center" (MBK) as well as the floating markets if you go to Bangkok, the capital.
Dubai: tourism booming
The city of Dubai is becoming the main choice for travellers. In the first quarter of 2022, it became the most visited city in the world. Dubai, also known as the "shopping capital of the Middle East", aims to become the world's tourism capital in the coming years.
Think about travel to buy international health insurance.
Mondassur has been the specialist in expatriate insurance for almost 15 years. Whether you are a student, trainee, PVTiste, globetrotter or employee, whether you are going alone or with your family, we will find you health insurance adapted to your situation.