Studying abroad can be one of the best decisions of your life. You will discover a new civilization, another language and meet people from all over the world!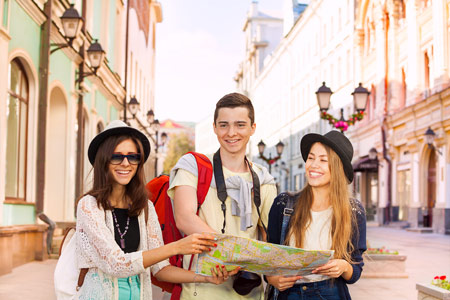 You like it, go to study inFrance, but the paperwork seems too hard? Thankfully, here are the key steps and a timetable to enroll in university in France:
Step one. Take language exams (September-November)
Check with the tuition department of the universities you are interested in. You must pass the DELF B2 to register for a Bachelor's degree and the DALF C1 for the Master's and PhD.
If your course is internationally oriented, you need to prove your English skills. Most universities require the C1 level in English which can be justified by the international certificate TOEFL or IELTS.
NB!: Results at IELTS and TOEFL are valid 2 years after the exam.
Step two. Prepare the necessary documents (October-December)
Although the requirements vary from university to university, the following documents are usually requested to enrol at a university in France:
Language certificates
High school graduation certificate (equivalent to baccalaureate)
The grades of all years of higher education
Letters of recommendation
The cover letter
The CV
Photocopying of your passport
Note that if your document is written in a language other than French, you need to make sworn translations of your documents.
Step 3. Apply
The procedure is done by post or online. It varies from one nationality to another, check directly with the university tuition department.
Step four. Get the acceptance letter (March-June)
Once you have sent documents, you must wait for the acceptance letter from the French university. In the letter there will be all the information about your registration.
Step 5. Subscribe to student insurance for France
If you are a university student, you will be covered as soon as you register. However, sometimes you have to wait before finalizing your administrative registration. If this is the case, it is better to take out an international student insurance in France in advance to spend your stay without risk. If you come from a non-EU area, you are not covered in France.
attention! If you register for language courses, you must take out international student insurance in France to obtain your visa.
Mondassur offers you a comprehensive insurance tailored to your needs, meeting the requirements of student visa in France with a very good ratio benefit-price: Gold Student .
This insurance has coverage of hospitalization, consultations, analyses and pharmacy at 100 of the actual costs.
The benefits of Gold International student insurance:
Insurance compliant with Schengen Visa and Long Stay Visa requirements
Coverage throughout the European Union
Reimbursement of medical expenses and hospitalization at 100
Repatriation assistance
Personal Liability and Accident Capital
Medical assistance platform available 24/7
Immediate issuance of the membership certificate
– based on the French Social Security convention rates
Student visa insurance requirements (language courses, studies) in France:
Letter with header from an insurance company, on behalf of the applicant, indicating the country covered, the duration, the validity, including medical care, hospitalization and repatriation valid for all Schengen states
An insurance value of 30,000 euros
It is very important to choose student insurance in France which has all these criteria, such as insurance Gold Student, the duration and validity of your student visa in France will depend on your student insurance.
Step 6. Spend the campus france interview (May – July)
Once you have obtained your acceptance letter at a university in France, make the appointment for the interview with Campus France of your country. This interview verifies your motivations for studying in France.
Step 7. Apply for your student visa for France (June -July)
Once you have completed the Campus France interview, apply for the student visa with the French Embassy. The details and documents are available on the official website of the French Embassy in your country. The visa fee is 99 euros.
Once in France
Step 8. Send the letter to the OFII (September)
Your long-stay visa is only valid for a residence permit if it has been validated by the OFII. As soon as you arrive in France:
1. Complete the form entitled "Application for OFIICertificate" that was given to you with your visa
2. Send this form to the OFII as soon as you arrive in France
Nb! It is not advisable to change the home address when filing your OFII form.
Step 9. Make the final enrolment at university in France (September)
Come to the university with all your documents to finalize your administrative and pedagogical registration. The acceptance letter from your university in France is required to be registered.
Step 10. The appointment at the Prefecture of your place of residence (October-November)
In two to three months after sending the letter to the OFII, you will get the summons from the prefecture. An OFII sticker will be affixed to your passport. The sticker allows you to reside in France until your visa is valid.
Don't forget to take out student insurance in France that covers you at 100% of actual costs! Our guarantees are exceptional with coverage of medical expenses adapted for studies in France. Save money while benefiting from Visa Long Stay insurance!