Italy: Puglia, a new trend destination
Since the low cost lines opened their direct lines to Bari and Brindisi, Puglia has become the favorite resort of the French.
Puglia seduces the traveller at first glance. The landscape, at the same time green and arid, with wheat fields as far as the eye can see, vineyards and thousands of olive trees. All over the region, you'll find carob, fig and almond trees.
Between lazing around and visiting, Puglia is full of possibilities.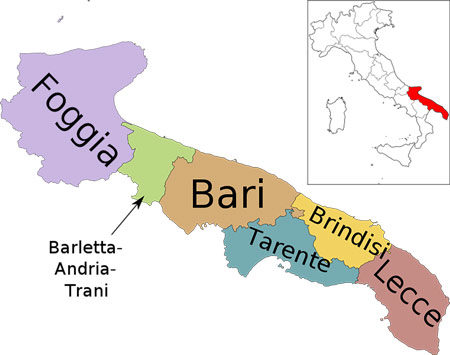 The beaches
With more than 800kms of coastline between the Ionian and Adriatic Seas, you'll be spoilt for choice:
The rather rocky east coast offers many coves and low cliffs especially in Polignano a Mare.
On the west coast, you will find white sandy beaches surrounded by pine forests as in the vicinity of Gallipoli where you will find many of the most beautiful beaches of Puglia.
The must-see towns and villages
Locorotondo is a pretty village with white alleys, located on top of a hill. This village was built in circles around the Church.
Ostuni, also referred to as the "White City" recalls some sides of Greek villages. Its picturesque old town, entirely painted in white lime, is a maze of pleasant alleys to discover.
Martina Franca is the largest city in the Itria region. Just take the narrow streets of the district to reach Piazza Plebiscito, the true heart of the city and its masterpiece, the superb Basilica di San Martino.
Alberobello, a UNESCO World Heritage Site. Its historic centre is entirely characterized by these pyramidal constructions that make it unique in the world: trulli.
Gallipoli, a town in the Lecce region, is known for its historic centre at the end of the peninsula and therefore surrounded by water.
Lecce, very marked by an exuberant baroque style of its own, decorating the facades and adorning the interior of its many religious monuments.
Taranto, a shopping town known for the castle of its historic centre.
Gastronomy
Puglia is the region that produces the most olive oil,and his cuisine is a credit to him. Also considered the breadbasket of Italy,the durum wheat of pasta is of excellent quality. Local Orecchiette or Troccoli pasta is often cooked with vegetables. Fish is also one of the specialties of the region (mussels, oysters, octopus, anchovies, sardines, swordfish…).
Not to mention that Italy is the world's leading wine producer,thanks in large part to Puglia. The specialty is the Primitivo di Manduria with a very high degree and a lot of body.
Consider taking out travel insurance for your stay.