Cruise: tips and formalities to know before boarding
Finally decided to pack your bags for your first cruise? A few points are to be considered in advance to guarantee you an exceptional trip.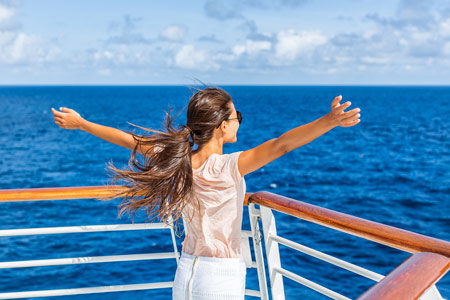 Passport or visa: what papers are needed?
It all depends on the destination. If you are a National of the European Union, a valid national identity cardor passport is sufficient for stopovers in member countries. A passport valid for 6 months after returning from travel is required for certain cruises passing through Egypt and the West Indies, for example. Others require a visa such as the United States. In all cases, you must check with the travel agency beforehand for each stopover made.
Cruise and health: mandatory vaccines?
For the majority of cruises, no specific vaccine is required,except for travel to certain tropical regions. It is right to know what vaccines to make and the precautions to be taken with the relevant health authorities, the tour operator and your treating physician at least 8 weeks before boarding. Indeed, if choosing your cruise ship is imperative for a perfect trip, taking into account one's health is just as important.
Why cancellation insurance?
If you are unable to go on a cruise when you have already paid all the costs, the agency will not refund your trip. If you have chosen to take out cancellation insurance, you will be able to reimburse you for all or part of the amount of the trip.
Book earlier or prefer last minute trips?
If you wish to board a particular cruise on a specific date, anticipate the booking. If you are interested in a specific type of cabin, you are travelling in a group and have booked airfares beforehand, you should also book in advance.
Otherwise, if you don't have too many constraints, whether it's departure and arrival dates, the location of your cabin, and you plan to go to the port directly a last-minute reservation you will be.
When to book excursions?
Often, a minimum number of participants is set for each excursion. It is therefore necessary to book as soon as possible. Depending on the company, this step can be done in advance or once on board the vessel.
Other formalities to mention if necessary
For people with reduced mobility,it is important to specify this when booking. Indeed, some companies with infrastructures that meet their needs will be able to direct them to more suitable cabins, for example, or offer them more suitable excursions. In all cases, persons with reduced mobility must be accompanied by another person to assist them and bring their own wheelchair.
If you are traveling with valuables, it is advisable to choose a cabin with a mini trunk. You can also place them in the flight attendant's office. The purchase of appropriate travel insurance is also recommended.