Going abroad with e-learning platform Edubravo
Are you a student, professional or tourist and would like to have international professional experience? Have you always dreamed of living abroad,learning a new language, joining a team and working in the country of your dream? Edubravo is your platform to support you in international mobility! Choose your Premium offer and receive expert advice from professionals to put all the chances on your side to go abroad.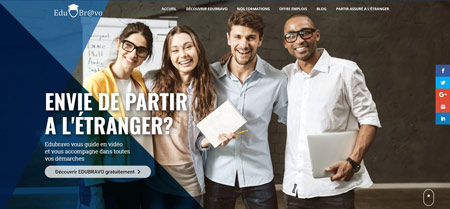 Edubravo, an intuitive and practical solution
Whether it's to enhance your CV,to discover new countries,to enrich your career path or simply to live an out-of-the-ordinary experience: going abroad is now a solution chosen by many people and a real booster of opportunities.
In this dynamic, Edubravo supports project leaders internationally. Thanks to intuitive videos and real personalized coaching, everyone can live a real international experience and overcome all the obstacles that stand in their way.
Edubravo serves a dual purpose
Training in international student mobility andpersonalised support for each student in their mobility project.
On the training side:
Edubravo offers a stand-alone course module (no teacher/course supplement) in the form of video sessions.
Through a rating system integrated with the platform, this program integrates into the rating systems of institutions.
Edubravo was designed by an international mobility expert (and supervised by an External Trade Advisor).
On the personalised coaching side:
A dashboard that allows the student to have a visual on his progress and results. The school reference also has access to each student's dashboard.
Personality tests to help students get to know each other better and thus build a structured and coherent project.
A roadmap that guides the student, through personal reflection exercises, in international mobility project.
Who benefits Edubravo?
To the students
With an intuitive path, the Edubravo platform allows each student to work on their own professional project. Online courses, personality tests and available resources allow students to gradually target their strengths and weaknesses, match their aspirations and skills, and find a path that suits them.
To people who are preparing an international project
Regardless of age and social and professional situation, everyone can use the Edubravo platform to help define and structure a project internationally. The presence of a clear path and personalized accompaniment allows everyone to put on paper a project abroad that had been maturing for a long time.
To higher education and schools
In addition to helping students prepare their projects abroad, Edubravo is a real boon for schools and institutions. Training each student in a true professional project methodology requires a lot of time and investment. Too often the lack of these two criteria suffers on teaching and teachers cannot devote to each student the attention he really needs. Edubravo and its personalized accompaniment, it is a great tool and a relief for schools. Given the internationalization of schools and university curricula, the company is convinced that Edubravo has every place to guide and support young people in their international projects.
Health insurance to go abroad
A trip abroad is being prepared,one of the essential steps is to take out international health insurance that will cover you for the duration of your stay.
Mondassur offers 3 levels of coverage adapted to your needs with a very good coverage-price ratio: Gold Student
Reimbursement of medical expenses at 100% of actual costs according to different ceilings
100% reimbursement of medical expenses for routine medical care
Dental and optical care
Direct payment in case of hospitalization
Repatriation assistance
Medical assistance platform available 24/7