Working in mobile digital and travelling abroad
Working and travelling is a fundamental trend. The development of the internet had already paved the way. The Covid crisis and multiple containments have boosted this way of life. More and more people are deciding to become self-employed and travel around the world. They travel and continue to work for clients or their businesses on the other side of the world. They're not tourists, they're not expatriates. Some may call it "slow tourism", others from the first expatriations. You need to organize yourself to earn a living while traveling, get the right visas and find international health insurance in the event of an accident or other health problem.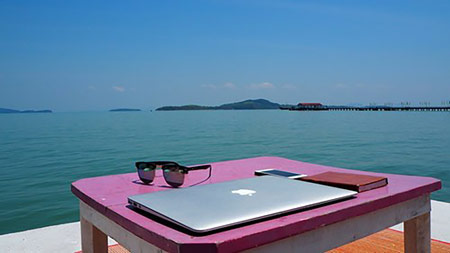 What is a digital nomad?
A digital nomad is someone who can work anywhere as long as there is a wifi connection, and who travels and lives a largely nomadic life.
Digital nomads are different from those you would describe as independents, as they travel, at least for most of the year, to different cities and countries while working on the road. They often work on 100% digital tasks.
Becoming a digital nomad
If you don't know where to start, try completing the following list
What are my skills?
What do I like to do?
Can I solve other people's problems?
How do I choose the country to work for?
You can work all over the world. Your imagination will have as limit only the security of the countries and their accessibility thanks to the possible visas. The Covid epidemic has prompted some countries to offer specific visas for teleworking. The advantage of telecommuting is that you are not stuck in a country. You can start by telecommuting in a country that appeals to you. Once there, you are free to move as you see fit to another destination. The country is also made according to the cost of living abroad which can drastically change the way you view your new life.
In which countries do telework abroad?
Mauritius with the visa "Premium Travel Visa" subject to being paid at least $ 1600 per month.
Dubai with the "Virtual Working Program". You can stay for 1 year as long as you already have a business paying you $ 5,000.
Costa Rica with the "Residencia Temporal Empleados Especializados por cuenta propia" if you are independent, this visa is valid for 2 years.
Mexico with the "Residencia Temporal" valid for 1 year and renewable for 4 years subject to proving that you have $ 27,000 at the time of the visa application.
Some European countries offer visas for teleworkers: Spain, Czech Republic, Germany with the "Freiberufler" visa or Greece with attractive tax conditions with a 50% tax reduction for the first 7 years.
Exotic islands: the Barmades with the "12 Month Barbados Welcome Stamp" visa subject to earning $ 50,000 per year, Antigua and Barbada with the "Antigua Nomad Digital Residence" visa, the Cayman Islands with the "The Global Citizen Concierge Program "subject to earning $ 100,000 per year, Bermuda with the" Work From Bermuda "for up to one year.
Thailand with the Smart Visa S which requires several financial criteria and the obligation of health insurance. The visa allows you to work in Thailand for up to 4 years.
What status to become a digital nomad?
The freelancer
Freelancing is a type of work that allows you to work all over the world and thus become a digital nomad. The number of missions that can be completed is almost unlimited.
First of all, you need to build a good clientele that will leave you testimonials and recommendations about your services. Your skills will become your brand. You have to make your own communication. Make yourself known by undertaking marketing actions about you and your work. You can use your network, your former employers or one of the many online platforms offering freelance assignments.
Working remotely
Before you leave your job to start your own business, try to negotiate with your company. Indeed, it is possible to ask to work remotely. For your employer, this reduces its operating costs.
What are the benefits of telecommuting abroad?
A feeling of total freedom to discover the world
The feeling of being in control of your life and your time
The possibility of organizing your days as you wish
The discovery of new countries, new ways of life
The opportunity for new friendships around the world
The creativity and perspective that such an experience can bring you
What are the drawbacks of telecommuting abroad?
The frustration of losing your roots
The absence of your old friends and family
The lack of events in the life of your loved ones (marriage, birth, birthday, death)
Administrative procedures to change country
The feeling of not building in the long term
The difficulty of organizing family life with children or someone who is not a digital nomad
The risk of being alone or in difficulty without knowing how to manage your time
Which jobs to become a digital nomad?
Digital nomads are generally comfortable with everything related to the web. Here is a non-exhaustive list of occupations you can do based on your skills:
Web editor
translator
Webdesigner
Web developer and mobile apps
Community manager
Professional blogger
photographer
Video director
Teaching a language from a distance
Webmarketing specialist (SEO, Adwords, emailing …)
Advice/Consulting
Coach/Psychologist
Voiceover
writer
Virtual assistant
Sell on an online store
International digital mobile health insurance
In any case, it is essential that you purchase international health insurance. Depending on your age and destination, fares vary. Buying international insurance like Gold Start will allow you to be completely free in choosing your destination and status while being protected worldwide for illness or accident. Independents are the first users of this type of health insurance abroad. You can subscribe for a few months up to a few years.
Comprehensive coverage for all types of private or professional stays (12 months max)
Medical assistance platform available 24/7
Reimbursement of medical expenses at 100 of actual expenses
Permanent assistance abroad to ensure your medical and legal security
Repatriation if necessary for your return to your country of origin or to a country with the infrastructure to treat you
You can request a quote for free and purchase your insurance online to telework abroad directly. The advantage of travelling, working and all in ideal conditions thanks to our insurance.