Becoming digital mobile to work while traveling
Working and travelling is the new trend with the development of the internet. More and more people are deciding to become self-employed and travel around the world.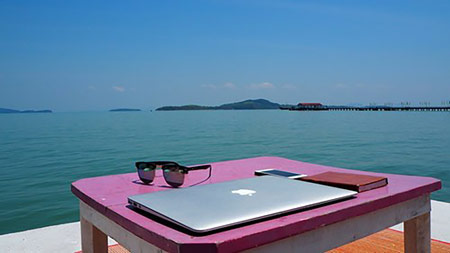 What is a digital nomad?
A digital nomad is someone who can work anywhere as long as there is a wifi connection, and who travels and lives a largely nomadic life.
Digital nomads are different from those you would describe as independents, as they travel, at least for most of the year, to different cities and countries while working on the road.
Becoming a digital nomad
If you don't know where to start, try completing the following list
What are my skills?
What do I like to do?
Can I solve other people's problems?
What status to become a digital nomad?
Freelancing
Freelancing is a type of work that allows you to work all over the world and thus become a digital nomad. The number of missions that can be completed is almost unlimited.
First of all, you need to build a good clientele that will leave you testimonials and recommendations about your services. Your skills will become your brand. You have to make your own communication. Make yourself known by undertaking marketing actions about you and your work.
Working remotely
Before you leave your job to start your own business, try to negotiate with your company. Indeed, it is possible to ask to work remotely. For your employer, it reduces its operating costs.
What trades to become a digital nomad?
Digital nomads are generally comfortable with everything related to the web. Here is a non-exhaustive list of occupations you can do based on your skills:
Web editor
translator
Webdesigner
Web developer and mobile apps
Community manager
Professional blogger
photographer
Video director
Teaching a language from a distance
Webmarketing specialist (SEO, Adwords, emailing …)
Advice/Consulting
Coach/Psychologist
Voiceover
writer
Virtual assistant
Sell on an online store
International digital mobile health insurance
If your goal is to travel to several countries, Mondassur offers international health insurance "Generation". This allows you to carry out professional missions around the world for 12 months.
Comprehensive coverage for all types of private or professional stays (12 months max)
Medical assistance platform available 24/7
Reimbursement of medical expenses at 100 of actual expenses
Permanent assistance abroad to ensure your medical and legal security
You can request a free quote and purchase your insurance online for foreign countries directly. The advantage of travelling, working and all in ideal conditions thanks to our insurance.