The Vadrouilleuse: Young globetrotter to discover
Webmarketer on weekdays and traveling on weekends and in my spare time, I decided to create a blog, to share my passion and advise travelers in organizing their stay. Cintia, 23 years old, I like to travel individually,because I notice that it promotes contact with the population.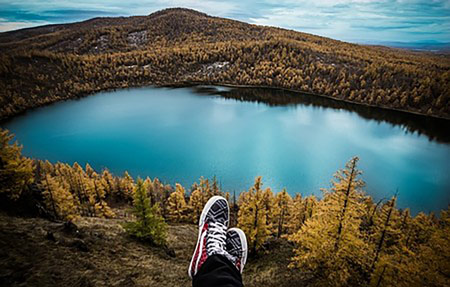 Why did you decide to become a globetrotter? How long have you been?
I had the opportunity to travel from a very young age. First I made many trips with my family, then when I was 18, passport in hand, I took off and decided to discover new destinations with my companion.
Which countries have you visited?
Many of them! I visited the United States, Croatia, Turkey, Albania, Corsica, the small island of Corfu, Morocco, Tunisia, Spain, Portugal, Martinique, Guadeloupe, Cuba, Senegal…
I have also visited many cities: Prague, Amsterdam, London, Bruges, Brussels, Venice…
What is your favourite country and why?
In my circle, everyone knows, my biggest dream is to return to the USA! I loved this country for the diversity of landscapes. The Grand Canyon, Death Valley, Sequoia Park are unusual places with nature so impressive that it reminds us how small we are.
What's your next destination?
I have not decided yet, but it will be a hot country, maybe South America (Brazil, Peru…)
What is the typical preparation before each departure?
Before each trip I start by buying both the guide of the backpacker and Geoguide. I like to have both because they often have different opinions, so it allows me to make my own opinion. Then I spend long hours flipping through these books, and browsing many blogs to organize my journey. To prepare my itinerary, I absolutely need to see pictures of the places, usually blogs highlight beautiful photos that correspond to reality.
Google maps is a valuable tool for assessing distances and travel time between stages, so I'm providing information on all my stopping points.
During the preparation of my trip, I like to mix cultural visit and rest (I'm still on vacation, so it takes moments to decompress).
Preparing for the trip is so much a part of this escape!
If you were to land in a country, which one would it be?
I love to travel the world, but I think that if I had to move to a country other than France it would beEngland: I had the opportunity to study there and I loved this experience.
What advice would you give to other globetrotters?
Each destination has its own peculiarities,its positive and negative points, you have to know how to accept cultural differences and make the most of your journey to learn new things, and discover new ways of living. You have to leave with your eyes and ears wide open, without prejudice, leaving behind your usual landmarks, it makes you make the most of your discovery.
The final word…
The world is a book and those who do not travel read only one page

Saint Augustin