Travel and Insurance in South Africa
South Africa is a country of contrasts, bordered by two oceans, which presents varied landscapes of remarkable beauty. In order to make the most of your trip, follow our checklist of must-see places not to be missed! Also, consider having international travel insurance for South Africa to leave with peace of mind. Indeed, good health coverage will allow you to avoid financial and legal complications in the event of an accident. Mondassur accompanies you in your choice of travel insurance and advises you on the various offers available on the market, to find the right formula for your situation and your needs.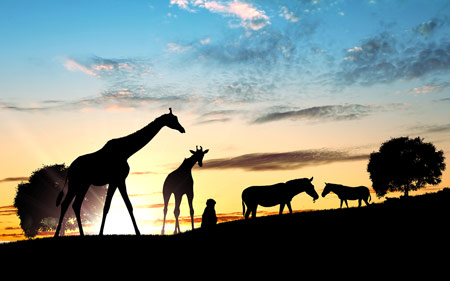 When to leave?
The two best seasons to go to South Africa would be the southern autumn (May-June) and the southern spring (October-November).
The must-see places to visit in South Africa
Cape Town
Located at the southern tip of Africa, the cosmopolitan city of Cape Town is not to be missed. Stop by the Museum of History and Culture, then visit the Victoria and Alfred Waterfront waterfront and the Bo-Kaap district with its colourful houses.
Don't hesitate to climb to the top of Lion's Head for a breathtaking panorama and stroll through Kirstenbosch's Botanical Gardens.
Johannesburg
Joburg or Jozi for intimates, Johannesburg is the largest city in South Africa. It is full of energy and offers a lot to see. Don't miss Newtown's cultural district, with its many museums, theatres, art galleries and restaurants. You will enjoy spending your evening in one of its legendary clubs and local and jazz music.
Pretoria
50 kilometres from Johannesburg, Pretoria is South Africa's political and administrative capital. The architecture is of colonial influence, with a South African style and touches of art deco that testify to its cultural richness.
Visit Pretoria in October, when the jacarandas are covered in purple flowers and adorn the city's sidewalks.
Port Elizabeth:
This cultural and historic city offers beautiful beaches, rich museums and historical monuments. Algoa Bay, formed by the Indian Ocean, offers vast expanses of sand, which is why so many South Africans have a second home there.
Mbombela
Formerly Nelspruit, it is the gateway to Kruger National Park and the starting point for many safaris and excursions. This vibrant city is home to beautiful botanical gardens including the first artificial rainforest, a crocodile farm, an elephant sanctuary, and the oldest caves on earth.
Durban
Heavily steeped in Zulu culture, Durban is known for its idyllic climate, beaches, rich multicultural heritage and nightlife.
The city offers a superb corner of nature in its botanical gardens. Take a walk along the fragrant trails and have fun recognizing the many varieties of flowers and subtropical trees.
Kimberley
The capital of Northern Cape province is known as Diamond City.
Start your tour of the city with its main attraction "The Big Hole": the mine of this diamond capital. You can also visit the city's famous jewelry stores. The William Humphery Gallery offers beautiful collections of African art as well as French, English and Dutch masters from the 16th and 17th centuries.
Bloemfontein
A fountain of flowers in Dutch, Bloemfontein is the judicial capital of South Africa. The historic centre of the city hides many monuments and interesting museums that recall the city's past.
Don't miss the Oliewenhuis Art Museum, which brings together a beautiful collection of modern art.
Polokwane
A dynamic mix of people and culture, Polokwane has great restaurants, art galleries, museums and jazz clubs.
Don't miss Bakone Malapa Northerm Sotho's African Open Air Museum.
Golf enthusiasts will certainly love to visit polokwane Golf Course, one of South Africa's most prestigious golf centres.
What travel insurance for South Africa?
In the event of a serious accident or early return, the insurance limits that you may eventually have with your credit card will not be sufficient to cover all costs. In general, all foreign nationals are required to present proof of insurance in order to receive coverage in the public or private sector. Depending on your needs and the criteria you are looking for, Mondassur offers you different travel insurance options so that you can leave with peace of mind.