Travel and Insurance in Mexico
Mexico is a country of contrasts, bordered by two oceans, which presents varied landscapes of remarkable beauty. In order to make the most of your trip, follow our checklist of must-see places not to be missed! Also, consider having travel insurance to leave with peace of mind. Indeed, good health coverage will allow you to avoid financial and legal complications in the event of an accident. Mondassur accompanies you in your choice of travel insurance and advises you on the various offers available on the market, to find the right formula for your situation and your needs.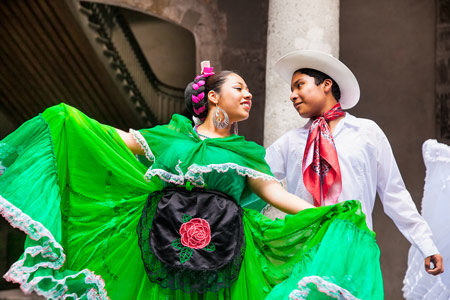 When to go to Mexico?
The best time to visit Mexico is before the rainy season, between September and March.
Travelling to Mexico to enjoy a relaxing holiday
Located in the southern part of North America, Mexico is a country that attracts thousands of travelers in search of discovery. Indeed, it is full of tourist treasures that will arouse the curiosity of lovers of culture. Mexico, the ancient land of the Spaniards is a beautiful destination for travelers. Cultures and the way of life out of the ordinary make this country unmissable. Moreover, the natural sites that this territory houses are among its assets in terms of tourism. With family, friends or solo, your stay will be unforgettable thanks to the activities to be done on site.
There is, for example, the Chapultepec Castle, Cobo. Apart from its sites of interest, this region has other assets to please backpackers. Moreover, it is a destination of choice for those who want to live a lazy moment in its seaside towns as well as its paradise suitable for holidays. In addition, most hotels in this territory have a spa and offer different activities. During a Mexico tour, globetrotters will benefit from several benefits. They will ease, among other things, their stress.
Going to Mexico City: what to see in the country's metropolis?
Mexico City, the Mexican capital is a must-see during a trip to Mexico. This bustling city is one of the most populous cities in the world. Divided into several quarters, in this megalopolis intertwine the modern aspect and the charm of the old stones. Historic places are to be surveyed to plunge back into the past of the territory. The Templo Mayor is not to be missed. Ruins of buildings of the Aztec Empire and masterpieces of sculpture can be found on this archaeological site. This place is of great importance to Mexicans. In addition, the National Museum of Historia and the Castillo de Chapultepec are unmissable. It used to serve as an imperial palace. What differs from other castles is its Napoleonic style and decorated apartments. Similarly, Palacio de Bellas Artes is to be criss-crossed. It is a venue dedicated to shows and theatre.
Various activities to do in Mexico for idyllic moments
In addition to visits to cities and monuments, distractions are part of the tours in Mexico. For hiking or horseriding, natural sites such as Palmitosa and Calakmul offer the possibility to practice them. Endemic flora and fauna are also to be admired, as are the varieties of orchids and different kinds of birds. In addition, the beaches of San Agustinillo are ideal for getting out of the way. Highlighted by coconut trees, this address is among the most beautiful seaside destinations in the Pacific. Similarly, Yucatan is known for diving and snorkeling. By doing these activities, you can contemplate the aquatic treasures of the country such as multicolored fish. On the other hand, be sure to attend the Corrida during your visit to Mexico. Indeed, bull runs are very popular with Mexicans. They have the largest dedicated stadium in the world in the metropolis.
Some relaxing seaside resorts in Mexico
Mexico has many perfect beaches to relax in, one of the most fascinating of which is the city of Puerto Vallarta. Located in the Baha de Banderas, this municipality has a pleasant atmosphere because of its décor. It also has several beaches for relaxation.
What travel insurance for Mexico?
Do you want to go to Mexico? You need time to prepare for your trip. Also remember that it is absolutely essential to take out travel insurance when you visit Mexico for a variety of reasons. You will benefit from repatriation, which is very important if you are in remote areas and you have access to all the medical centres and not just the public centres which can become a nightmare. We help you choose your health insurance for Mexico!