Travel and Insurance in India
Temples, palaces, parties, elephants… Going to India is a total change of scenery, but before departure you have to plan your itinerary. To make the most of your trip to India, follow our checklist of must-see places not to be missed! Also, consider having travel insurance to leave with peace of mind. Indeed, good health coverage will allow you to avoid financial and legal complications in the event of an accident. Mondassur accompanies you in your choice of travel insuranceand advises you on the various offers available on the market, to find the right formula for your situation and your needs.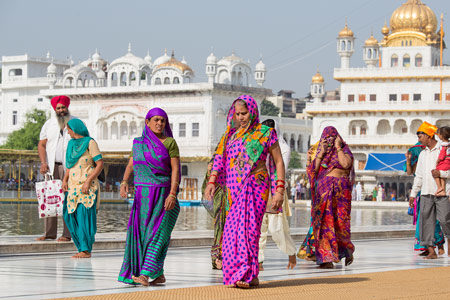 When to go to India?
Due to the very high temperatures, the best season to visit India is winter. The season starts in October and ends in February, during the cooler months.
The must-see places to visit in India
Agra: Visit Agra, this city is well worth a look, there are many must-see places to see. Starting with the Taj Mahal which is the symbol of India. Then, the Red Fort, a UNESCO World Heritage Site. And finally don't miss the palace of Fatehpur Sikri.
The Golden Temple in Amritsar: A covered temple is quite unknown, yet it is one of the most beautiful in India.
Jaipur, also known as the Pink City, is one of India's liveliest cities. The Wind Palace is Jaipur's most recognized place. It is part of the City Palace, used by the current Maharaja and his family.
Udaipur: The Venice of India: lake, narrow and lively streets. It is the most romantic city in India. Don't miss his palace in the middle of the lake, which served as the setting for a James Bond movie.
Sailing the Ganges in Varanasi: It is a sacred city in India, especially its river. Life and death mix. Dying in this city is the promise of access to eternal life. Then the deceased are brought to the stake. But the Indians also wash their clothes as well as themselves. And every evening, a ceremony, the Puja, sees the waters of the river covered with lights, offerings to the gods.
Ajanta: You will see thirty caves carved into the cliff walls. These caves contain ancient Buddhist paintings. They are listed as a World Heritage Site.
The Kailash Temple in Ellora: This Temple is part of a group of 64 monasteries. This is the most spectacular of ellora's temples as it was dug into the cliff from its summit at 6714 meters above sea level. It is the largest monolithic structure in the world.
Mumbay (or Bombay): The city of Mumbai is a must, with its stunning architecture thanks to its English heritage. Heat, garbage, colors, noises, smells, disorder, saris, turbans, you will know you are in India!
Khajuraho: Temples renowned for their erotic sculptures and representations, with sometimes amazing and bizarre things, this temple is worth a visit!
Chittogarh Fort: It is the largest fort in India with 700 hectares. The towers of fame are also very impressive.
National Parks: There are many popular national parks in India. The best known are Keoladeo National Park (for birds) and Bandhavgarh National Park (for Bengal tigers). But also Rajati, for its beauty and its rich bio-diversity and Chambal especially for crocodiles.
Kumbhalgarh: The largest wall in the world after the Great Wall of China. It is located near Udaipur. Its approach is superb, in a mountainous and arid landscape.
The Minakshi Temple: A Hindu temple in Madurai is among the most important in India. Very important to Hindus, it is submerged by an uninterrupted stream of worshippers. This temple is marked by its very bright colors, including in the galleries.
Delhi: A melting pot, the city is home to 15 million people. There are several things to do in Delhi: the Akshardham Temple, Humayun's tomb, Gandhi's last resting place and the Minaret of Qutb Minar (India's largest minaret).
What travel insurance for India?
Of course you will want to live full of adventures during your stay in India and sometimes the precautions you take are not enough. In the event of an accident, the costs of health care and hospitalization can be very high. It is strongly advised to take out travel insurance in India that will cover you throughout your stay.
Mondassur helps you choose the right cover for your trip to India. We guarantee you insurance that will meet all your expectations and allow you to travel with peace of mind. Ask for a free quote online or contact our customer advisors by phone, email or via WhatsApp.