Travel and Insurance in Hong Kong
Before you go to Hong Kong, have you prepared your trip well? Here is some information to help you organize your trip in complete serenity. Also, consider having international travel insurance to Hong Kong to leave with peace of mind. Indeed, good health coverage will allow you to avoid financial and legal complications in the event of an accident. Mondassur accompanies you in your choice of travel insurance and advises you on the various offers available on the market, to find the right formula for your situation and your needs.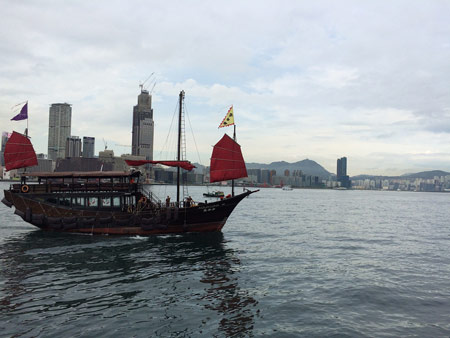 When to leave?
The best season to visit Hong Kong is between October and December, or in March. During these periods, temperatures are mild and the weather is dry. Beware, Hong Kong experiences a rainy season and high heat from May to September.
Climate
Hong Kong has a subtropical climate. Temperatures range from 12 to 32 degrees Celsius. Summers are particularly hot and humid, with 80 annual rainfall between May and September. Summer is also the time of typhoons (strong winds), especially from July. Winters in Hong Kong are dry. It is therefore recommended to visit the country between October and January, where temperatures vary between 15 and 21 oC.
Places to visit
The unmissable show in Hong Kong is the Symphony of Lights. This sound and light show takes place every evening at 8pm in Victoria Harbour. It would be the largest of its kind according to Guinness World Records. If you can, dine in a rooftop (restaurant in the high floors of a skyscraper) overlooking the show.
Other must-sees during your stay include the Avenue of Stars,the Clock Tower and the Golden Bauhinia Square. The first is the Hong Kong equivalent of the Hollywood Walk of Fame, including a statue of Bruce Lee and his footprints. The Clock Tower is the arrival point for the thousands of Chinese who have migrated to Hong Kong. The Golden Bauhinia Square contains the symbol of Hong Kong, offered by China when it was reinstated in 1997.
Fancy a shopping trip? Take a tour of the traditional markets of Mongkok and Yau Ma Tei. For ladies, we recommend the Lady's Market in Tung Choi (Mongkok), rich in clothing and accessories. Temple Street is transformed every night into a popular bazaar, animated by songs and good adventure tellers.
To see beautiful panoramas, head to Victoria Peak or the Star Ferry. To reach the peak, take the tram: an interesting experience for all visitors. You can then observe the city from the heights. The Star Ferry is a must-see and offers a panorama of the bay and skyscrapers.
If you prefer a nature excursion, it is also possible to visit the surrounding islands. It is not uncommon to encounter monkeys and other local animals. The island of Lantou is also home to the Tian Tan Buddha Temple, where you can recharge your batteries away from the hustle and bustle of the city.
If you're short of ideas, don't hesitate to visit Macau as well. The boat ride between the two cities lasts one hour.
Local specialities:
Some culinary specialties will attract your interest:
– Dim Sum, from steam bites to various pranks
– Siu Mei, poultry (duck, goose…) lacquered and roasted
– dried shrimp egg noodles,
– Street Food,especially fish pellets, for their texture
– Chee Cheong Fun, thick rice pasta to accompany soy sauce or spicy
– the Gai Daan Tsai, or Hong Kong Waffle,a fluffy bubble waffle
The culture point
Before you travel to Hong Kong, learn about local culture. This will save you a few missteps. In particular, it is very frowned upon to plant your chopsticks in food. This gesture is reserved for offerings for the deceased. So always lay your chopsticks flat on one side of your bowl. Added to this non-exhaustive list is the fact that children do not touch their heads and never raise their voices in front of a local. It is not customary to haggle prices outside the markets.
Travel insurance
Beware, the quality and price of care varies greatly from country to country. Our article on the health system in Hong Kong informs you about the country's health care conditions.
To travel in complete serenity, it is important to take out travel insurance when you travel. This protects your family from any eventuality, and make the most of your vacation.
Mondassur offers insurance tailored to your needs offering excellent coverage with a very good guarantee-price ratio: the Travel Pass.
Reimbursement of medical expenses at 100% of actual expenses, up to 500,000 Euros
Reimbursement of emergency dental expenses
Direct payment in case of hospitalization
Medical assistance platform available 24/7
Free medical information service by phone available 24/7
Repatriation assistance and accident capital
Civil liability including your vacation rental
Baggage insurance
This health insurance abroad covers travellers up to 85 years of age worldwide for a rate starting at 30 euros per person per trip.
Mondassur saves you time by having previously studied and chosen the insurance most suited to your situation and by offering you the opportunity to buy and obtain your insurance certificate quickly. Our team is also available to answer all your questions by email and phone.
Each insured has a 24/7 medical platform accessible from all over the world.