Travel and Insurance in Canada
Welcome to the land of caribou, maple syrup and hockey. You speak French and English, you can see two oceans, enjoy the incredible landscapes with a thousand faces, go from the dense forests of Quebec to the rugged mountains of British Columbia… And all this without ever getting tired of it: if you thought you had done it all in the spring, go back in the autumn, and another colourful country will appear before you.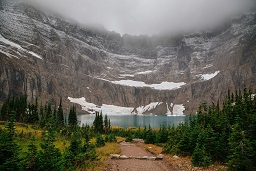 When to go to Canada?
You can enjoy the country almost all year round, as there is a wide variety of activities. Only the period from the end of December to mid-March is not recommended as it is particularly cold, snowy and rainy. These are therefore not the most interesting conditions to visit the country and enjoy it fully.
Must-see places to visit in Canada
The plateau and Mount Royal Park in Montreal
Montreal is very rich culturally and historically, and is particularly popular for its quality of life and diversity.
But above all, don't miss the unmissable: the Plateau-Mont-Royal and its brightly coloured houses, for example. Don't hesitate to ask a guide to accompany you to discover all the secrets and hidden spots. He or she will also be able to give you anecdotes about this "Petit-Paris", while you enjoy an excellent local poutine!
Afterwards, you can take a tour of the Mont Réal park. Considered the lungs of the city, there are many things to do there, depending on the season: cycling or hiking in the summer, cross-country skiing or ice skating in the winter… there's something for everyone! And let's not forget the incredible view of Montreal from the Kondiaronk lookout.
The Château Frontenac in Quebec City
Quebec City is a jewel of the region, and has always attracted crowds for its cultural and historical capacity. The city has nothing to envy the great cultural capitals: museums, theatres and other cultural visits are a delight for young and old. On the culinary front, and like Montreal, Quebec City has attracted great chefs to offer varied and rich menus, from the famous poké-bowl to gourmet desserts made with maple syrup.
Among all this selection, there remains one essential, the symbol of the city: the Château Frontenac. It is both a monument and a renowned hotel.
Toronto's CN Tower
The CN Tower is the ninth highest tower in the world at 553 metres high, and offers a breathtaking view of the city of Toronto and its region. And for the more adventurous, a glass floor is located just below the lookout, allowing you to defy your fear of heights and feel the effects of the wind!
Niagara Falls at Niagara Falls
We all know Niagara Falls… And that's okay because it might be the most photographed place in the world. And what's more: go there in winter, and you might be lucky enough to see them completely frozen!
What you may not know is that they are not located in the heart of Mother Nature at all: they are located in the heart of a small leisure town, Canadian Las Vegas, a real tourist attraction. Straddling the American border, you can of course arm yourself heavily with a good poncho and take a boat ride, or even take a helicopter tour if you can afford it… The view will be all the more impressive!
The Thousand Islands – Mid-May to mid-October
The Thousand Islands are protected as a national park and are less well known to tourists, so a visit is a must. This archipelago is made up of a group of islands in the St. Lawrence River, and forms part of the border between the USA and Canada. From one island to the next, you can find pretty villas, fishermen's cabins, vineyards and even incredible castles. If the park does not offer transport to these, you can venture out in your own boat using the maps provided. The best option is to take one of the cruises from the surrounding towns: Rockport, Gananoque or Kingston.
How to travel in Canada?
If you decide to go on a road trip in Canada, there are several means of transportation available to you, depending on your budget. However, if you have an accident and have to go to the hospital, you may not be able to benefit from a minimum of protection to cover your medical expenses. That's why we encourage you to take out a comprehensive insurance policy, so that you don't end up in a difficult situation. Ask us for a free quote!
The car
The advantage of driving in Canada is that an international license is optional. However, you must have your driver's licence and you must also be over 21 years old.
In addition, weather conditions often put a strain on the roads. Outside the main road networks, you should be careful when driving.
In addition, good citizenship is particularly important in Canada. You should respect pedestrians and the famous yellow school buses: if they have their blinkers on, don't try to overtake them.
The car can be an efficient and relatively cheap way of getting around compared to planes or trains. And even if you are travelling long distances, you can enjoy the scenery and have the freedom to stop in places that you would never have discovered otherwise! There are also a number of applications on the market that allow you to find out where the cheapest petrol station is.
The train
The train is probably the cheapest way to get around. The train is probably the cheapest way to travel long distances, but also the longest. If taking your time is not a problem for you, it is advisable to subscribe to the CanRailpass-Network. It will allow you, over 60 days, to make between 7 and 10 trips by train for a cost of $700 to $900.
The bus
Often underestimated, Greyhound routes are an excellent way to travel long distances while enjoying the scenery. Tickets are affordable and journeys are direct and fast. Some also offer toilets and TV screens to ensure maximum comfort throughout your journey. You can also take buses from Orleans Express and Inter Car, or Coach Canada.
So, are you ready for the adventure? All you have to do is take out insurance for your road trip!