Living in Mauritius and Expat Insurance
Mauritius attracts more and more expatriates with its softness, charm, quality of living environment, economic growth, cultural diversity and also its tax advantages… However, you must keep in mind some practical details: as long as you declare that you no longer reside in France permanently, you are no longer covered by social security, and often or by your mutual. So consider taking out expatriation insurance so that you and your family have good medical coverage abroad.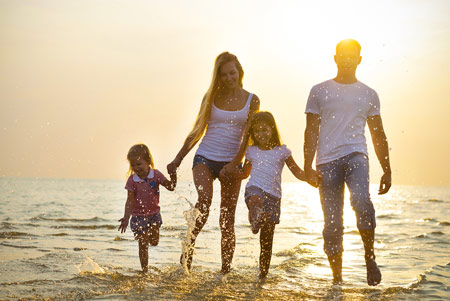 Working in Mauritius
Tourism is the sector that recruits the most in Mauritius with that of new technologies and communication. The free zone has created many employment opportunities, particularly in the offshore services sector. To find a job in Mauritius, it is best to consult the job offers on the internet before you leave. Word of mouth also works very well. Also be aware that, as in many foreign countries, local employment is protected, so your potential future employer will have to justify the fact that your skills are specific and could not be found among the Mauritian population. Finally, with the standard of living relatively lower, so are wages.
Schooling in Mauritius
French and international schools are well represented. However, tuition fees are expensive and the waiting list for applications can be very long. So it's a good way to do it in advance for registrations.
Staying in Mauritius
Prices depend on many criteria such as the location of the property, the quality of the construction and the services included. In all cases, the purchase price of a property or a rental is lower than in France.
Count 400 to 700 EUR for family accommodation in tourist areas, and more than double the seaside. You can rent live or through a real estate agency. Agency fees will be shared between the landlord and the tenant.
What is the cost of living in Mauritius?
With housing opportunities starting at around $200 to €300 per month, a relatively low transportation cost and a fairly reasonable food budget, living in Mauritius is not a big challenge. The cost of living is lower than in Europe but higher than in the Maghreb or Asia.
In addition, the international tax system of Mauritius is very attractive:
Application d'un taux d'imposition unique de 15 % sur les revenus
Taux de TVA fixé à 15 %
Suppression de l'impôt sur la fortune immobilière (IFI)
Élimination de l'impôt sur les plus-values immobilières
Absence de taxe foncière ou d'habitation
Pas de taxation sur les droits de succession
Nevertheless, for expatriates who wish to have a better quality of life and/or who settle with their family, it is necessary to count at least 2500 euros per month car, including children's schooling and leisure. Imported products are expensive, it is better to buy fruit and vegetables directly in markets rather than in supermarkets. Health costs may be lower than in Europe, but they are still expensive and the local social security system will only cover a tiny part. It is advisable, to reduce your expenses on the spot, to take out private insurance before you leave for Mauritius.
Driving in Mauritius?
Since Mauritius is a former British colony, traffic is on the left. The rental car and the ideal means of transport to visit the country. To rent a car in Mauritius, you must be at least 21 years old (varies according to the categories of vehicles) and have had a driving license for more than one year. Speed is limited to 40 km/h in the city, 80 km/h on roads and 110 km/h on motorways. The fatality rate is quite high. The main roads are relatively good, but the secondary roads are very narrow.
The French permit is recognized in Mauritius. The Traffic Office, in Port-Louis, issues a Mauritian licence, to be renewed every year, upon presentation of the French permit. The procedure is free and done during the day.
Hygiene and eating habits in Mauritius
Hygiene varies in restaurants, markets and shops. Tap water is generally safe to drink, but it is best to consume imported bottled water: Evian, Vittel.
There is a ciguateric risk (risk of scratching) in Mauritius. Avoid eating locally known fish species to be toxic. Ask fishermen for advice. It is recommended to empty the fish thoroughly. Do not eat the head, eggs, viscera, liver in particular, which are more toxic than fillets.
Choosing health insurance for Mauritius
As an expatriate, you usually have two options available to you in terms of health insurance: either you choose to contribute to the Caisse des Français abroad (CFE) which is the equivalent of social security and to take a complementary health to cover all medical expenses that could be incurred and to benefit from additional guarantees. Either you choose to go only through private health insurance, with formulas called "first euro". Mondassur offers both complementary contracts and comprehensive health insurance that is self-sufficient: GoldExpat Access, GoldExpat Safe, GoldExpat Premium. Don't hesitate to make a first quote online and contact us if you have any questions!