Health insurance in Morocco
Whatever your situation and the reason for your stay in Morocco for more or less time: a new position, a new professional opportunity, an internship, a university exchange or simply a holiday, it is important to think about to make sure. What do you need to know about the health system in Morocco?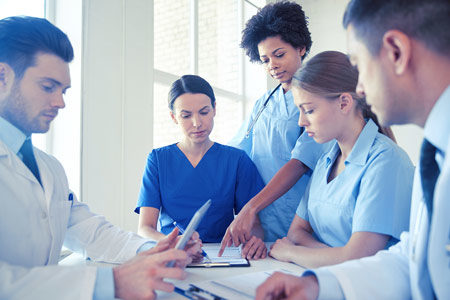 Inequalities in the Moroccan health system
The Moroccan health system has a public and a private sector. The public sector consists of more than 2500 primary health care centres and about 150 public hospitals. The private sector is more developed and consists of more than 6500 private practices and more than 430 clinics mainly based in urban areas and towards the North of Morocco. Civil servants and employees in the public sector are covered by the Caisse Nationale des Organismes de Prévoyance Sociale (CNOPS) and the other part of employees in the private sector are covered by the Caisse Nationale de la Sécurité Sociale (CNSS) and subject to compulsory health insurance.
The Moroccan health system lacks human resources, with less than one doctor per 1000 inhabitants. The lack of government investment in health is a real brake on the development of this sector despite the introduction in 2012 of compulsory health insurance for the poorest Moroccans (RAMED).
The quality of care and the inequalities in access to services, particularly between the large cities and the more rural regions, are notable in Morocco. Many public hospitals are in a deplorable state and are not in a condition to receive or treat patients. 95% of Moroccans with health insurance prefer without hesitation to be treated in private clinics where the service and quality of care is nothing like that of the public sector. If you are planning to stay in Morocco as an exchange student, expatriate or retiree, it is essential that you take out a private international health insurance policy that will cover you for private sector healthcare costs.
Local insurance in Morocco
In 2005 and again in 2011, the Moroccan government introduced two basic medical insurance schemes: the basic compulsory health insurance (AMO) and the medical insurance scheme (RAMED). RAMED covers the poorest part of the population in order to allow access to health care even for the poorest who cannot benefit from AMO. In 2005, only 16% of the population had basic health coverage, while in 2020, it will be around 70%, i.e. 25 million beneficiaries of health insurance and 11 million beneficiaries of the medical assistance scheme. The government's objective is to reach 100% of beneficiaries, i.e. the entire Moroccan population insured.
The AMO covers outpatient care, hospitalisation, dental care, maternity, optical care, paramedical care, treatment of long-term illnesses, and benefits for children under the age of 12. However, access to the care offered by these basic insurances is restricted to the public health sector.
The AMO reimburses :
Medical devices at 100%
Hospitalisation at 100%;
Generic drugs at 90%;
Dental care (with a ceiling of 3000 dh per year)
Optical care: frames at 400 dh, standard lenses at 400 dh and progressive lenses at 800 dh.
Seeing a general practitioner in Morocco
To consult a doctor in Morocco, you can first ask your friends and family if they have a GP to recommend. Otherwise, there are many websites that list doctors by town and suggest you directly consult a doctor located in the same area as you. We advise you to contact your embassy or find out more on their website and contact the medical advisors who will put you in touch with a GP.
In Morocco, you can consult a specialist doctor without necessarily going to a GP first. However, we strongly advise you to make an appointment with a general practitioner beforehand, who will be able to advise you better if you need the opinion of a specialist. This will allow you to have two medical opinions if your consultations result in a major operation.
On average, here is how much a consultation with a :
General practitioner in a surgery: between 100 and 200 dh
General practitioner at home: more than 150 dh
Specialist in the office: 150 to 300 dh
Specialist at home: 300 dh
Overview of average medical costs in Morocco
The cost of medical care in Morocco is very low compared to that in Europe. This is a double-edged sword for anyone wishing to stay in Morocco or move abroad. Indeed, the costs are much lower but the care you will receive will be of lower quality.
X-ray: 800 dh
Blood test + analysis: 300 hr
Scanner: 1250 hr
Hospitalization (1 night + nursing care + meals and TV) in a single room: 800 dh
Intensive care: 3000 dh
Hospitalization in a sterile room: 1000 dh
Overview of average prices for a dentist in Morocco
The price of an initial consultation with a dentist in Morocco is usually 500 dh. An initial consultation for a dental implant in Morocco for 15 minutes is 700 dh. For an intraoral x-ray you will usually be charged 700 dh. To place a crown on an existing dental implant, depending on the type of implant you choose, you should expect to pay from 5000 dh. A dental filling will often cost you between 400 and 700 dh. For a dental extraction, you can be charged between 400 and 600 dh or even up to 1000 dh in a private clinic. A cavity will cost you between 600 and 800 dh.
The emergency service in Morocco
In case of emergency, dial 15 or 150 and you will be redirected to a platform that will put you in touch with the fire brigade or the ambulance service, which will send you an appropriate service according to your alert message. When sending your alert message, be as precise as possible so that your situation can be studied as quickly as possible. The Samu number is 141 but this number is reserved for patients with respiratory symptoms, fever and cough.
Hospitals in Morocco
There are strong disparities between the medical facilities of public hospitals and private clinics, which are more or less accentuated depending on the region. There is 1 hospital bed per 1000 inhabitants, 1 doctor per 12,000 inhabitants, 1 health centre per 10,000 inhabitants and 1 nurse per 1000 inhabitants.
Health care networks in Morocco
The number of doctors in the private sector is higher than in the public sector, while the public sector provides care for 85% of the population.
What vaccinations should I get before leaving for Morocco for a stay or expatriation?
Before leaving for Morocco, it is important that you have your vaccination booklet up to date, including booster doses for hepatitis A and hepatitis b. You will also need to be vaccinated against rabies and typhoid and Morocco has no cases of malaria. There are no compulsory vaccinations, but it is impossible to enter the country without an international vaccination booklet showing that you are properly vaccinated.
Paramedical care in Morocco
You can easily access any type of paramedical care in the major cities in Morocco. There are many specialists who will be able to take care of you, to choose them, we again recommend that you ask around or get information from your embassy. Here are some examples of the average costs of consultations with certain paramedical professionals in Morocco:
Speech therapist: 150 to 200 dh in Rabat and 300dh in Casa
Osteopath: free prices between 350 and 500 dh
Optician: between 200 and 300 dh
Gynaecologist: between 200 and 250 dh
Maternity in Morocco
You are in Morocco for an indefinite period or expatriate and pregnant and you wonder where to spend your maternity? Between your home country and Morocco? In this article you will learn everything there is to know about maternity in Morocco in a private clinic.
Pregnancy monitoring in a private clinic is very similar to pregnancy monitoring in Europe. You will be given a variety of tests to check the health of the child throughout the pregnancy. What may be slightly different is that the gynaecologist may be able to perform the ultrasound scans himself and he may also have his own ultrasound equipment.
Be aware that midwifery is almost non-existent in Morocco, so you will have to look for someone specialised in childbirth preparation yourself, as you will not find a midwife who will prepare you for childbirth in the clinic. Your gynaecologist, who has been following you since the beginning of your pregnancy, will assist you during the birth and is used to working in the clinic where you will give birth.
In Morocco, caesarean sections are very common, so do not be surprised if you are offered one as a matter of course. We recommend that you make it clear to your gynaecologist whether you want to give birth naturally or with an epidural etc.
A caesarean delivery costs twice or even three times as much as a vaginal delivery. Here is an idea of the cost of a maternity ward in Morocco in a private clinic (including delivery, room, care and paediatrician):
Delivery by vaginal route: between 4500 dh and 10000 dh ;
Caesarean delivery: between 12000 dh and 20000 dh;
Why and what international private health insurance should I take out in Morocco?
As a foreigner staying or expatriating in Morocco, it is essential to take out private international health insurance for the duration of your stay.
You can join the Moroccan AMO, but this cover is not sufficient as it only covers you in the public health sector and at low rates. You will need to take out additional supplementary insurance to cover the cost of private health care in Morocco. Whereas a private international health insurance will cover you at better rates, even internationally.
With an insurance like GoldExpat, your healthcare will be reimbursed even in the private health sector. Our insurance will also cover your repatriation costs to another country that can treat an untreatable illness in Morocco. This is essential in Morocco, as the quality and diversity of care offered is limited, even in the private sector.
As a tourist, taking out health insurance is not a bad idea, especially if you plan to leave for several weeks and discover the country in the manner of a road trip. It is not impossible that you may fall ill or have an accident in areas where medical facilities are difficult to access. It is important that you are covered for medical repatriation if you need emergency treatment.
Don't waste any time, get a free quote on our website and/or contact us by email or phone for more detailed information on your situation.