Health insurance in Cambodia
Whatever your situation and the reason for your stay in Cambodia for more or less time: a local job, a new job opportunity, an internship, a university exchange or simply a vacation, it is important to think about to make sure. What do you need to know about the health system in Cambodia?
For living in Cambodia or travelling with a travel insurance Cambodia, Mondassur allows you to cover all your risks (health, repatriation, luggage…) by choosing international health insurance customized and adapted to all your needs.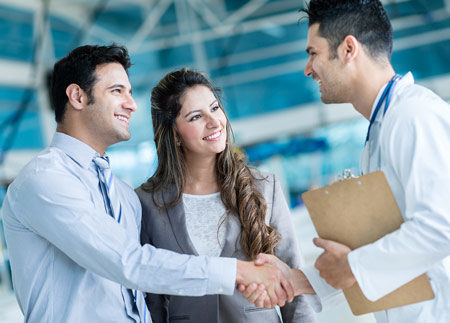 The health system in Cambodia
The Cambodian health system has improved a little, but a few years ago we would not have advised you to seek medical treatment there. Now you can go to a general practitioner or hospital for a diagnosis or medical consultation without fear. However, it is essential that you go to private institutions. The public health sector has developed much less than the much more efficient private health sector. The country, which was economically ruined after the war, has recovered, but many diseases and infections circulate in the country, such as malaria, tuberculosis and rabies. This is why it is imperative that your vaccination schedule is up to date if you want to go to Cambodia, for an expatriation or even a holiday. It is important to know that in Cambodia, more than 20% of the population lives below the poverty line and that more than 65% do not benefit from any health coverage.
Social security in Cambodia
There is a social security system in Cambodia called the National Social Security Fund (NSSF). Since 2017, accident and health insurance is compulsory for all workers in a company with more than 1 employee. This law is mandatory for all companies or establishments and applies to both Khmer employees and foreigners (expatriates, digital nomads etc.). However, this social security is to be taken with a pinch of salt as a large part of the population does not benefit from it, due to lack of financial means and inadequate levels of coverage. In practice, the NSSF is not as functional as it appears on paper. Indeed, this social protection system still has its flaws.
How to consult a general practitioner or specialist in Cambodia?
To consult a general practitioner or a specialist in Cambodia who speaks English or your language, it is recommended to go to private facilities. You will find at least one English-speaking practitioner in each private facility, which will make it much easier to understand you and get the most appropriate care for your situation. The Cambodian government is fighting against fake doctors, in 2015 the government counted more than 3000 fake doctors practicing illegally in the country. This is why it is really important that as a tourist, expatriate, digital worker, retiree or student, you go to private hospitals for treatment. Private costs are more expensive, but between paying more for better quality care or contracting a serious illness like HIV, the choice is quickly made.
It is important that you take out private health insurance that covers you for private health care but especially for medical repatriation, for heavy operations or treatments, it is strongly advised that you seek treatment in neighbouring countries such as Thailand, Vietnam, China, Singapore or even sometimes in your home country. The cost of a consultation with a private general practitioner is on average $30 USD.
Hospitals in Cambodia
Although the quality of care in Cambodia has improved in recent years with the arrival of new waves of medical practitioners, the public health sector remains well below international standards. Indeed, public hospitals do not guarantee quality care, the equipment is obsolete and the health staff is not the most qualified. Avoid using public health care as much as possible, as it may add to your complications rather than cure you.
Private clinics and hospitals are of much higher quality, the doctors who treat you are graduates of the best medical universities around the world and will either speak English or a language you can understand. For all the very standard care you can go to private clinics and you will receive care that is as close to the quality of European care as possible. However, for heavy operations or medical treatments you can be transferred to foreign clinics such as in Singapore or Thailand. You can also be repatriated to your home country for surgery. In the major cities you will find very good private hospitals such as the Royal Phnom Penh Hospital.
The Emergency Department in Cambodia
Upon arrival in Cambodia, it is important that you know where your embassy is located. In case of an emergency, you should contact your embassy as soon as possible. To reach an ambulance, dial 119, you will be medically repatriated to a hospital near your location and depending on your situation, you may be offered medical repatriation to a foreign country for treatment, such as Bangkok or Ho Chi Minh.
Pharmacies in Cambodia
There are chain pharmacies such as Ucare Pharmacy located in the most popular towns in Cambodia: Siem Reap, Phnom Penh, Kep, Kampot and Ta Khamau. These pharmacies are open from 8am to 10pm and each pharmacy has at least one pharmacist who will be able to advise you and discuss any questions you may have. You will also find many ranges of parapharmacy products which are very fashionable in the kingdom. In addition, you will find all the medicines sold in Europe in the local pharmacies. However, there are many counterfeit products, so it is strongly recommended that you visit reputable pharmacies such as U-Care or Pharmacie de la Gare.
Dental care in Cambodia
Dental care in Cambodia is of fairly good quality in the private sector and less expensive than in Europe or North America. A medical tourism has developed in Cambodia around dental care, which is much more affordable than in Western countries. A simple teeth cleaning can cost you $20 USD. A dental implant costs on average less than $1000 USD.
Physiotherapy in Cambodia
Physiotherapy in Cambodia is developing, you will find physiotherapists quite easily in the major cities in Cambodia. There is a Cambodian physiotherapy association and member of the World Physiotherapy: Cambodian Physiotherapist Association. It will be possible to consult a physiotherapist without having to go to a general practitioner. During a session with a physiotherapist, you will be able to benefit from many methods also practiced in Western countries such as:
General physiotherapy ;
Occupational therapy;
Speech therapy;
Manual therapy;
Acupuncture
In a private clinic, you will pay on average $50 USD for the first session. Subsequent sessions will be cheaper for about $40 USD.
Ophthalmology and optical care in Cambodia
You will be able to see an ophthalmologist and optician fairly easily in the major cities. However, they will be rarer in the countryside and it is not advisable to visit small opticians or ophthalmologists. They may not have the necessary equipment to offer you a complete examination or a pair of glasses that are perfectly suited to your eyesight. The cost of a pair of glasses is much cheaper than in Europe or North America. On average, you should expect to pay less than $50 USD for a pair of eyeglasses (excluding luxury brands, although glasses will still be cheaper than in Europe/North America). A good pair of sunglasses with a UV index that will really protect you from the sun will cost you around $100 USD.
Maternity in Cambodia
If you want to give birth in Cambodia, it is very important to take the maternity ward very seriously and choose where you want to give birth. Cambodia has one of the highest maternal and infant mortality rates in Asia. It is essential that your pregnancy and delivery is managed in a private hospital in order to benefit from the best obstetricians and medical facilities in the country. It is best not to take any chances, so take out private health insurance before you get pregnant, which will cover you for the higher medical costs of private care. In the public sector, not all midwives are trained in modern birthing techniques and only perform traditional deliveries.
However, these techniques do not work as well as the modern techniques practiced in European hospitals. Another factor is the geographical distance you will be at when you are about to give birth. It is important that you have planned ahead so that there are no unpleasant surprises on the big day. You may be ten kilometres away from the hospital where you are to give birth, but access to the hospital may be extremely complicated, which could make the journey much longer.
Caesarean deliveries are very common in Cambodia, so if you wish to have a vaginal delivery, be sure to tell your obstetrician. In the private sector, in a small clinic or hospital, the cost may be around $600 USD. In a reputable private clinic or hospital, the fee may be $1500 USD or more.
Paediatrics in Cambodia
Paediatrics in Cambodia is very poorly developed nationally, which is why there are many international aid schemes operating in the country. However, there are specialised hospitals for children such as the Kantha Bopha IV Children's Hospital in Phnom Penh. This hospital is free of charge for Khmers, so waiting times are very long. You can have your child seen at a private clinic or hospital such as the Khema International Polyclinic where your child will be taken care of without you having to worry. For more serious operations, it is recommended that you be medically repatriated to Singapore, Vietnam, Thailand or China to be admitted to a better equipped hospital.
What vaccinations should I get before moving to Cambodia?
Before you expatriate to Cambodia, it is imperative that your vaccination booklet is updated with the following vaccines:
Hepatitis A ;
Hepatitis B
Rabies ;
Typhoid ;
Japanese encephalitis.
It is important to specify that there are risks of malaria, mainly transmitted in rural forest and coastal areas. Around Phnom Penh, Tonle Sap Lake. It is strongly recommended that you protect yourself when having sex in Cambodia as the AIDS rate is the highest in Asia. Finally, remember to protect yourself against mosquito bites by wearing loose clothing and applying mosquito repellent to exposed parts of your body.
Why purchase international health insurance in Cambodia?
Firstly, although the public health sector and the NSSF are developing in Cambodia, the quality of care is far from sufficient, it is imperative that you take out private health insurance so that you can be treated in the private sector without burning all your savings.
Public hospitals in Cambodia are overcrowded, and because they are free or very inexpensive, the majority of the population goes there. Due to the lack of choice, Khmer people face unhygienic conditions and extremely long waiting times for treatment.
Generally speaking, whether in the public or private sector, hospitals may lack the medical equipment for certain operations or heavy treatment. You will therefore sometimes have to be repatriated to a neighbouring country to receive treatment in a better equipped hospital. However, these frequent medical repatriations are very expensive, which is why it is essential that you take out expatriate health insurance that will also cover you for medical repatriation.
Which private international health insurance to buy in Cambodia and for whom?
Whatever your profile, taking out a private health insurance policy will be to your advantage during your expatriation. Whether you are an entrepreneur, a tourist, an expatriate employee, a retiree, a digital nomad or a student, it is important to make your health a priority in the Kingdom.
If you are travelling to Cambodia for tourism, we recommend that you take out Travel Pass insurance which will cover you for health costs during your stay. Cambodia has an extremely high rate of road accidents, mosquito bites, wild animal bites, food poisoning and infections are common in the Kingdom. It is strongly recommended that you have private health insurance to protect you from the costs of private health care, so that you can be treated in the best possible conditions should anything happen. Furthermore, private cover will allow you to be covered for the entire duration of your stay and abroad at the same rates if you intend to visit other countries at the same time.
Whether you are an expatriate employee or an investor, it is essential that you take out private expatriate health insurance to protect yourself against the cost of private healthcare. Furthermore, in the event of a serious situation, it is very likely that you will be medically repatriated to a neighbouring country for an operation in better conditions. Cambodia will not offer you the best medical treatment in Southeast Asia, not to mention the presence of many fake doctors who should be avoided. These medical impostors can transmit serious diseases to you during their consultations due to lack of hygiene and rigour.
As a digital nomad, a private international insurance is very advantageous for your status. Indeed, whatever your travels abroad you will be insured at the same high rates in each country without differentiation. So you can enjoy your expatriation without any social security or mutual insurance problems with your Gold Nomad private international insurance.