Enjoy your holiday with peace of mind by purchasing travel insurance for any stay abroad of less than 90 days. You have the option to get your free online quote for travel insurance abroad and to take out directly, allowing you to obtain your certificate if you are going abroad the next day or if you have to file your visa application for Cuba or Russia for example. Our travel insurance can also cover you during your professional missions abroad.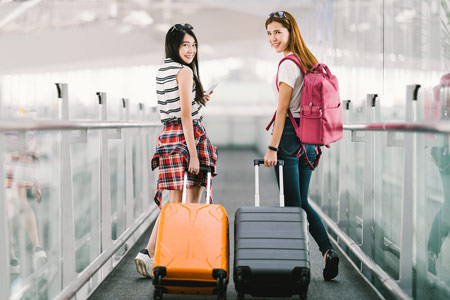 Better understand short-stay travel insurance
Whatever the nature of your trip, you and your family will be covered. We have compared and selected the best travel health insurance on the market to cover you best during your stay. It is important to take out travel insurance because medical costs in many countries of the world are much higher than in France.
Regarding the travel insurance offered by your bank card, be vigilant because it is more an assistance than an insurance! For Visa or Mastercard cards, the limit is often 11,000 euros, for Gold or Premier cards the limit can be raised to 150,000 euros for a guarantee of medical expenses and hospitalization of trips less than 3 months. Beyond this length of stay, nothing will be taken care of.
Criteria for choosing short-stay travel insurance
The guarantees included or not in the contract: generally it is essential to have reimbursements for medical and hospital expenses, repatriation and assistance in case of emergency return to France (serious accident, death of a loved one..), liability, cancellation and baggage insurance.
The height of the ceilings, the higher they are, the better for you.
The amount of deductibles, the higher the amount, the better
The repayment period
Identify situations that require fee advancement
An online customer space to maximize your time
Have a 24/7 helpline available
Our short-stay travel insurance
It is difficult to choose your travel insurance from the large number of offers. Mondassur offers 2 offers with a guaranteed/price ratio that defies all competition for your trips of less than 90 days:
Our insurance covers 100 of your medical expenses
You benefit from direct care in case of hospitalization
Repatriation insurance is included in your policy
Travel Pass : Travel insurance that covers you worldwide for leisure travel as well as business travel. It covers anyone going abroad less than 90 days and under 85 years of age with very high medical care limits allowing you to have international insurance tailored to the whole world including in countries with costs such as in the United States or Canada. From $30 per trip.
Horizon 365 Horizon 365 travel insurance allows you to travel in peace all year round for as many trips as possible as long as your trips do not each exceed 90 days abroad. Insurance is available for leisure stays. If you travel at least twice a year, this insurance will be the most economically attractive. From 155€ per year.