Summer jobs, internships for students abroad
More and more students are going abroad, whether for work, travel, internships or semesters of study. According to a 2022 report published by the UNESCO Statistical Institute, there were more than 6.3 million international students in 2020, compared to 2 million in 2000. China was the leading country of origin for students in 2019 internationals, ahead of India, Vietnam, Germany and France.
With around 1 million foreign students enrolled in their universities, the United States was the leading receiving country, followed by Australia, the United Kingdom, Germany and Russia.
Discover all our advice for working abroad as a student. But before that, remember to take out international health insurance before your departure!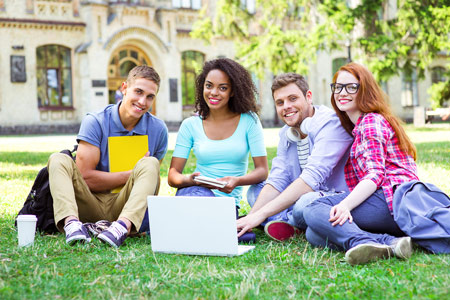 What are the conditions for doing your internship in Europe?
Although it is possible to work from the age of 16 in Europe, it is often necessary to be 18 years old.
If you are European
To look for an internship or a small job in Europe, as a European, it is not necessary to obtain a visa. The research should be planned at least 3 months in advance.
Start by obtaining the EHIC from your Social Security Fund, take out additional insurance. Next, make sure your ID is valid, and you'll be good to go.
If you are not of European nationality
If you are not of European nationality, it is advisable to start a little earlier. Depending on your nationality, you will probably need a visa. In any case, you will need to take out international student insurance, as you are not eligible for the European Health Insurance Card.
Do your summer job or internship in America
Regardless of your country of origin, access to certain countries in America, such as the United States, Canada and Cuba, is impossible without a visa. Therefore, inform yourself in advance about the territorial requirements in force.
Also note that certain types of visas, such as the United States student visa, do not allow you to work in the territory of the host country.
Once you have gathered all the necessary information, you can begin your search. Make sure you have all the required documents in your possession, including your passport and international student insurance.
Indeed, insurance is compulsory to enter the majority of countries, and if you need a visa, take it out well in advance, because it is required when applying.
Summer jobs and internships in Africa for students
There are many training courses that strongly recommend doing internships abroad, and Africa represents an option that should not be overlooked. This experience offers a different and highly enriching perspective, whether in the Maghreb, sub-Saharan Africa or Egypt.
Most countries in this region do not require a visa, which greatly reduces your administrative concerns. Find out about the required vaccinations before your departure, they are often obligatory.
Considering the hot climate and differences present in Africa, take health precautions. Consider taking out international student insurance, because although medical care costs are often affordable in Africa, not all countries offer high-quality medical services. You may need repatriation to a neighboring country or your country of origin.
Going to Asia for an internship or a student summer job
Considering an internship in Asia opens the door to learning new ways of working. In addition, you will have the opportunity to build strong links within a cosmopolitan professional network. Destinations like China, Japan, Korea and the Emirates are increasingly popular with students.
In most cases, obtaining a visa is necessary. This means starting your preparations well in advance. Some of these countries have a high cost of living, and foreigners generally do not benefit from any special benefits. It is therefore better to plan a budget for unforeseen expenses and take out international student insurance. This will allow you to have this experience without unnecessary financial hassle.
Important information about health insurance abroad
Regarding the insurance that accompanies your bank card: the insurance taken out via your bank card does not offer you good level health insurance and they do not cover you in any case if you stay more than 3 months or 90 consecutive days at the foreigner.
Your student mutual insurance does not reimburse you for medical expenses incurred abroad.
So, don't forget your health insurance so that you are really well covered in the event of a health problem. Request an international insurance quote online and subscribe in less than 5 minutes!