The prerequisites for studying in the United States
Students who wish to study in the United States often underestimate the time required for admissions procedures. Here is a list of important criteria not to be missed when applying for an American university. You will also be required to purchase health insurance for the United States. We advise you to choose Mondassur International Student Insurance with the Gold Student Global formula. These insurances will meet the criteria of your American university by costing you at least 2 times less. You may need to verify that GoldStudent Global meets the "waiver" criteria of your American university. The Gold Student Global contract also covers care related to epidemics such as Covid.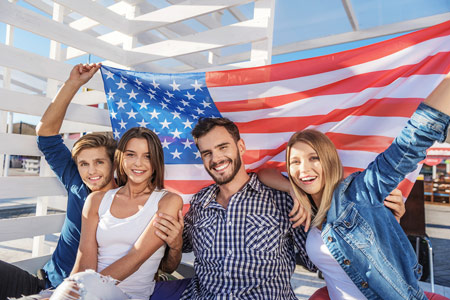 English tests
As an international student, if English is not your first language or if you have not studied English, universities require a test to verify that you have the required level. Several language level tests are accepted such as TOEFL, IELTS and TOEIC.
University admission tests
There may be other tests to be performed depending on the training for which you are applying. Some of the most requested tests are GRE, GMAT and SAT. It is important to check in advance the test requested by the university you choose in the United States.
The registration file
There's a lot of competition to get into an American university. It is therefore necessary to prepare a solid and complete file. CV, cover letter, study project presentation, references, and your english-translated diplomas are documents that must be included in your file. This list varies in relation to the training and the university chosen, so you have to be very attentive to specific requests.
Health insurance
After receiving a positive response from the university,there are other criteria to be met before you can study in the United States. Indeed, a large part of universities in the United States require that international students be covered by insurance at the beginning of their studies.
Some U.S. universities offer their own insurance, which is generally less affordable than international health insurance.
To choose suitable coverage for your studies that will protect you in case of a problem, Mondassur offers you various international student insurance contracts that meet the criteria of American universities and guarantees acceptance.
Ask for a free online quote for your insurance in the US or contact the Mondassur team for any other requests.