Travel insurance for visa in China
Do you need an insurance for your visa for China,study or do an internship in China? Maybe you're even planning to move to China! Given the significant increase in the number of visa applications, China has established official visa centres in several countries including France. In addition, more modern procedures have been put in place to facilitate your requests. Be aware that in order to obtain your visa to China, it is mandatory to bring medical insurance for China. Mondassur provides you with an insurance certificate for China immediately by email after the subscription and gives you precious information on your insurance and your travel to China.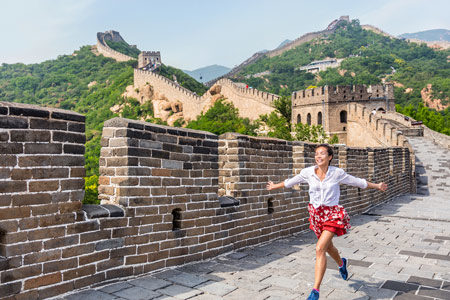 How do I get a visa to China?
As with any visa application, consider applying for your visa a few weeks before your departure so you don't get caught off guard. You have the choice of going through a company specializing in the preparation of visas for an additional cost or applying for a visa to China via one of the official visa centers for China created in different countries.
Since July 2019, China has been setting up your fingerprint collection. The exempt persons are:
Under 14 or over 70 years old.
Having applied for a visa and registered fingerprints with the same Chinese Embassy or Consulate (or Visa Application Centre) with the same passport within less than 5 years
Of which the ten fingers are damaged or whose fingerprints cannot be collected.
Visa applicants for China must go in person to the Visa Application Centre to register their fingerprints by making an appointment in advance after filling out a form in advance on the visa. A standard colour photo ID will be requested when filing the file. You will also be asked for various documents listed on the visa center website according to your situation and the type of visa requested. For example, you will need to bring: your passport and a double-sided copy, a hotel reservation, a family record book and a photocopy, a certificate of insurance for China, a document from your employer attesting your employment in your country. native country.
Travel insurance, document required for your visa in China
Insurance and visa are two additional conditions because the possession of a travel and repatriation insurance certificate is required for obtaining a type L (tourism) and Q (family visit) visa for a stay in China. Travel insurance for your visa in China must cover:
Your medical expenses: to cover medical expenses, hospitalization, provision of medicines, medical evacuation in the case of an accident or illness the insured or his loved one.
Repatriation assistance: if the patient (the insured or his or her loved one) is to be repatriated or if the patient dies, the insurer will take over, according to the agreed ceiling, the repatriation of the body.
So remember to take out travel insurance before packing your bags to go to China!