Thailand travel insurance mandatory
With the coronavirus pandemic, travel insurance is required to return to Thailand. The insurance certificate must mention coverage against the Covid-19 up to a minimum of USD 100,000. All tourists visiting Thailand must be able to provide proof of travel insurance. What may seem like a constraint for many travelers can save you a lot. Given the large number of travelers who still dare to venture without travel insurance to Thailand,the bond seems to be the best solution.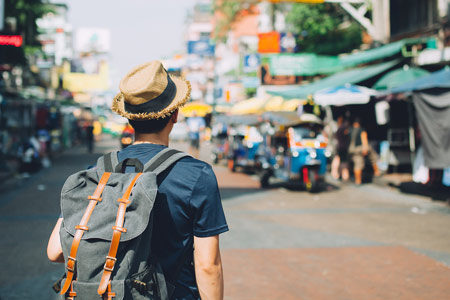 Travel insurance requirement for Thailand
Thailand welcomes 40 million visitors each year, including more than 800,000 French, visitors without travel insurance cost Thailand at least 3 billion Baths (more than 78 million euros) per year for medical treatment in public hospitals (excluding pandemic figures). This reduces the budget of hospitals spent on uninsured travellers.
Thailand is known for its large number of road accidents, especially in two wheels. This explains the overload of public hospitals and especially the growing number of foreigners seeking help to pay the exorbitant medical costs. In the event of an accident, your travel insurance in Thailand will quickly be profitable and it will also allow you to benefit from repatriation insurance to carry out your care in your country of origin.
What travel insurance for a stay in Thailand?
Beware of credit card insurance
Some will advise the assistance available with your credit card which is insufficient. Please note that not all credit cards have travel assistance. Especially since the ceilings and restrictions are very numerous. You may also not be covered if you are travelling to a country other than Thailand during your stay. Credit card insurance does not cover epidemics. You will not be able to obtain a travel insurance certificate for Thailand.
Buy my insurance from an insurance broker
There are a large number of travel insurance available. You can take out travel insurance when you purchase your plane ticket or your scheduled stay with your travel agency. Be careful in this case, check the travel insurance guarantees. By purchasing your insurance from an international insurance broker like Mondassur, you will be sure to benefit from insurance tailored to your needs. As an insurance broker, we benefit from rates negotiated directly from insurers allowing you to obtain the best coverage at the best rate. Ask for a free quote for travel insurance.
A travel insurance broker will help you compare contracts to find the one that best suits your needs and situation. Our specialization allows us to benefit from specific contracts for each situation thus offering the best guarantees for very competitive rates.
Why choose Mondassur Travel Pass insurance?
Mondassur offers you insurance tailored to your needs offering excellent coverage of your medical expenses with a very good guaranteed-price ratio: Travel Passinsurance.
Reimbursement of medical expenses at 100% of actual expenses, up to 500,000 Euros
Reimbursement of emergency dental expenses
Direct payment in case of hospitalization
Medical assistance platform available 24/7
Free medical information service by phone available 24/7
Repatriation assistance and accident capital
Civil liability including your vacation rental
Baggage insurance
This travel insurance abroad covers travellers up to the age of 85 worldwide. You also have the option to purchase annual travel insurance which is interesting if you go abroad at least twice for 1 year.
Mondassur saves you time by having previously studied and chosen the insurance most suited to your situation and by offering you the opportunity to buy and obtain your insurance certificate quickly. Our team is also available to answer all your questions by email and phone.
Each insured has a 24/7 medical platform accessible from all over the world.