Seniors and retirees abroad
Of the nearly two million French people who officially live abroad,a third of them are seniors who choose to move abroad in retirement. If you're retired and dreaming of changing your life, why not take the plunge?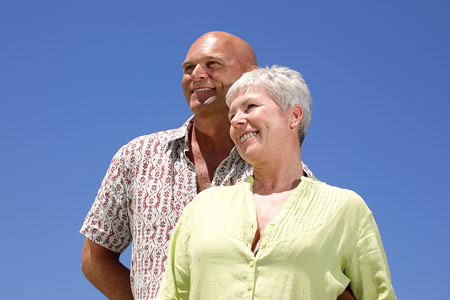 Sunny destinations in vogue
If we believe the countries of residence of these expatriates, we can say that the sun attracts many retirees. For example, Spain, Morocco and Portugal are at the top of the list of favourite countries of expatriate retirees, closely followed by the United States (particularly in Florida where retirees settle there in large numbers), Tunisia and Senegal. It is true that in France the sun does not show itself every day! Expatriation to countries such as Mauritius or Brazil is less talked about but is also growing.
Comment les frais de santé à l'étranger sont-ils pris en charge ?
The answer is not simple in this area and depends on your country of origin and your country of destination. If you are a national of the European Union and are retiring in another Country of the European Union, you can easily get your health costs covered. This is one of the conditions for the free movement of persons within the Union. If you retire outside the European Union, you will either need to stay less than 90 days abroad to continue to benefit from your health coverage in the country of origin, or take out international health insurance. Warranties and rates differ depending on the insurance chosen, your age and destination.
Dans quels cas, pourrez-vous voir vos années travaillées à l'étranger prises en compte dans le calcul de votre retraite ?
If your home country has signed a bilateral retirement agreement with the country in which you worked, then you can have the periods worked included in the calculation of your pension.
For France, here are the countries that have signed an agreement allowing you to benefit from the quarters worked abroad: Algeria, Andorra, Argentina, Benin, Bosnia and Herzegovina, Brazil, Cameroon, Canada, Cape Verde, Chile, Congo, South Korea, Côte d'Ivoire, United States, Gabon, Guernsey, Isle of Man, India, Israel, Japan, Jersey, Kosovo, Macedonia, Mali, Mauritania, Monaco, Montenegro, Morocco, Niger, New Caledonia, Philippines , French Polynesia, Quebec, Saint-Martin, Saint-Pierre and Miquelon, Senegal, Serbia, Togo, Tunisia, Turkey, Uruguay.
Be careful, however, there is the rule of non-cumulation of agreements which has the consequence that the calculation of the quarters will only include your quarters completed in a single country in addition to your country of origin… There are relaxations to this rule when that country has also signed an agreement with your country of origin and the country where you have spent another part of your career…
Mondassur accompanies you in your desire for expatriation
As a senior, one of the major concerns of your expatriation will be the coverage of your medical care. Mondassur offers you a wide range of insurance with guarantees specific to expatriation, for an expatriation in complete serenity. If you would like to learn more about our expat insurance, check out our expat insurance comparison,make a quote or contact us.