Testimony of an expatriate in Singapore
I arrived in July 2006 in Singapore, being a student at an engineering school in France. Not knowing Asia at all and knowing that the change of scenery was assured, it was just another attraction to discover Singapore.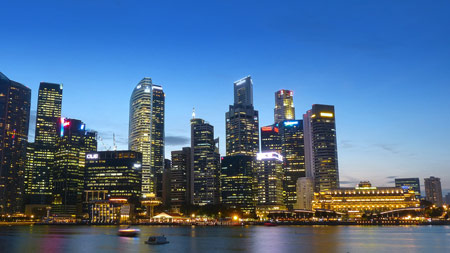 In addition, Singapore has a standard of living quite similar to that of Europe so regarding hygiene, food and health, it should also be noted that Singapore is one of the only countries in South East Asia to have drinking water on tap. Insignificant detail but that makes life much easier…
Accommodation had not been a problem for me as the university was staying with me on campus, so when I arrived I already had a room booked.
Initially the climate is a little hard to bear especially when you arrive in the summer and the mercury soars,or rather the feeling of rising temperature, because since Singapore is very humid (more than 90 humidity throughout the year) we feel much more heat. However, compared to the research I had done that said it was stifling, it was fine. It still takes a little time to adapt.
Language is an obstacle at first in fact having not really practiced English concretely before, it was initially a little hard to be understood and understood . Make yourself understood because in France you are taught the words but not how to propose them which led me to repeat 6-7 times duck to a food court (sort of big cafeteria)… and understand because Singapore is home to a lot of people from different backgrounds , you have to adapt to all accents and secondly for some the focus is very very pronounced so that even after 8 months in the country some people are still hard to understand while Americans, Canadian in exchange like me are to compare easy to understand.
For me the adaptation to the food was quite easy because I love rice but I know that if you do not like rice certainly you will find something to eat, but the choice is much much more limited.
Namely singapore is a haven for shopping and food, so know that you will always find what you are looking for in Singapore (there are even two Crossroads).
I love:
its cost of living, in fact to compare with Europe the food is much cheaper, there is only alcohol that comes close to the price we know. I don't smoke but I know that cigarettes are even more expensive than in France.
its food, in fact you can eat every day something different: Indian, Chinese, Malaysian, Indonesian, Vietnamese, Korean,… And for cheap….(count 2 euros a dish)
that it is always hot, indeed no sweater, scarf ….. being 150 km from the equator the trees always have leaves ….
security in Singapore
Its geographical position and standard of living makes it an ideal starting point for exploring South East Asia
I don't like
the monsoon, the situation in Singapore makes it rain a lot all the time but especially during the monsoon in December January, it even rained in one day as much as half of the monthly rainfall in France.
jet lag,7 hours in winter with France, to be connecting to people in France, family friends, it is not always easy and often requires to go to bed at time point.
Stéphane