South Korea insurance and visas
South Korea is increasingly opening up to foreigners. The management of the Covid-19 pandemic has been exemplary and allows the country to be reopened quickly. An experience in this country, which has become a full-fledged democracy with a particularly dynamic economy in the space of a short time, will certainly be positive. South Korea is an interesting country to work, travel and discover Korean culture. South Korea is also opening up to students from all over the world to study in South Korea. More and more young people are choosing South Korea to study or participate in the working holiday program. The PVT allows you to travel and work at the same time. It is strongly advised to take out insurance for South Korea. You will also be covered throughout the Asian area that it would be a shame not to visit if you are leaving for several months. The guarantees of the majority of our international insurance including our international student insurance cover repatriation, hospital costs and civil liability.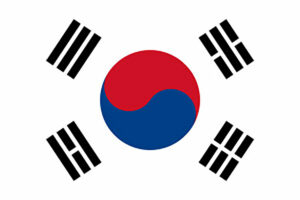 Political regime: Republic
Capital: Seoul
Area: 100,210 sq km
Population: 51.47 million
Languages spoken: Korean
Currency: Won
Visas South Korea
If you are a French national, you do not need a visa for a tourist stay or business of less than 90 days. All you need to do is have your passport, which must be valid for at least six months. If you are leaving for more than 90 days, you will need a visa. If you are going to study in South Korea, you must choose between a D-2 or D-4 visa. Entry to South Korea is only possible after obtaining a letter of acceptance from the Korean embassy or consulate. The D-2 visa is required for a full normal course and the D-4 visa is required to participate in non-university programs (e.g. language stay).
French Embassy in Seoul
30 Hap-dong Sodaemun-ku – Seoul 120030
Tel: 82 31 49 43 00
Fax: 82 31 49 43 28
South Korean Embassy in Paris
125 rue de Grenelle – 75007 Paris
Tel: 01.47.53.01.01
Fax: 01.44.18.01.78
Email: gen.fr@mofat.go.kr
Vaccines and Safety in South Korea
Compulsory vaccines and certificates: No vaccine is required.
Recommended vaccines and certificates: For adults, do not forget vaccines against tetanus, polio, hepatitis A and B, typhoid, Japanese encephalitis (for long stays). For children, don't forget vaccines against diphtheria, tetanus, whooping cough, polio, tuberculosis, measles, mumps, rubella, hepatitis A and B, (long stay).
Local diseases: In United Arab Emirates, the following diseases are common: Spider, snake, fish and scorpion bites, Japanese encephalitis, ascaris, hepatitis A and B, sexually transmitted diseases, polio, rabies, AIDS, tetanus.
Health insurance in South Korea
Why take international health insurance when traveling or residing in South Korea? Simply because health spending quickly reaches very high amounts abroad. On the other hand, health insurance is compulsory in South Korea in order to be covered in a public or private institution. The repatriation guarantee is an essential criterion. In the event of a serious accident it is sometimes necessary to carry out a medicalized repatriation to the nearest medical centre or to the country of residence. Depending on where you are at the time of the accident, and depending on the medical prognosis, it may be necessary to charter a helicopter or a medicalized aircraft.
Mondassur supports you in your choice of international health insurance by helping you compare the different offers on the market. Depending on your profile, we will be able to offer different packages for South Koreatravel insurance,international student insurance andexpat insurance.
Other travel advice in South Korea