Whatever the reason you choose to travel to Cuba is, consider taking out travel or expat health insurance for you and your family. You will leave with peace of mind and can prevent financial, health, and legal risks that would arise unexpectedly. Guarantees for repatriation, hospitalization, civil liability and other emergency medical expenses are essential, regardless of your destination.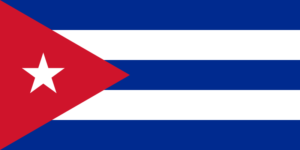 Political regime: Socialist Republic
Capital: Havana
Area: 110,860 sq km
Population: 11.48 million
Spoken languages: Spanish
Currency: Cuban peso
Visas Cuba
If you are a French national or a national of another EU member state, you do not need a visa for a tourist stay of less than 30 days but you must have a Nominative Tourist Card issued by Cuban Embassy. For a "Business" stay, you must have a visa.
French Embassy in Havana
Calle 14 – NR 312 – Miramar – Havana
Tel: 53 201 31 31
Fax: 53 201 31 07
Cuban Embassy in Paris
16 rue de Presles – 75015 Paris
Tel: 01.45.67.55.35
Fax: 01.45.66.80.92
Email: embacu@ambacuba.fr
Vaccines and Security in Cuba
Compulsory vaccines and certificates
Compulsory vaccines and certificates: No vaccine is required.
Recommended vaccines and certificates: For adults, don't forget vaccines for tetanus, typhoid, polio, hepatitis A and B, meningitis A and C and for at-risk groups: tuberculosis and rabies. For children, don't forget the vaccines against diphtheria, tetanus, whooping cough, polio, tuberculosis, measles, mumps, rubella, hepatitis A and B, (long stay), meningitis A and C (long stay for 18-month-old travelers), typhoid (long stay for 5-year-old travelers and older).
Local diseases: In Cuba, the following diseases are common: Amibiase, spider bites, snakes, fish and scorpions, ascaris, hepatitis A and B, leishmaniasis, sexually transmitted diseases, polio, rabies, AIDS, tetanus, tuberculosis, typhoid.
Security
Health insurance in Cuba
Why take international health insurance when traveling or living in Cuba? Simply because health spending quickly reaches very high amounts abroad. On the other hand, health insurance is compulsory in Cuba in order to be covered in a public or private institution. In addition, the repatriation guarantee is an essential criterion. In the event of a serious accident it is sometimes necessary to carry out a medicalized repatriation to the nearest medical center or to the country of residence. Depending on where you are at the time of the accident, and depending on the medical prognosis, it may be necessary to charter a helicopter or a medicalized aircraft.
Mondassur supports you in your choice of international health insurance by helping you compare the different offers on the market. Depending on your profile, we will be able to offer you different travel, international student and expatriate insurance packages.
Other travel advice in Cuba