Visas and Health in Botswana
There are many reasons to visit, stay or live in Botswana. It is one of the least corrupt countries on the continent, very dynamic economically nicknamed "Switzerland of Africa". It presents many professional opportunities and many tourist attractions. In any case, it is essential to take out travel or expatriate health insurance for you and your family. You will leave with peace of mind and can prevent financial, health, and legal risks that would arise unexpectedly. The quality of health infrastructure and medical care is on the way to improvement, but in the event of a serious accident, it is better to benefit from a repatriation guarantee.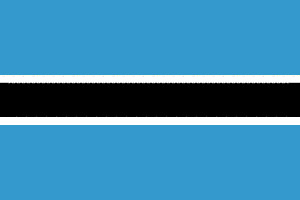 Political regime: Republic
Capital: Gaborone
Area: 581,730 sq km
Population: 2.2 million
Spoken languages: English, Tswana
Currency: Pula
Visa Botswana
If you are a French national or from one of the EU member states, you do not need a visa for a tourist or business stay of less than 90 days. All you need to do is have your passport, which is valid for at least six months. On the other hand, for longer stays, you will need to obtain a residence permit that will be issued to you if you can present an employment contract. In France, there is only one Honorary Consulate of Botswana, the Consulate General is located in Brussels.
French Embassy in Gaborone
761 Robinson Road
PO Box 1424 -Gaborone
Tel: '267 397 38 63' or '267 368 08 00'
Email: cad.gaborone-amba@diplomatie.gouv.fr
Botswana Consulate in Paris
88 Avenue d'Iéna – 75116 Paris
Tel: 01.47.20.08.23
Fax: 01.47.20.42.58
Email: botswana@brutele.be
Vaccines and safety in Botswana
Vaccines and local diseases
No vaccine is required, but make sure you are up to date with your usual reminders. In particular, we advise you to check your vaccinations against:
diphtheria-tetanus-polio (DTP)
rubella-mumps-measles (RMM) for children
tuberculosis
If you have been in an area affected by yellow fever for more than 12 hours, you will need to provide the appropriate vaccination certificate. In addition, health risks in Botswana are concentrated around mosquito-borne diseases such as malaria, chikungunya and nuts. Also, take food hygiene precautions to avoid the risk of typhoid fever.
Security in Botswana
There are relatively few thefts and assaults in Botswana, but it is best to remain vigilant in major cities. Driving is generally unadvised due to very frequent careless behaviour and non-compliance with the traffic code. Note that the French Embassy in Botswana has limited capacity to help the French in the event of a crisis, so be all the more vigilant. For more information on the safety tips to observe in Botswana, please visit the France Diplomacy website.
Health insurance and repatriation in Botswana
Why take international health insurance when travelling or living in Botswana? Because, even if the quality of care in the public is acceptable, it is better to go private, which inevitably entails higher medical costs. But the main drawback of the health system in Botswana is the low density of facilities. In an emergency, it may take a long time for you to reach a hospital or find a doctor. This is why the repatriation guarantee is an essential criterion. Depending on where you are at the time of the accident, and depending on the medical prognosis, it may be necessary to charter a helicopter or a medicalized aircraft.
Mondassur supports you in your choice of international health insurance by helping you compare the different offers on the market. Depending on your profile, we will be able to offer you different travel, international student and expatriate insurance packages. Make a free quote online now and don't hesitate to contact us for any questions!