Travel and Insurance in Thailand
Country of a thousand and one elephants, between tradition and modernity, Thailand is a culture still intact, hiding breathtaking landscapes! There is so much to see that it is not always easy to find your way around. So to help you make the most of your trip, we have created for you a check-list of must-see places not to be missed!
Also, consider having travel insurance to leave with peace of mind. Indeed, good health coverage will allow you to avoid financial and legal complications in the event of an accident. Mondassur accompanies you in your choice of travel insurance and advises you on the various offers available on the market, to find the right formula for your situation and your needs.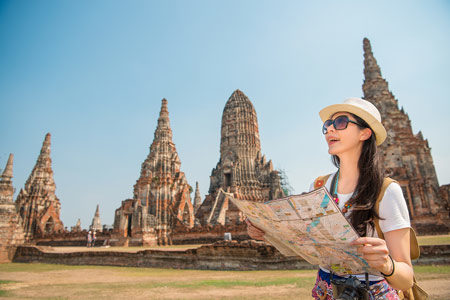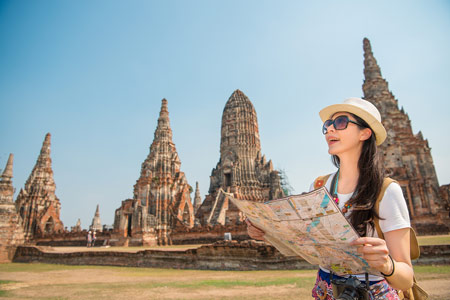 What travel insurance for Thailand?
The obligation of Thailand travel insurance often comes up on the carpet, this time a bill has been proposed by the Ministry of Tourism and Sports; all tourists visiting Thailand must be able to provide proof of travel insurance. With the Covid pandemic, this travel insurance obligation in Thailand is already in effect more quickly… What may seem like a constraint for many travelers, it is rather a highly important and necessary step. Given the large number of travelers who still venture without insurance in Thailand, the obligation seems to be the best solution.
It is strongly recommended that you take out strong international health insurance when traveling to Thailand. Indeed, good all-risk health cover (100% reimbursement of the actual costs of health expenses, repatriation, civil liability and baggage cover) will allow you to avoid financial and legal complications in the event of an accident. Depending on your needs and the criteria you are looking for, Mondassur offers you different travel insurance formulas so that you can leave with peace of mind.
When to go to Thailand?
The Kingdom of Siam is a colorful country with very varied landscapes. Worthy heir to a particularly rich local culture, the country has a geographical shape allowing it to leave the Asian continent to sink into turquoise waters.
Thailand is located in the equatorial zone, and has three particularly marked seasons:
– The dry season, which runs from November to March
– The hot season, from April to May (with temperatures around 45°C, and a lot of humidity)
– The monsoon season from June to October.
Depending on what you are looking for and what you particularly like to do during a trip, you can choose to go in the season that suits you best. Touristically speaking, the high season extends from November to March, because it is at this time that the temperatures are milder (between 28 and 32°C). So don't be surprised by a price difference in plane tickets or hotels!
What to visit in Thailand?
1. The Temple of the Emerald Buddha, Wat Phra Kaeo, bangkok
Welcome to Bangkok, capital of the Kingdom of Siam! It's hard to know where to start, there are so many things to see and do everywhere. Bangkok is a very large city, with an area of 1500km2 (when you know that Paris has 105…), and populated by nearly 10 million inhabitants. You can find everything there: skyscrapers, gardens, bustling markets… And of course, majestic temples!
Impossible for you not to stop at Wat Phra Kaeo. Also known as the "Temple of the Emerald Buddha", you will not be able to remain indifferent to this ultra-sacred place in Thailand. In this golden temple hides a small statue of Buddha, in dark green jadeite and adorned with gold. Its history is not easy: initially kept in Chiang Rai, it was found in the open in 1434, after lightning fell on the roof that protected it. She then traveled a lot from one country to another, according to history, to finally find herself at Wat Phra Kaeo, in the 18th century.
Depending on the season you visit, the statue will be dressed differently. A good reason to come back!
2. Sukhothai Historical Park
Listed as a UNESCO World Heritage Site, Sukhothai Historical Park was Thailand's first capital. If you are a history buff and are interested in Thai culture, this site is therefore a must.
Divided into 3 separate areas, you can see the most beautiful stone temples and their Buddhas. You can also see the statue of King Ram Khamhaeng, inventor of Thai writing. The central part, which is the most touristic and the most interesting, is often visited in a hurry, to the detriment of the other two. This is a mistake: do not miss, for example, Wat Si Chum and its huge stone seated Buddha. It is said to be the largest stone Buddha in the country, it is worth the detour!
Note that you can rent bikes at the entrance, which can be interesting to allow you to visit the three sectors without walking too much.
3. Ayutthaya Historic Site
Located 75km from Bangkok, the Ayutthaya site is also on the UNESCO World Heritage List. And in fact, this place is full of history and also serves as a cultural emblem since it is also a former capital of Thailand. It was not until 1767, when it was destroyed by the Burmese army, that it lost its status in favor of the current capital, Bangkok. It is home to many majestic temples, which have nothing to envy to those of Sukhothai.
If you are visiting in December, know that a festival is organized there every year, in homage to its historical past. On the program: processions, traditional dances, and sound and light shows!
4. Chiang Mai and its landscapes
Located in the mountainous north of Thailand, Chiang Mai is the second largest city after Bangkok. There is a student and eclectic atmosphere where it is not possible to get bored, and where everyone can find what they are looking for.
The most followers of temples and their prestige will be able to stop in particular at Wat Phra Singh (the temple of the Lion Buddha), Wat Ketkaram (located on the bank of the Mae Ping, this temple houses a museum with multiple treasures), or even at Wat Sisuphan (retains few original elements, but it remains an exceptional temple where you can see the Poy Lang, enthronement of young boys).
For nature lovers, do not miss Doi Suthep National Park where the sacred and nature are one.
For a total change of scenery, you can also take a tour of the Hmong villages, from the summit of Doi Pui; you can discover small markets or craft cafes held by the villagers.
5. A short excursion to Chiew Larn Lake, khao sok park
Nestled in the mountains in the heart of Khao Sok Natural Park, there is something enchanting about the lake. Head to the south of Thailand, between Phuket and Surat Thani, you will find this favorite destination for those wishing to escape the noise of the city.
Although enchanting, this lake has absolutely nothing natural about it. Paradoxical! Indeed, it was formed at the time of the construction of the Rachabrapha Dam. The result is an amazing landscape where rock peaks emerge from the water, in the middle of an area of nearly 170km2. Around, companies specializing in ecotourism have settled, as the fauna and flora of Khao Sok is rich, diversified and preserved. A must!
6. Kanchanaburi and Erawan National Park
The city of Kanchanaburi is about 130km west of Bangkok, on the border with Myanmar. The most cinephiles will remember the memorable Bridge over the River Kwai: it was filmed there, precisely referring to this place. At the time of the Second World War, the Japanese had built a railway line between Burma and the Kingdom of Siam (also called "Railway of Death" because of the many human losses caused by the construction of the route), including the famous bridge to cross the river. This line is still in working order and you can take it to admire its photogenic landscapes. Be careful though, the train stops 150km from the Burmese borders now.
Kanchanburi is nestled in the heart of a fertile valley home to many prehistoric caves, as well as the famous Erawan Falls. Treks can be organized to explore the surrounding jungle and observe wildlife.
7. A kayak tour in Phang Nga, Phuket
A bit touristy, yes, but definitely worth the trip. It is indeed the most photographed and best known bay, thanks to its incredible rocky peaks rising several tens of meters above turquoise water.
The sea has dug many limestone caves there, which it would be a shame to deprive yourself of visits! James Bond took a trip there himself… Many kayak tours are organized, and even if you will be far from alone, you will still have something to delight your pupils.
A considerable number of maritime and terrestrial species have taken up residence there and are visible to those who take the time to observe them: if you don't like the crowds, take a walk on the side of the Phang Nga mangrove which is a little less known but just as pleasant in a kayak!
8. The Friends of the Asian Elephants
It is well known that some countries like Thailand use elephants as a distraction for tourists. Many of these pachyderms suffer from this exploitation and are still in chains today. Fortunately, there are some shelters like this, where the animals are cared for and protected.
If you are interested in animal protection, this is a place that deserves a little visit, especially since there are very few tourists.
9. Wat Rong Khun, Chiang Rai
Do you think you have toured the Thai temples? Error. This temple has everything to surprise you: from the decorative richness to the expressiveness of its figures, there is something extraordinary about Wat Rong Khun. Some consider it the most beautiful Buddhist temple in all of Asia.
The artist who created it made it a masterpiece of modernity, bucking the architecture hitherto applied to Buddhist temples.
To crown it all, the temple bathes in a magnificent lake populated by fish and figures of hell of all kinds. Every detail of this temple matters and invites the visitor to reflect on the teachings of the Buddhist religion.
Damaged during an earthquake in 2014, this temple is being renovated but can still be visited!
10. A sunbathing moment on Koh-Lanta
The Thai islands are the subject of the fascination of tourists from all over the world: a fine sandy beach, transparent and turquoise water, ideal coral reefs for learning to scuba dive… No wonder they are overrun with tourists!
Hard to find peaceful places. The island of Koh-Lanta is a place where it is good to live near the water, and which remains somewhat spared from mass tourism! Located in the south of Thailand, off the Andaman coast, and consists of two small islands. It is an ideal place to enjoy the sun, the sea, Thai cuisine and nature.
There are 9 white sand beaches there, and if many bungalows and hotels have taken up residence there, you will always find a small quiet place to rest!
How to travel around in Thailand?
If you decide to go for a trip to Thailand, several means of transport will be available to you, depending on your budget. Be careful though, if you have an accident and you have to go to the hospital, you will not necessarily be able to benefit from all the necessary care on site. This is why we encourage you to take out insurance covering your medical expenses and offering you repatriation assistance, so that you do not find yourself in delicate situations. Ask us for a quote, it's free!
The bus
This is THE way that tourists use the most to get around the country. Indeed, the bus network in Thailand is sufficiently developed to allow you to travel at low cost to any destination, even off the beaten track. For example, a bus trip from Bangkok to Chiang Mai (about 700 km) usually costs between 500 and 1,200 Thai baht (about 13 to 31 euros) depending on the class of bus chosen.
The train
Few travelers experience the train because it has the disadvantage, compared to the bus, of serving fewer destinations… But this is a real injustice! It is a particularly economical means of transport in Thailand, and can be an excellent alternative to buses for very long distances. The cost of the train in Thailand varies depending on the class of train, the duration of the trip, the season, the destination, etc. Fares are usually a bit higher than bus fares, but offer a higher level of comfort. Here are some examples of fares for different types of trains in Thailand:
• Local train: Local train fares are very affordable and can vary from a few bahts to a few tens of bahts (1 euro = approximately 40 Thai bahts). For example, the local train ride from Bangkok to Ayutthaya costs around 15 baht (about 0.38 euro).
• Express train: Express trains offer a higher level of comfort than local trains and are faster. Fares for express trains vary depending on the distance traveled, but in general the cost is around 500 to 1,500 baht (about 13 to 39 euros) depending on the class chosen.
• Sleeper train: Sleeper trains are more comfortable for long journeys and offer sleeping berths. Fares for sleeper trains vary depending on the duration of the trip and the class chosen. For example, a sleeper train ride from Bangkok to Chiang Mai costs around 800 to 1,500 baht (about 21 to 39 euros) depending on the class chosen.
The car
Few travelers rent a car: the public transport networks are sufficiently developed and affordable to take you to the destination of your choice without taking any risks. Indeed, traffic rules are not respected enough and can be a source of permanent stress.
Two-wheelers: motorcycle or scooter
If you rent a scooter, know that it is indeed an interesting means of transport but which remains particularly dangerous on the spot. Accidents involving foreign tourists are very common. We therefore invite you to take out good health insurance for Thailand to be at least financially and legally protected in the event of a traffic accident. We can offer you such insurance, do not hesitate to contact us for more information or to make an online quote: it's free!