Travel and Insurance in Singapore
At the crossroads of cultures, Singapore offers you a chance to discover a multi-ethnic society. For more than 5 million inhabitants, it has 40 expatriates in this City-State of Asia. What explored a mixture of impressive and exotic cultures.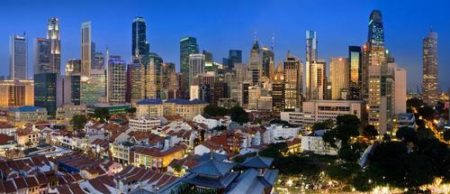 When to go to Singapore?
Singapore has a warm and very humid equatorial climate. With only one season, it rains all year round (82 humidity). Temperatures that vary little, ranging from 25 to 35 degrees, no matter the weather it will be hot. There is, however, a great rainy period from November to January, so avoid going there at this time if you are looking for some sun.
The must-sees of a visit to Singapore
Whether there's sun or rain, what can ido?
Is it sunny? We advise you to go for a walk on the side of "Chinatown" to stroll, stroll and buy some souvenirs. After "Chinatown", an afternoon in "Little India" is a must. You'll find a piece of India with its old shops and spicy-scented restaurants.
Rainy period? Take the opportunity to visit the Asian Civilizations Museum. It focuses on all the cultures and civilizations of Asia, offering us a wide range of objects and works of art. Another interesting museum, the one in Peranakan. With its beautiful architecture and many rooms, there is enough to have a good time.
But whether it's sunny or not, there's no way to miss the beautiful and famous garden town "Gardens by the bay". Impressive mix of vegetation and modernity, this garden will put you in full view. With an indoor greenhouse part, you will have the opportunity to visit them at all times.
What about food?
Lovers of Asian gastronomy or gourmets, Singapore in July will be a dream for you. Every year the city hosts the Singapore Food Festival on its streets. Original activities and workshops will be present throughout the city throughout the month. "STREAT" is the main event of this festival, which offers the opportunity to discover the favorite and original dishes of Singapore. You will also have the opportunity to see internationally renowned chefs at work!
What travel insurance for Singapore?
It is highly recommended to take out solid international health insurance during your trip to Singapore. Indeed, good health coverage any risk (reimbursement to 100 of the actual costs of health expenses, repatriation,civil liability and luggage coverage) will allow you to avoid financial and legal complications in case accident. Depending on your needs and the criteria you are looking for, Mondassur offers you different travel insurance options so that you can leave with peace of mind.
Long-time travellers or expatriates, Singapore is captivated by its uniqueness and diversity. If you are looking for more information and details about Singapore or the insurance to take for a departure to Singapore.