Travel and Insurance in New Zealand
Famous for its breathtaking landscapes and for home to the famous Hobbit County of Tolkien's work, New Zealand attracts many visitors every year. Do you also want to go to New Zealand? Here's a little guide to help you prepare for your trip.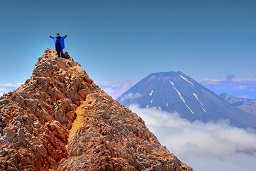 When to leave?
The best time to visit New Zealand is between September and April. The seasons are inverted compared to those known in France. Summer lasts from December to February, with temperatures ranging from 20 to 25 oC
Must-see places to visit in New Zealand?
Auckland
Auckland is the economic capital and the most populous city in the country. It is a cosmopolitan and dynamic city. The proximity to the beaches also makes it a favourite destination for water sports lovers.
Wellington
Although Wellington is less well known, it remains the political capital of New Zealand. You can visit the Te Papa National Museum and the surrounding wild beaches. Mount Victoria and the Botanical Gardens will give you the best view of the city and its surroundings.
Rotorua
If you're looking for Maori culture, visit Rotorua. You will find the village Whakarewarewa (Te Puia) and the village of Tamaki where you can discover the traditional shows. You can also enjoy the Wai-o-Tapu and Waimangu geothermal valleys and their hot springs. It is also in Rotorua that you will find Hobbiton, near Matamata. Discover the famous County imagined by Tolkien.
The Bay of Islands
The Bay of Islands is made up of 144 islands with fantastic landscapes. Rich in marine wildlife, it is the ideal place to observe dolphins and whales in full migration. Also observe Haruru Falls. To complete your tour of the North Island, fly over Tongariro National Park. It is home to three active volcanoes: Togariro, Ngauruhee and Ruapehu, and numerous craters. The beauty of the place has earned it a ONESCO World Heritage Site since 1990.
The South Island
Christchurch is the main city of the island and the ideal place to observe the traditional British architecture inherited from colonization. Another place of interest is the Re-Mall. It is a commercial complex created after the 2011 earthquake, where shops are set up in containers.
Queenstown is the island's tourist hub. You will find many hotel centres, restaurants and bars and can enjoy the nightlife. The beauty of the place lies in the mountain surrounding it and its proximity to Lake Wakatipu.
Warlborough is relatively unaffected by tourism. It is the ideal place for travellers wishing to enjoy the quiet and hiking. It is also the largest wine valley in the country, and will therefore be a popular detour for wine lovers.
The Otago Peninsula
If you are visiting New Zealand, do not pass by the Otago Peninsula (near Dunedin). You can observe unspoiled wildlife, including penguins and albatross. It is also home to the country's only castle: Larnache Castle.
What travel insurance for New Zealand?
Mondassur offers insurance tailored to your needs offering excellent coverage with a very good guarantee-price ratio: theTravel Pass.
Reimbursement of medical expenses at 100% of actual expenses, up to 500,000 Euros
Reimbursement of emergency dental expenses
Direct payment in case of hospitalization
Medical assistance platform available 24/7
Free medical information service by phone available 24/7
Repatriation assistance and accident capital
Civil liability including your vacation rental
Baggage insurance
This health insurance abroad covers travellers up to 85 years of age worldwide for a rate starting at 30 euros per person per trip. Mondassur saves you time by having previously studied and chosen the insurance most suited to your situation and by offering you the opportunity to buy and obtain your insurance certificate quickly. Our team is also available to answer all your questions by email and phone.