Travel and Insurance in Germany
Want to visit Germany, but don't know where to start? Here is a selection of the different German cities to visit during your trip to Germany. In addition, before your departure, do not forget to inquire about the German health system and to take out travel insurance offered by Mondassur that can cover all your medical expenses if necessary.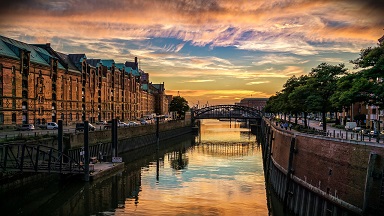 When to leave?
The climate in Germany is temperate, with cold winters and mild summers. Precipitation is distributed throughout the year, but it can be heavier during the summer months.
The best season to visit Germany depends on your personal preferences and the activity you want to do. If you want to visit the cities, discover the culture and make sightseeing, spring (May, June) and autumn (September, October) are the ideal times. The temperatures are mild and pleasant, and there are usually fewer tourists than in summer.
If you are more interested in outdoor activities, such as hiking or winter sports, the best time to visit Germany will depend on the region you want to visit. The Bavarian Alps are ideal for winter sports from December to March, while mountain hikes are more enjoyable during the summer months.
The must-see places to visit in Germany
Berlin
Capital of Germany, Berlin is a fascinating city that combines modernity and history. Among its most famous monuments are the Brandenburg Gate, the Berlin Wall, Berlin Cathedral, Museum Island and the Holocaust Memorial. Berlin is also famous for its vibrant nightlife and renowned clubs.
Munich
Munich is a must-see city to discover Germany and its culture. There is a unique architecture, which mixes baroque and neoclassical styles. The city is also famous for Oktoberfest, the world's largest beer festival, which takes place every year in September and October. Be sure to visit St. Peter's Church, Marienplatz and Nymphenburg Castle.
Cologne
Located on the banks of the Rhine, Cologne is famous for its Gothic cathedral, which is a UNESCO World Heritage Site. The city is also known for its beer and carnival. The Eau de Cologne Museum is also a must-visit, which allows you to discover the history of the city and its famous Eau de Cologne.
Frankfurt
Frankfurt is Germany's financial city, with an impressive skyline and modern buildings. But the city also has a rich history, with medieval buildings and a magnificent cathedral. The Dom Römer district is also a lovely place to stroll and experience the city's traditional architecture.
Hamburg
Hamburg is the second largest city in Germany, located on the banks of the Elbe River. The city is famous for its beautiful bridges, canals and shores, as well as its fish market. The Alster Park is a great place to walk and enjoy the view. Hamburg is also an important cultural center, with many museums and theaters.
Dresden
Dresden is a historic city located in Saxony, in eastern Germany. The city is famous for its many monuments and historical buildings, including the Brühl Terrace and the Taschenberg Palace. The Semper Opera House is also an important cultural venue in the city, with many events held throughout the year.
Heidelberg
Heidelberg is a charming city located on the banks of the Neckar. The old town is a must-see place to walk, with its small squares and colorful houses. Heidelberg Castle is also a must-visit, offering stunning views of the city. Heidelberg is also a university city, with a lively student atmosphere.
Baden Baden
Baden-Baden is a spa town famous for its warm waters and relaxing baths. The city is located at the foot of the Black Forest, offering beautiful scenery and outdoor activities. The Lichentaler Allee is a tree-lined avenue where you can stroll and discover historic villas and picturesque gardens. The city is also known for its world-famous casino, where one can enjoy gambling and an elegant atmosphere.
What travel insurance for Germany?
It is important to take out travel insurance for Germany in order to benefit from coverage in case of health problems during your stay. Indeed, although Germany has a quality healthcare system, the costs can be high.
Travel health insurance can cover emergency medical expenses, hospitalization costs, doctor's consultation fees, medication costs, medical transportation costs, etc. In the event of an accident or illness, travel health insurance can allow you to be taken care of quickly and efficiently, without having to pay large sums. For this, Mondassur offers you a wide range of insurance for Germany adapted to your needs and your budget.