Travel and Expatriation in Europe
Are you going on a road trip to Eastern Europe via Romania, Hungary, the Czech Republic and Germany? Are you an expatriate in Luxembourg or are you going to Spain for your retirement? Be aware that in Europe, medical expenses are quickly very expensive in private medical centres, and the ceilings on social security reimbursements are never related to this type of expenditure. So, whether it's for a few days or for a long period of time, and to protect yourself in case of an accident, hospitalization or repatriation, it's important to remember to take out international health insurance before you go abroad.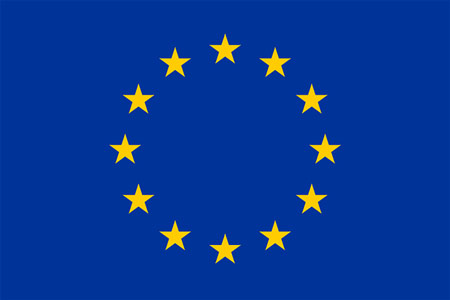 Find your health insurance info by country
ETIAS Europe: the European version of the American ESTA
ETIAS is the acronym for European Travel Information and Authorization System. The European Union created this visa waiver program to protect and strengthen its borders. Its main objective is to identify possible threats or risks associated with visitors traveling to any of the Schengen countries.
ETIAS visa exemption will be required to enter the Schengen area. Starting in 2022, all visa-exempt visitors to Europe will be required to apply for ETIAS authorization. The ETIAS visa exemption is issued for short stays of up to 90 days.
When to go to Europe?
Here is a table listing the seasons in each European country:
In green: mild seasons, with high temperatures and clear skies
In orange: cooler seasons, with temperatures that can vary downwards
In red: cold seasons, with temperatures that can go below zero, higher risk of rain/snow.
Red does not mean that you should not travel to the country, for example in Norway, you may have the chance to see the famous Northern Lights between October and March. In addition, some European cities can be enjoyed in winter as well as in summer.

20 must-see places in Europe
Here is a list of 20 places to visit on your trip to Europe:
Paris and its historic districts and monuments
The Sistine Chapel (Rome, Italy)
Barcelona (Catalonia)
The Pamukkale Tuffery (Turkey)
The Northern Lights (Iceland, Norway, Scandinavia)
Rome and its monuments (Italy)
Berlin (Germany)
The Alhambra (Spain)
Venice (Italy)
The black beaches (Iceland)
Lisbon (Portugal)
Santorini (Greece)
Mont Saint-Michel (France)
Isle of Skye (Scotland)
The Hungarian Sea (Lake Balaton, Hungary)
Geysir Park (Iceland)
Dubrovnik (Croatia)
Acropolis of Athens
The Algarve (Portugal)
The Blue Lagoon (Iceland)
London (England)
What vaccinations should I have before I travel to Europe?
Before leaving for Europe, make sure your vaccination record is up to date:
Hepatitis A
Hepatitis B
Typhoid
Rabies
Measles
Mumps and rubella
Tetanus
Diphtheria and whooping cough,
Influenza
Chickenpox
Shingles
Pneumonia
Meningitis and polio
What are the best routes to Europe?
Here's a map of several itineraries to discover Europe that you can use as inspiration to create your own (details below the map):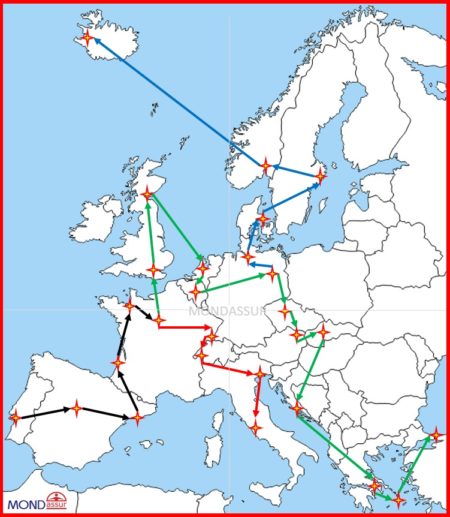 Black route: this is a good starting point to discover Europe. You will arrive in Lisbon, then stop in Madrid on the way to Barcelona. Barcelona is a must-see, the city is steeped in culture, monuments and history. You will cross the border and discover the famous Dune du Pilat. Before finding yourself at the foot of the most visited monument in France, you will visit the second most visited monument in France: the Mont Saint Michel. This monument is, in our opinion, a must-see during your stay in France. Finally, you can spend a few days in Paris, to discover the French capital, its historical monuments, known internationally.
From Paris, you can choose between several itineraries to discover Europe.
Red itinerary: from Paris, you will reach a small town in France, full of colour, with an architecture that is not forgotten, Colmar has even inspired Japanese directors. From Colmar, you can reach Lake Geneva and visit the capital of Switzerland at the same time. Afterwards, you will cross the Italian border and reach Venice, the Serenissima, with its 438 bridges. You will then descend into southern Italy to Rome, a mythical European city not to be missed.
Green Route: The Green Route connects many of Europe's not-to-be-missed capitals during your stay in Europe, passing through the United Kingdom, heading into Eastern Europe and ending at the gateway to the Middle East in Turkey.
Blue route: from Berlin, you will travel up through Hamburg towards Copenhagen. Between Stockholm and Oslo, you will discover a culture and way of life very different from the heart of Europe. Finally, you will fly to Iceland, with its impressive landscapes, geysers and northern lights.
Cost of living in Europe's major cities
London, Geneva and Zurich are by far the most expensive cities in Europe, and even rank first in the world. In these cities, the cost of living is extremely high: the cost of living in London would be about 25% higher than the cost of living in Paris for two employees with the same purchasing power. The cost of living in Paris is already very high, indeed about 25% higher than in the French provinces. In the big cities of Northern and North-Western Europe, life is more expensive than in the cities of Southern and South-Eastern Europe.
Can you drink tap water in Europe?
In all of Western Europe, you can drink tap water without any problems. In Southern and Eastern Europe, this is less certain. It is best to drink bottled water with a cork.
What are the worst diseases in Europe?
Climate change, such as different temperatures and rainfall, is the cause of many infectious diseases in Europe. However, 30% of these diseases are transmitted by mosquitoes. Even if cases are extremely rare, it is possible to catch the following diseases:
HIV
Influenza
Chikungunya (present in Italy in 2017)
Which are the most dangerous cities in Europe where crime is highest?
Here is a list of the most dangerous European cities with high homicide rates.
1. Bradford
2. Marseille
3. Belfast
4. Glasgow
On the other hand, some cities have a high crime and danger rate that can be distorted. Crime and danger are concentrated almost exclusively in certain areas, while other areas of these cities are very touristy and quite safe. Or the political situation, civil wars or just consequent demonstrations in some cities distort the data. It is important that you research certain cities thoroughly before you go.
Low-cost airlines in Europe
Here is a list of European low cost airlines in Europe:
Ryanair
Transavia
Easyjet
Vueling
Volotea
WizzAir
What means of transport can I use to travel in Europe?
In Europe, you can easily travel by train, between different cities in the same country, but also between different countries. For a more economical journey, you can also travel by bus in the same way as by train over shorter distances. You can also travel by plane, as elsewhere. Finally, you can travel by metro, as many large cities have a metro system that is more or less extensive depending on the city. Many European capitals have electric scooters.
Time differences in Europe
Here is a map showing the time difference depending on your location in Europe. Iceland's actual position is much further west than the UK in longitude.

What are the best student cities in Europe?
The most popular cities for international students according to our experts are:
1. London
2. Paris
3. Lisbon
4. Berlin
5. Barcelona
What are the favourite cities of expatriates in Europe?
The favourite cities for expatriates in Europe are :
Lisbon (Portugal)
Malaga (Spain)
Prague (Czech Republic)
Basel (Switzerland)
Madrid (Spain)