Travel and Expatriation in Africa
Are you going on a safari in Kenya or on holiday in Seychelles? Are you an expatriate in South Africa or are you going to Morocco for your retirement? Be aware that in Africa, medical costs can quickly prove to be quite high in private medical centers. So, whether it's for a few days or for a long period of time, and to protect yourself in case of an accident, hospitalization or repatriation, it's important to remember to take out international health insurance before you go abroad. Our country advice pages will help you in your quest for information about your destination country.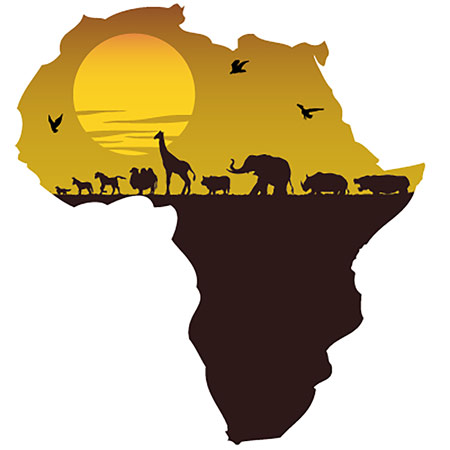 Find your practical information and health insurance by country
When to go to Africa?
The climate in Africa varies enormously depending on the geographical area in which you are located. Here is a table showing the different climates according to the seasons in each African country:
In green: the climate is favourable for visiting the country, with mild temperatures;
In yellow: the climate can deteriorate but is generally good;
In orange: the climate is likely to be very unfavourable for travel;
In red: it is not advisable to travel during these months, as temperatures tend to be extreme and the weather tends to be bad (heavy rain, full sun).

25 must-see places in Africa
Here are 25 must-see places to visit during your stay in Africa according to the different geographical areas of the continent:
North Africa :
The Sphinx of Giza (Egypt)
The Egyptian Museum in Cairo (Egypt)
The Majorelle Garden (Morocco)
Carthage (Tunisia)
The Souk of Marrakech (Morocco)
Southern Africa :
Cape Point (South Africa)
Victoria Falls (Zimbabwe)
Ovakavango Delta (Botswana)
Namib Desert (Namibia)
Swaziland (Swaziland)
West Africa :
The Basilica of Our Lady of Peace (Ivory Coast)
Cape Verde
Gorée Island (Senegal)
The sacred forest of Osun-Oshogbo (Nigeria)
The Pink Lake (Senegal)
East Africa :
Victoria Falls (Zambia-Zimbabwe border)
Kilimanjaro (Tanzania)
Kendwa Beaches (Zanzibar)
Omo Valley (Kenya)
Lake Nakuru (Kenya)

Central Africa :
Nyiragongo (Democratic Republic of Congo)
Virunga National Park (Democratic Republic of Congo)
Ekom Falls (Cameroon)
Boali (Central African Republic)
Korup National Park (Cameroon)

What vaccinations are needed for Africa?
For a stay in Africa, it is highly recommended that you have your vaccination schedule up to date:
Diphtheria
Poliomyelitis
Tetanus
Rubella, mumps, measles
It is also recommended that you get vaccinated against meningitis, hepatitis A and B, rabies and yellow fever. Also take precautions against mosquito bites, which can transmit Chikungunya and dengue fever. Maintain impeccable hygiene at all times and eat well-cooked food to avoid contamination with cholera.
Finally, there is very little chance of you catching any of these diseases, so if you take all the precautions there is nothing to worry about.
What are the best itineraries to discover Africa?
To discover Africa, it is recommended to visit the continent by dividing it into three parts:
North Africa
Central and West Africa
Southern and Eastern Africa
You should also choose your itinerary according to what you wish to discover. These three geographical areas have their own cultural riches. For example, for a first trip to Africa, it is recommended that you go to North Africa or Southern and East Africa. Central and West Africa is the least touristy of the three. To minimise the risks on the ground, it is advisable to be fully aware of the reflexes to have in case of a delicate situation and therefore to have already travelled to a number of foreign countries. In Southern Africa, you will be able to visit many natural parks where you can go on safari. You will also be able to visit some of the most beautiful natural spots in the world, such as the Cape Point in South Africa. If you choose to travel to North Africa, you will also be able to visit some of the most breathtaking natural sites. But above all, you can visit many man-made religious, cultural and historical monuments such as the Great Mosque of Kairouan in Tunisia.
Here is a map of three tours that you can use as inspiration for your own:

Cost of living in Africa's major cities
The cost of living in Africa is lower than in Europe. Here is an idea of the average cost of living in the major cities of African countries with the most expatriates:
Can you drink tap water in Africa?
In Africa, it is recommended not to drink tap water, especially if you are visiting for a tour, a short stay or a road-trip. Poorly filtered water could put an end to your trip until you are medically repatriated. However, it is possible that in some cities, the water is either tap water or potable. Our advice is: don't take unnecessary risks, filter it, or buy corked bottles of mineral water.
Top 6 diseases not to catch in Africa
These diseases are still present on the African continent, even if they are becoming rare, do not neglect the risks and take all precautions, especially against mosquito bites.
HIV
Tuberculosis
Ebola
Cholera
Malaria
Yellow fever
Top 5 most dangerous cities in Africa with the highest crime rate
Here is a ranking of the 5 most dangerous cities in Africa.
1. Cape Town (South Africa)
2. Benghazi (Libya)
3. Durban (South Africa)
4. Nairobi (Kenya)
5. Lagos (Nigeria)
It is important to differentiate between cities that are totally inadvisable for tourists due to the risk of being a victim of aggression in the whole city and cities where crime is concentrated in certain areas.
For example, the current economic, political and social situation in Caracas, combined with the poverty of its inhabitants, makes this city the most dangerous in the world. The homicide rate is one of the highest, if not the highest, in the world. Some of the police are corrupt and the rates of assault and theft are extremely high. Wars between cartels and with the police can break out in any part of the city. The rate of kidnapping is highest in upmarket areas.
In contrast, some cities have extremely high crime and danger rates. However, crime and danger are concentrated almost exclusively in certain areas, while other parts of these cities are very touristy and quite safe. It is important that you research certain cities thoroughly before you go.
What are the main low-cost airlines in Africa?
The main low-cost airlines in Africa are
Fly 540 (Kenya)
Jambojet (Kenya)
FlySafair (South Africa)
Kulula (South Africa)
Mango (South Africa)
What are the means of transport to travel in Africa?
The main means of transport in Africa between countries is by air. There are very few international train lines and this is partly due to colonisation and turf wars between European countries. Thus, the main railway lines were 100% dedicated to mining and export. For example, if you want to travel by train to Djibouti from Addis Ababa (Ethiopia), it will take you 15 hours and 25 minutes for a distance of 1120km. By comparison, travelling from Lille to Perpignan takes 7 hours, for a distance of 1020km. Moreover, there is only one train that leaves every two days, so if you miss it, you will have to wait 2 days to hope to catch it again.
For international travel in Africa, it is recommended that you travel by air. The African continent is much larger than Europe in terms of area. The distances to travel from one country to another are therefore greater. Travelling by air will allow you to cover the continent more quickly and the availability of flights is much greater than by train.
For travel within a country, you can use rail lines of varying speeds, linking the country's major cities. For example, Morocco inaugurated its first high-speed train lines in 2018 in a partnership with SNCF. The journey between Casablanca and Tangiers by TGV now takes 2 hours and 10 minutes, compared to 4 hours and 45 minutes previously.
To get around Africa within a major city, you can easily take minibuses or taxis. The cost of a taxi is much more affordable than in Europe or North America. Be aware that in some African countries where crime is high, such as South Africa, DRC, Nigeria and Kenya, it is not advisable to take unsafe taxis or touts. They are unreliable and may be in league with criminals. Favour secure platforms such as Uber or G7 taxis.
Time difference in Africa
UTC or Universal Time Coordinated, is the time in Reykjavik, Iceland UTC 0 all year round.
For example, in France it is UTC + 2, in London UTC +1.

What are the best student cities in Africa?
The ranking of the best student cities in Africa is based on the ranking of the universities within the cities, combined with the infrastructure provided for students:
1. Cape Town
2. Johannesburg
3. Cairo
4. Nairobi
5. Dakar
What are the most popular cities for expatriates in Africa?
Here is a selection of cities with strong expatriate communities:
Cape Town (South Africa)
Johannesburg (South Africa)
Nairobi (Kenya)
Lagos (Nigeria)
Tangier (Morocco)
Praia (Cape Verde)
Tunis (Tunisia)
Algiers (Algeria)
Port Louis (Mauritius)
Victoria (Seychelles)