Are you going to study at an American university and need student insurance for the USA adapted to the criteria required by your university? Are you looking for insurance for your studies abroad running your health care costs abroad in full?
Are you looking for health and repatriation insurance for the duration of your studies or internship?
Student Global is the student health insurance specifically designed to meet the requirements of international students and universities especially American.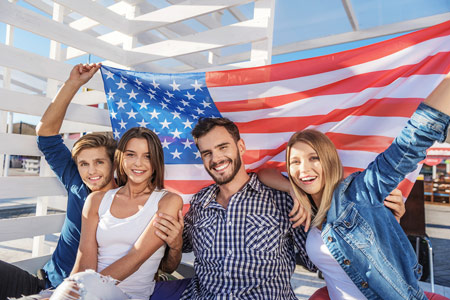 Who can take out Student Global student insurance?
Any international student up to 35 years old at the time of subscription.
What are the criteria for your insurance at the American university?
U.S. universities require the following minimum criteria for international student insurance in general:
Medical benefits of at least $500,000 per accident or illness
Payment for repatriation of bodies to the country of origin in the event of death of $25,000
Payment for medical evacuation (transportation to the country of origin on the advice of the treating physician) of $50,000
A deductible not exceeding $500 per accident or illness
Coverage of pre-existing conditions after a reasonable waiting period
Other U.S. universities are seeking U.S. student insurance including:
Mental health coverage.
Maternity coverage.
Prescription drug coverage.
Some American universities, such as Argentine or Brazilian universities, also require similar criteria for international student insurance.
What are the benefits with Student Global insurance in the US?
Minimum 50% discount or even a rate 3 to 4 times cheaper than the insurance of American universities

Insurance valid for up to 35 years for stays from a few months to several years

International coverage, including in France for your temporary returns

The address and support platform number in France and the United States as required by your universities
What are the guarantees of Student Global International Student Insurance?
Reimbursement of medical expenses at 100 of actual and deductible-free expenses
100% hospitalization
100% current medicine: consultations, pharmacy, laboratories, imaging… Etc.
The management of dental, optical and prevention care
Assistance and repatriation
Civil liability
How much does International Student Insurance cost in the US?
We guarantee acceptance by your American university. The Student Global insurance rate remains at least 2 times cheaper and often rather 3 to 4 times cheaper than that offered by American universities (based on more than a hundred American universities) with excellent guarantees. If you are not sure of the necessary guarantees, you can email us the criteria of your university.
On average, 98% of U.S. universities accept Gold Student insurance. With our refund guarantee if we complete your waiver, you can be refunded if you refuse. The refund is made without penalty subject to receiving within 15 days after the date of notification of refusal of the university or if after the 15 days period with penalties. The refund is made in all cases for the remaining term rounded to the month (Example: You take out your insurance which takes effect from July 1 to June 30 of the following year, your university refuses your insurance on September 15, you give us the september 20, you will be reimbursed for the period from October 1 to June 30 of the following year).
How do I buy Student Global insurance?
You can apply for a free quote online and purchase your international student insurance at American university 24 hours a day. You will need to send us your signed subscription documents for acceptance and payment of your insurance. You will then receive your insurance certificate and your insurance card. Details of the coverage of this insurance are available in English and US dollars.
How does Student Global insurance work?
In the event of hospitalization, the insurer pays the costs directly to the hospital and you do not have to pay any upfront fees according to the terms of the contract. We have a call phone number in the US and a healthcare management platform in the US, which many American universities require for international student insurance.
Access to a 24/7 medical assistance platform
Direct payment in case of hospitalization
Free choice of doctors and hospitals around the world
Access to our network of hospitals in the USA