Mondassur offers different International Student Insurance. These insurances for your studies abroad cover your medical expenses such as:
Hospitalization,
Outpatient surgery < (24 hours in hospital),
Consultations,
Pharmacy or
Medical examinations such as biological tests, MRIs, radios or other medical imaging procedures.
The price of our student insurance abroad starts from 27 euros/month. Guarantees such asrepatriation assistance, personal liability or legal assistance abroad are included.
Our international student insurance also covers Covid-19-related care in case of epidemics.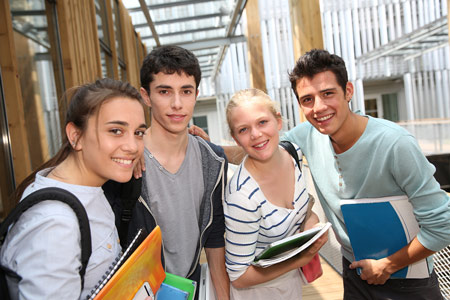 Do I need international Erasmus student insurance?
We advise you to take out erasmus student insurance. If you are going to study in Europe as part of an Erasmus exchange, you can tell yourself that you do not need to take out insurance to study abroad. You must apply for the European Health Insurance Card (EHIC) when you go to Europe. However, the EHIC's reimbursement caps are limited to those of social security, which is quite inadequate in many countries. You will also not have guarantees such as assistance and repatriation. We advise you to take out insurance with more limited coverages like Student Budget. To be covered for "big risk" and only assistance and repatriation, you can choose the Student Backup contract.
How do I choose the student insurance abroad that suits me?
To choose your health insurance abroad,you have to compare the contracts and read all the guarantees. Is the support done on actual costs or not? With what percentage of refund? What ceilings? What exclusions? What are the additional guarantees such as repatriation assistance? You can choose to be covered only in the event of an accident, for assistance and repatriation as well as civil liability. Depending on the formula chosen, your health care costs may be covered for routine medicine, prevention, dental and optical care. Mondassur advises you to find the insurance that is best suited to your needs depending on your situation and the country of your studies:
Gold Student:
The most comprehensive insurance for students abroad. You can choose between 3 levels of coverage: Student Global, Student Budget or Student Backup. It is specifically suitable for all countries including students in the USA or Canada, countries with high medical costs. The guarantees are very complete at 100% of the actual costs. The insurance is valid for short stays for up to several years. Pricing varies depending on your destination. We offer direct care to hospitals abroad.
Student Global Special USA:
Student insurance meets the specific criteria of American universities (sometimes also Brazilian or Argentinian). This insurance is at least 2 to 3 times cheaper than the insurance offered by non-compulsory U.S. universities. This insurance complies with the requirements of the J-1 and F-1 visas for foreign students in the United States. We can fill out the waiver for you. You have the option to take our refund guarantee in case of refusal of acceptance of insurance.
Mondassur International Student Insurance covers you worldwide