5 Options for studying abroad
Pursuing studies abroad is an experience that many students dream of having. If you too aspire to live this international adventure, discover the 5 possible options for studying abroad. Keep in mind that you need a minimum of 6 months or even 1 year to prepare. It will be necessary to integrate all the steps: student visa, bank account, insurance for your studies abroad, plane ticket, student housing … etc.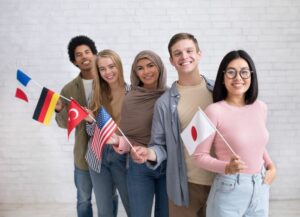 1. Enrol directly in a foreign university
To enroll directly in a foreign university, start by looking for a country that meets your expectations. Find out about universities, their levels, education systems and languages of instruction. Here is a list of Europeans' favourite countries to study abroad:
Canada
Belgium
United Kingdom and Northern Ireland
Switzerland
Spain
Germany
United States of America
Romania
Portugal
Italy
If you have already selected a destination, it will simplify your process. Next, choose a program and university that aligns with your academic goals. Check the admission criteria, required documents, such as transcripts and various attestations, and submit your application online. If proof of language proficiency is required, pass the necessary tests, such as:
IELTS for the UK
TOEFL and TOEIC for the United States
SIELE for Spain
CILS for Italy
TestDaf for Germany
HSK for China
DELE for Latin American countries, except Brazil
JLPT for Japan
NT2-II for the Netherlands and some universities in Belgium
Etc…
After being accepted, follow the instructions to confirm your admission, obtain a student visa, and arrange your accommodation. Afterwards, purchase good international student insurance to avoid unexpected expenses.
2. Conduct an exchange program
Opting for an academic exchange program abroad gives you a unique opportunity to enrich both your academic and cultural perspectives. Among the choices available to you, two options stand out: the Erasmus program and bilateral exchanges.
Who can go abroad with Erasmus?
The Erasmus programme allows you to spend a semester or academic year in another country. It is open to all persons engaged in studies, work-linked training, apprenticeships, teaching, training, job search or volunteering. The only requirement is that their stay abroad is for the purpose of learning, sharing experience or knowledge.
Which countries participate in Erasmus?
The Erasmus programme is open to EU Member States and certain third countries associated to the programme. These countries are:
EU members
Norway
Iceland
Le Liechtenstein
The Republic of North Macedonia
The Republic of Turkey
The Republic of Serbia
Since 2014, Switzerland is no longer a participating country in the Erasmus programme, but has become a partner country. Following Brexit, the United Kingdom has also adopted partner country status under the Erasmus programme. This means that you can still study in these countries under the Erasmus programme.
Bilateral exchanges:
On the other hand, bilateral exchanges are agreements established between various world universities. These exchanges typically encompass a variety of academic fields.
Here are some exchange programs that allow students to continue their studies abroad:
The BCI program allows French students to study in Quebec for a semester or a year, under certain conditions.
ISEP is a network of about 300 universities, allowing students from French member universities to exchange with students from other universities around the world.
MICEFA facilitates student exchanges between 16 universities in the Paris region and 65 American or Canadian universities.
TASSEP, a consortium of European, American and Canadian universities, allows students to study at partner institutions in North America.
Check with your university or school to determine if you have the opportunity to participate in exchanges and what administrative steps you need to take to do so.
3. Leave as part of an integrated curriculum
Thanks to agreements between international schools and universities, you can obtain a double degree. Most educational institutions in France offer integrated programs accessible in English, German, Spanish or Italian. To seize this opportunity, you just need to pay attention to the application dates and the specific prerequisites.
Here is the example of the prestigious institution "Sciencepo", which offers various integrated programs such as:
The JD Master's Programme
Bachelor/Master courses in collaboration with Johns Hopkins
ITAM Bachelor/Master courses
Universidad Torcuato di Tella
Pontifica Universidade Católica de São Paulo
Pontifica Universidad Católica de Chile
Università Luigi Bocconi
Columbia Journalism School
Waseda University
Keio University, Barnard's College
Strathmore University
Ashesi University
4. Join a Summer School
The "Summer School" is an excellent option to consider abroad. It is an educational offer that universities set up during the summer holidays. It allows you, as students, graduates, professionals or final year students, to immerse yourself in various fields for a few weeks. You learn new skills, fill academic gaps and interact with experts.
Which universities offer the "Summer School"?
More than 800 universities offer Summer School programs around the world. Renowned institutions such as:
University of Oxford
University of Cambridge, Harvard, Stanford
Sorbonne University
Université de Tokyo
Université de Sydney
University of Toronto
How much does a Summer School cost?
The cost of Summer School programs depends on factors such as the school's reputation, demand, duration, and courses offered. In general, prices range from a few hundred to several thousand euros. This does not include additional costs such as airfare, accommodation and extras.
For example, a "Summer School" at an Ivy League university can cost between 3,000 and 4,000 euros for a month of classes, not including travel costs.
However, this option only lasts a few months, so it's likely that you won't have access to health coverage from your host country. That's why it's crucial to have international health insurance. This will ensure that your period of exploration and enrichment does not turn into a financial burden. Get a free quote for your health insurance !
5. Going as a "Visiting Student"
You can take courses at some universities while not being registered in the same status as an ordinary student. As a visiting student, you will not graduate at the end of your studies. However, it is an opportunity for students who have not been accepted to some universities to study there anyway. One of the universities that offers this kind of program is the prestigious "Yale University".
How to go on a "Visiting Student" at Yale University?
Deadlines:
Registration deadline for the fall term: June 1
Registration deadline for the spring term: October 1
Application requirements:
Proof of bachelor's degree or equivalent.
Motivational talk of 500 to 1000 words describing your previous background and preparation for study and/or research at Yale.
History of all previous graduate institutions.
Transcripts from each institution mentioned. (translated into English)
TOEFL (or IELTS) results for non-English speakers.
Two letters of recommendation.
Name of your academic advisor at Yale.
Application fee of $105.00, plus $25.00 document processing fee for international applicants.
International applicants: Proof of sufficient funding to cover living and tuition costs at Yale. At least 50% of financial support must come from an external scholarship to be eligible for a J-1 student visa.
Take the opportunity to discover all our tips for studying abroad.
Go abroad to study with peace of mind
Studying abroad can be an ordeal for some and an adventure for others. In order to avoid unpleasant surprises, remember to take out international health insurance. This insurance will guarantee you medical coverage during your study abroad.
In some countries, the social security system is not as comprehensive as that in France. This can result in significant international medical costs. Some institutions, such as American universities , are often very demanding when it comes to health insurance for international students. They require international students to purchase medical coverage before joining the university.