When going on holiday rhymes with serenity
That's it, the good days have arrived! And it smells like a vacation! But going to relax, in France or abroad does not mean taking unnecessary risks.
Here are some tips to avoid unpleasant surprises and get in with a light mind.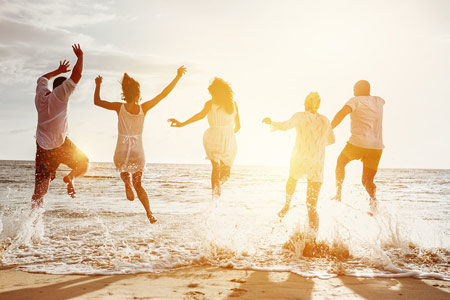 Several days before departure
Tell a trusted person of your departure (a family member, a neighbour…) and give them a duplicate of your keys. In this way, it will be able to "live" your house in such a way as to deter burglary by picking up mail, opening and closing shutters etc.
You can also take part in the"holiday tranquility" operation proposed by all the gendarmerie of France. By filling out an application form that will indicate your vacation dates, the police or gendarmerie will then be able to monitor your home during their daily patrols.
Check all your bookings and make sure you have proof with you.
If you are going abroad, be sure to check the dates of your passport. It would be foolish to be denied access to a border for an expired passport!
The day of departure
Unplug your large electrical appliances to avoid any unexpected or short-circuited bills that might occur during a storm: dishwasher, TV, internet box etc.
Make sure all your water arrivals are closed and turn off your hot water balloon. You can also close your gas inflow if you have any.
Close your windows and any other entrance to your home (garage etc.)
Turn off your professional computer and mobile phone. It's important to get away from work to make the most of your vacation!
By following all these tips, you should have a perfect holiday! But don't forget, the key to a successful holiday also lies in good travel insurance!